Call us now:
0333 7000 747
Open 9 until 9 daily
Start your perfect holiday
contact us today!
7 Nights - £1,475pp
Flight Inclusive Price from UK
International flights from UK
7 nights accommodation
Breakfast
Private car, driver & guide
Entrance fees
Based on 2019 - 20 prices
View Map
Bali & Indonesia Destinations
Holiday Confusion?
You need a Specialist
Solve my Problem
Ask us about North Sumatra
Speak to an Indonesia expert today!
North Sumatra
Lake Toba, Sumatra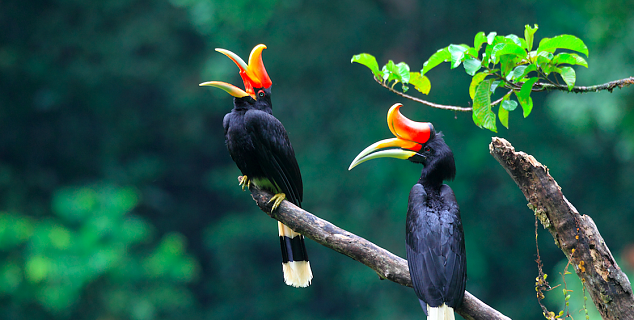 Rhinocerous Hornbills, Sumatra
Market, Sumatra
Jungle, Sumatra
Sumatran House
Bukit Lawang Village
North Sumatra Tour
This short soft-adventure tour of northern Sumatra is an easy add-on from Kuala Lumpur or Singapore and can be incorporated into a longer tour of South East Asia.
Begin the journey with a night in Kuala Lumpur on arrival before flying to Medan across the Straits of Malacca.
Medan is the capital of North Sumatra and an interesting melting pot of Chinese, Malay, Indian and Batak people.
Enjoy a city tour before heading to Gunung Leuser National Park.
At Bukit Lawang go trekking in search of wild orangutans which are tracked by the local rangers meaning there is a very high chance of seeing them.
Enjoy a short tour of short city tour of Berastagi before heading to Lake Toba.
Travel through the Batak Highlands and learn about the Batak Karo people before spending 2 nights on Samosir Island in the middle of Lake Toba.
As with all of our holidays to Indonesia this one can be adjusted to suit you as you wish or a beach extention added - just let us know your preferences.
Inclusions
International flights from the UK
Accommodation
Breakfast & some other meals
All airport transfers by private car
Private car excursions
Entrance Fees
Accommodation
1 nights Kuala Lumpur
1 night Tengkahan
1 night Bukit Lewang
1 night Berastagi
2 nights Samosir
Excursions
Medan City Tour
Gunung Leuser National Park
Bukit Lawang
Orangutan Trek
Timbang Lawang Eco Farm
Tour of Berastagi
Batak Karo village & Longhouse
Sipiso Piso Waterfall
Lake Toba
Batak Toba village
Day 1: Depart UK
Depart UK for overnight flight to Kuala Lumpur.
Day 2: Kuala Lumpur
On arrival you will be met and transferred to your chosen hotel in Kuala Lumpur, with the rest of the day at leisure.
Overnight Kuala Lumpur. Breakfast included.
Day 3: Kuala Lumpur - Medan
You will be collected from your hotel and transferred to the airport for you morning flight to Medan where you will be met and taken on a morning tour of the city.
Medan is the capital of North Sumatra and an interesting melting pot of Chinese, Malay, Indian and Batak people.
Visit Merdeka Square in the centre of the city for a walk in the old colonial part of town which has retained its Dutch colonial architecture. See the Old Post Office and Medan City Hall before passing through Kesawan Street.
End the walk at Tip Top Restaurant which dates back to the time of Dutch colonization. Enjoy lunch here before heading to the hotel around 2 pm.
Relax a little bit and in the mid-afternoon, meet with the guide again and proceed with a city tour of Medan.
Visit Masjid Raya, or the Great Mosque built in 1906 by the first sultan and still considered as one the most beautiful mosques in Indonesia.
Visit Maimoon Sultan Palace, built in 1888 by the Sultan of Deli (the former name of Medan).
This beautiful palace combines traditional elements of Malay, Islamic as well as Spanish and Indian architectural elements.
The city tour ends with a visit to an impressive Chinese temple, Vihara Gunung Timur.
Overnight Medan. Breakfast & lunch included.
Day 4: Medan - Tangkahan
After an early breakfast and check out, depart for Tangkahan via Binjai and Stabat. The last portion of the journey is along a dirt road, so be prepared for a bumpy ride (for about 60-90 minutes).
On arrival in Tangkahan, register at the "Gunung Leuser National Park" visitor centre before walking to the lodge located on the other side of the river across an impressive suspension bridge.
Check in at the lodge in Tangkahan and, after settling in, enjoy lunch.
Around 2 pm head into the park and take some time to watch the elephants and, afterwards, help to bathe them.
Afterwards, make a 30-minute walk back to the lodge.
The remainder of the day is at leisure. Walk around the lodge in search of some resident Thomas leaf monkeys in their natural habitat.
Alternatively, take a refreshing dip in the clear river. Be sure to ask the hotel staff or guide where the hidden hotspring in the river is, as that is the best spot for swimming.
Dinner is served in the hotel.
Overnight Tangkahan. Breakfast, lunch & dinner included.
Day 5: Tangkahan - Bukit Lawang
After breakfast at the lodge, cross back to the other side of the river using the suspension bridge or raft.
A local jeep will be waiting on the other side for the off-road trip to Bukit Lawang (approximately 2 hours - 2 hours 30 minutes), passing through rubber plantations and beautiful jungle and mountain landscapes.
Before arriving in Bukit Lawang, take a short stop to stretch your legs and enjoy a fresh coconut drink at Coconut Park.
On arrival at Bukit Lawang, cross the impressive wooden suspension bridge over Bohorok River on foot to arrive at the reception of the Eco Lodge.
Check-in at the lodge in Bukit Lawang and enjoy a lunch of Sumatran specialties.
After lunch, cross the bridge and be picked by a becak for a visit to the Timbang Lawang Eco Farm.
The motorized sidecar will lead from the local village to the eco farm.
Afterwards, hop back on the becak and explore a few other surrounding areas to see how brown sugar is made and rubber trees are tapped.
Afterwards, return to the hotel and spend the rest of the evening at leisure while enjoying the tropical surroundings.
Overnight Bukit Lawang. Breakfast, lunch & dinner included.
Day 6: Bukit Lawang – Berastagi
Enjoy breakfast at the lodge.
Bukit Lawang is at the entrance to Gunung Leuser National Park, one of the last sanctuaries of the Sumatran orangutan.
Start an unforgettable trek early in the morning at 8 a.m. accompanied by an additional local English-speaking jungle guide.
The first part of the hike is an easy climb to the forest for about 30 to 45 minutes.
The local guide always send a tracker ahead to check where the orangutans are.
If some are seen in first part of the trek, the guide will suggest people who have difficulty walking to return to the lodge with the tracker while accompanying other participants all the way.
The total trekking time is two and a half to three hours up and down in the jungle. It's a bit more challenging and can be slippery, so good shoes are required.
After observing the orangutans, continue down to the Orang Utan Information Centre on the bank of the Bohorok River (30 minutes).
From here, cross the river using a pneumatic raft pulled by a rope (2 minutes crossing) and walk back to the Eco Lodge along the river bank and main village of Bukit Lawang (30 minutes).
After returning to the lodge, take some time to shower and change before checking out. Lunch is served at the lodge restaurant.
In the afternoon, leave Bukit Lawang to Berastagi in the Karo Highlands along a scenic route driving southwards via Sembahe and Sibolangit.
In the late afternoon, arrive at Berastagi, a climate station located at some 1,400 metres above sea-level.
Check in at the hotel in the late afternoon/early evening.
Overnight Berastagi. Breakfast & Lunch included.
Day 7: Berastagi - Samosir
After breakfast, checkout from the hotel and depart around 8 a.m for a short city tour of Berastagi: the tour includes a visit to the St. Francis Catholic Church, with its unique Batak architecture and, in the background, a perfect view over Mount Sibayak.
Continue with a walk through the local fruit market which is swarming with activity and scenes from traditional Karo life.
Leave Berastagi around 9:30 a.m and proceed to Lake Toba, stopping after Berastagi to take pictures of Mount Sinabung (2,460m).
Stop for a visit to Dokan, a village home to the Batak Karo, people who have unusual wedding and funeral ceremonies which can last for days, and dozens of other unique traditions and rituals which are still in practice.
Then, meet with a family in a traditional longhouses where up to 6 families can be found living together.
Continue south towards Lake Toba and make a stop to see the 120-metre tall Sipiso-Piso Waterfall in the Batak Highlands.
This beautiful waterfall has been formed by an underground river that plunges from a cave into Lake Toba caldera. Here you'll also get an impressive first-view of Toba Lake.
Continue the journey to Pematang Purba for a visit to Rumah Bolon, a 200-year old wooden house that used to be the dwelling of the ancient Batak Simalungun Kings.
A late lunch will be served en-route to Parapat at a local restaurant near Simar Jarunjung
In the afternoon, drive along the eastern shore of Lake Toba to Parapat.
Board a local ferry along with the private vehicle, driver and guide for a one hour boat trip between Parapat and Tomok on Samosir Island (Estimated departure from Parapat at 5:30 pm).
The island of Samosir, which is roughly the size of Singapore, is located in the middle of Lake Toba. The caldera lake of Toba Volcano was formed over 75,000 years ago and is the largest volcanic lake in the world.
Take a direct transfer to the hotel on the Tuk Tuk Peninsula in Samosir Island (15-minute drive from Tomok) for check in.
Take some time to freshen up, then spend the rest of the evening enjoying the unique atmosphere of the hotel.
Dinner is at your leisure.
Overnight Samosir. Breakfast, lunch & dinner included.
Day 8: Samosir & Lake Toba
After breakfast in the morning, spend a full day exploring Samosir Island and Lake Toba.
Visit Ambarita, Samosir's most interesting Batak Toba village which is well-known for its unique stone chairs, tribunals and execution stones where enemies and criminals were slaughtered and eaten by this once-cannibalistic tribe.
Drive to Simanindo and be treated to a performance of a traditional Batak Toba dance called Tor-Tor (once a day at 10:30 – 45 minutes). Then explore the traditional village and its small Batak museum.
From here continue along the eastern shore of Samosir Island to Pangururan, the small capital of Samosir.
A picnic lunch will have been prepared by the hotel and will be served onboard the ship while cruising towards Pangururan.
The driver and guide will be waiting when the boat arrives.
Continue by car to Tele, a rarely visited area located on the mainland in the southern shore of Lake Toba, accessible after crossing a small bridge followed by a 30 minutes drive up the mountain.
The view over Samosir Island and Lake Toba from the observatory tower in Tele is simply breathtaking and easily one of the best overlooking the whole of Lake Toba.
For those who would like to enjoy a relaxing bath, there is a possibility to visit the hot springs after the visit to Tele.
On the way back to Tuk Tuk via Pangururan, stop alongside the road to observe the traditional weaving that villagers do here.
Return to the hotel in Tuk Tuk late in the afternoon.
Overnight Samosir. Breakfast & lunch included.
Day 9: Samosir - UK
After an early wakeup call, check out from the hotel after breakfast and transfer from Tuk Tuk to Parapat with the regular local ferry with the private vehicle, driver and guide joining on board (usually departing at 7 a.m, arriving in Parapat at 8 a.m.
Drive back to Medan Kuala Namu Airport via Pematang Siantar and Tebing Tinggi, with scenic views over estate plantations of rubber and palm oil.
Lunch is at leisure.
Transfer to Medan Kuala Namu Airport for a mid or late afternoon departure flight back to the UK or on to your next destination.
Day 10: UK
Arrive back in the UK.
Kuala Lumpur Superior Hotel Suggestions:
Sama Sama Airport Hotel
Anggun Boutique Hotel
Maya Hotel
Journal Hotel
7 nights North Sumatra - Standard:
This is a guide price only, based on travel in low season.
Prices will vary according to choice of hotel and seasonal airfare and hotel surcharges. Please ask us for any current special offers.
Contact Us:
All of our Borneo Holidays are completely tailor made and we can put together any kind of itinerary to suit your interests and budget.
Call us now to speak to a Borneo holiday expert about your Borneo holiday or honeymoon to Borneo.
Call us now on 0333 7000 747
We're open from 9 until 9 daily and our 0333 number is a local rate number included in most call packages.