Call us now:
0333 7000 747
Open 9 until 9 daily
Start your perfect holiday
contact us today!
7 Nights - £1,950pp
Flight Inclusive Price from UK
Bali & Indonesia Destinations
Holiday Confusion?
You need a Specialist
Solve my Problem
Is the Samaya right for you?
Speak to someone who's stayed
The Samaya Seminyak
One Bedroom Royal Pavilion Villa
Breeze Restaurant
Royal Courtyard Villa
Swimming Pool
Aerial View
Breeze
The Samaya Seminyak
The Samaya is a luxurious and cosy boutique resort with one and two bedroom private pool villas in a premier beachfront location in fashionable Seminyak.
Each villas features its own full-size private lap pool and modern, fashionable and chic interior.
Steps away from the famous Seminyak – Petitenget Beach, the resort offers a luxurious beachfront escape with traditional Balinese hospitality and modern comfort.
The Samaya Seminyak offers a relaxing ambience, privacy, spa facilities and one of Bali's finest restaurants.
'Samaya' is a Sanskrit word meaning 'a feeling of inner peace', which sums up the ethos of the Samaya Bali.
The Samaya is a place to escape to, to recharge and enjoy the unique Balinese atmosphere in an intimate, serene and luxurious setting.
What's so Special?
Samaya's villas offer spacious living and are elegantly furnished.
We love the atmosphere at the Samaya. Breeze Bar has a great chilled-out vibe in the evenings and the gardens are elegant and spacious.
The Royal Courtyard Villas are very popular with honeymooners to Bali because of the privacy and modern spacious design.
For a step up even from those, choose a One Bedroom Royal Pavilion Villa.
Pool Villas
There are 18 Pool Villas, which are all located on the beachside of the resort. Villas have a contemporary design, are completely private and feature very large bathrooms.
Pools in the Pool Villas are smaller than the Royal Courtyard Villa's pools but the advantage of these villas is the location closer to the beach, restaurant and lovely Breeze Bar.
Features:
Air Con
Free Wi-Fi
29-inch Flat Screen TV with Satellite channels
DVD
Minibar
Tea and coffee making facilities
IDD Phone
Hairdryer
Indoor & Outdoor Slippers
Safe
Breeze
The Samaya's beautiful beachside setting allows you to enjoy the refreshing sea breeze, as well spectacular sun sets. The beach front setting, great sunset views and the sound of the waves make Breeze one of Bali's most romantic places to dine.
Dinner here is a leisurely affair, a balance of elegant foods served in an atmosphere of simplicity.
Breeze is the perfect place to chill out during the day or in the evening.
During the day, lounge on one of the sofas with a good book and in the evening enjoy the sunset, the star, some cool tunes and a glass of wine or two, or three.
The wine list is very comprehensive and a newly built air-conditioned wine cellar allows guests to inspect the bottles before they order. At least 100 wines are on offer at pretty conservative prices.
In -Villa Dining
Experience the ultimate romantic dining with restaurant service quality at the leisure and privacy of your villa. A table for two next to the pool with candles scattered and the stars above creating romantic ambiance.
The food is prepared by an excellent chef, Torsten Schubert, who likes to offer a blend of American and European dishes.
Facilities
The Samaya has a great swimming pool on the beachfront side and a second pool on the Royal Courtyard Villas side.
The spa is a very popular spot at the Samaya.
Facilities:
Swimming Pool
Spa
Free Wi-Fi throughout
24 hours In Villa Dining
Daily shuttle service to Seminyak & Legian areas
Limousine and car rental
Butler service
Laundry and Dry Cleaning
Cultural and recreational activities
Golf 45-minutes away
View Itinerary in Detail
To view a sample holiday, click on one of the links below. This will open the itinerary up in a new window.
All of our Bali Holidays are completely tailor made and we can combine different hotels and airlines to create your ideal Bali holiday.
We have many other options so if you have a particular hotel in mind just let us know and we'll put together a price and itinerary for you.
Contact Us:
Call us now to speak to a Bali holiday expert about your Bali holiday or honeymoon to Bali.
Call us now on 0333 7000 747
Open 09:00 - 17:30 Mon - Fri. 09:00 - 12:00 Sat.
Royal Courtyard Villa
<h4>Free Nights Included</h4>
<p>7 nights at Oberoi Bali - Luxury Lanai including Breakfast.</p>
<p>Includes all Flights, Transfers, Breakfast.</p>
<h4>7 nights from &pound;1,325 pp</h4>
View
Twin Centre Holiday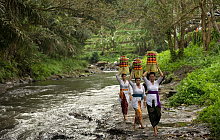 <h4>Free Nights Included</h4>
<p>7 nights at Oberoi Bali - Luxury Lanai including Breakfast.</p>
<p>Includes all Flights, Transfers, Breakfast.</p>
<h4>7 nights from &pound;1,325 pp</h4>
View