Call us now:
0333 7000 747
Open 9 until 9 daily
Start your perfect holiday
contact us today!
7 Nights - £1,884pp
Flight inclusive price from UK
12 Nights - £1,975pp
4 Free nights at one of the best boutique hotels in Mauritius.
Maradiva offers style and exclusivity in a fabulous Mauritius beachfront setting.
Holiday Confusion?
You need a Specialist
Solve my Problem
Ask us about Maradiva, Mauritius
Request a Quote Now!
Maradiva
Romance
View from Sea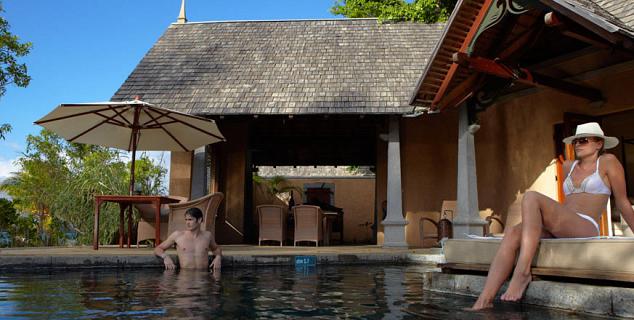 Villa
Villa
Spa
Maradiva
One of the top luxury resorts in Mauritius, Maradiva offers style and exclusivity in a fabulous Mauritius beachfront setting with the dramatic backdrop of the Tamarin Mountains and facing a tranquil lagoon teeming with fish.
Maradiva's beach is gorgeous, the gardens lush and the service polished but very personal, and certainly amongst the best in Mauritius.
Maradiva has just 65 garden or ocean view villas, all with private plunge pool and each designed and furnished in an eclectic mix of Indian, Mauritian, colonial and contemporary styles.
With a large infinity swimming pool, an award winning holistic spa, two a la carte dining rooms and bars, a butler always available, a kids club open all day and night, a sports and fitness centre and boat house, Maradiva is large enough to offer a range of facilities whilst still maintaining the ambience of a boutique resort.
Maradiva has some of the best villas in Mauritius and will appeal to those looking for a romantic luxury holiday in Mauritius.
Maradiva, although ostensibly a couple's resort, also appeals to smaller families, as they do have a Kid's Club.
Most water sports are free, the gym is top notch, Championship golf is available 15-minutes away and a range of excursions are on offer. There's no excuse for boredom at Maradiva.
What's so Special?
Maradiva has a very strong reputation for service, the long stretch of beach is magnificent and these are some of the best villas in Mauritius.
Maradiva is a boutique resort but the villas are spaced well apart from one another to offer space and privacy – the resort never seems cramped or crowded.
Flic-en-Flac, a bustling picturesque village with a choice of restaurants and boutique shops, is just 5-minute drive away from Maradiva.
Bear in Mind
The cost of drinks, especially wine, is in keeping with the high standard of the resort and with similar resorts in Mauritius. Some guests have commented on buying wine from Flic-en-Flac or at the airport on arrival.
Reef shoes are useful, and can be bought at the resort.
Luxury Suite Villas
Spacious, airy and refined, the 57 Luxury Suite Villas (163 sq. m) provide a private and peaceful atmosphere, with 24-hour butler service. 11 villas are right on the beachfront.
Set amongst lush gardens, each villa has its own terrace, perfect for al fresco dining, lounging or cooling off in the private infinity plunge pool (14 sq. m.).
Beachfront Suite Villas
Overlooking the magnificent turquoise waters of the Indian Ocean the Beach Front Suite Villas are ideal for those wishing to enjoy premium sea views and direct access to the beach. Interconnecting suites are perfect for small groups or families.
Bathrooms feature an over-sized bath and separate rain shower, a walk-in wardrobe, and just outside, a secluded open-air garden shower.
Exclusive Suite Villas
As well as a luxurious bedroom and en-suite bathroom, Maradiva's six Exclusive Suite Villas (220 sq. m) feature superb views of the Indian Ocean, a spacious living room inside, and a private garden and terrace outside for al-fresco dining, lounging and swimming in a private 25 square-metre infinity-edge pool (almost twice as large as the Luxury Suite Villas).
Rooms feature King-size beds, walk-in wardrobe and a separate lounge with bay windows, which look out onto the garden.
En-suite bathrooms have an oversized bath; separate rain shower; a bay window overlooking the garden; walk-in wardrobe and a secluded open-air garden shower.
All Exclusive Villas have direct access to the beach. A butler is at your service 24 hours a day and families can take advantage of a connected Beach Front Suite Villa.
Features:
Air Con & Ceiling Fan
Wi-Fi
Flat screen LCD TV with Satellite channels
DVD & CD
Bose Home Cinema System
iPod Dock
Sheltered dining and lounge area with ceiling fan
Comfortable daybed mattress & sun loungers
Personal bar
Tea & coffee making facilities
Nespresso coffee machine
6-seater dining table
Safe
Hairdryer
The Cilantro
This Pan Asian a-la-carte restaurant is open for dinner and takes you on a culinary journey around the Far East. It features the finest Japanese, Thai, Vietnamese and Indian cuisine.
To watch the chef firing up the teppanyaki, is great fun and the results are mouth-watering. Seating can be al-fresco or in air-conditioned comfort inside. There is also a lounge for pre and post dinner drinks.
Coast2Coast
The all-day restaurant serves Mediterranean, Mauritian and international cuisines in a relaxed atmosphere. On an open terrace next to the white sandy beach, it offers wonderful views of the sunset over the ocean.
Romantic candlelit dinners can also be arranged under a tent on the beach. Coast2Coast offers fresh local fruit with an international breakfast, and an ever- changing a-la-carte menu for lunch and dinner.
Breakers Bar
Next to the beach and the main infinity-edge swimming pool, this lounge bar has a contemporary yet intimate feel, in a comfortable open terrace setting.
Rich colourful sunsets provide the ideal backdrop to savour a local rum cocktail. Open every day from 10 am until midnight, with live jazz or piano every evening, the Breakers Bar offers a great selection of wine, international spirits and hors-d'oeuvres.
The Beach Bar
While you top up your tan beachside, bar staff are always at your service. Order your favourite cocktails, snacks or light lunch on the beach, or get some shade at the bar.
Facilities:
Maradiva has lots of facilities including a range of watersports, a fitness centre, floodlit tennis, daily yoga classes and a library with books and DVD's.
Facilities:
Kayaks
Glass Bottom Boat and Snorkelling trips (trips twice a day)
Pedal Boats
Water Ski
Windsurfing
Laser Sailing
Speedboat trips
Big game fishing
Dolphins encounter
Catamaran cruises
Water-skiing & windsurfing lessons
Aqua Gym Classes
Daily yoga classes
Gym Workouts
Fitness Centre
Floodlit Tennis
Table Tennis
Cycles for rent Golf nearby - Tamarina
Dolphins encounter at Tamarin Bay, an exclusivity of the region
Wi-Fi
Currency exchange
Travel desk
Air Mauritius check-in counter
In-house laundry, dry cleaning and pressing services
Baby sitting
Wedding organisation and celebration
Florist
Postal services
Fashion-wear & jewellery boutique
Books, CD's and DVD's available for rent, free of charge
Business Centre
View Itinerary in Detail
To view a sample holiday, click on one of the links below. This will open the itinerary up in a new window.
All of our Maldives Holidays are completely tailor made and we can combine different hotels and airlines to create your ideal Maldives escape.
We have many other options so if you have a particular hotel in mind just let us know and we'll put together a price and itinerary for you.
Contact Us:
Call us now to speak to a Mauritius holiday expert about your Mauritius holiday or honeymoon to Mauritius.
Call our Mauritius line now on 01484 432 140
Open 09:00 - 17:30 Mon - Fri. 09:00 - 12:00 Sat.
Luxury Suite Pool Villa
Half Board Inclusive
7 nights at Maradiva - Luxury Suite Pool Villa including Half Board.
Includes all Flights, Transfers, Half Board.
7 nights from £2,175 pp
View
Beachfront Pool Villa
Half Board Inclusive
7 nights at Maradiva - Beachfront Luxury Suite Pool Villa including Half Board.
Includes all Flights, Transfers, Half Board.
7 nights from £2,495 pp
View
Exclusive Pool Villa
Half Board Inclusive
7 nights at Maradiva - Exclusive Suite Pool Villa including Half Board.
Includes all Flights, Transfers, Half Board.
7 nights from £3,195 pp
View