Call us now:
0333 7000 747
Open 9 until 9 daily
Start your perfect holiday
contact us today!
12 Nights - £3,895pp
Flight Inclusive Price from UK
International Flights
Domestic flights
12 nights accommodation
Breakfast
Private car, driver & guide
Taxes
Entrance fees
Based on 2019 - 20 Prices
View Map
Luxury Cambodia
Angkor Wat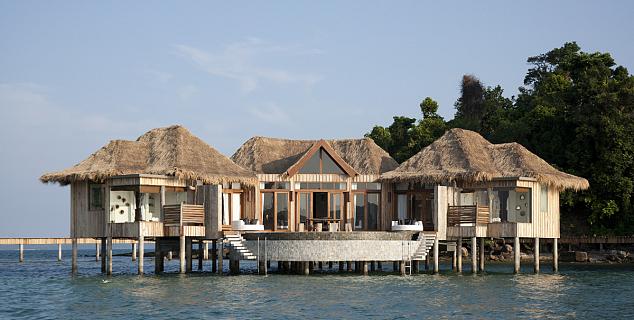 Song Saa Private Island Resort
Phum Baitang, Siem Reap
Angkor Wat
Alila Villas Koh Russey
Luxury Cambodia
This Luxury Cambodia Itinerary is based on staying in the very best hotels in Cambodia, with a combination of city, culture and beach.
Begin the trip in Cambodia's lively capital city Phnom Penh, with its wide French designed boulevards, riverside promenade, bustling markets and plentiful sights.
From Phnom Penh fly to Siem Reap and explore the incredible temples of Angkor, one of the most spectacular sights in Asia with the ruins of the ancient Khmer capital emerging from the Cambodian Jungle.
Spend 4 nights in Siem Reap with two full days to explore the temples.
From Siem Reap fly to the coast at Sihanoukville and enjoy 5 in one of the Cambodian Riviera's luxury beach resorts.
All of our Cambodia itineraries are completely tailor made and can be adjusted to suit your interests and budget.
A tour of Cambodia can easily be combined with neighbouring countries such as Thailand, Laos and Vietnam to make a great multi-centre Asia holiday.
Inclusions
International flights from the UK
Domestic flights
Accommodation with breakfast
All airport transfers by private car
Private car, driver and guide on excursions
Entrance Fees
Accommodation
3 nights Phnom Penh
4 nights Siem Reap
5 nights Beach Resort
Excursions
Full day tour of Phnom Penh
Half day tour to the Killing Fields
Full day tour Angkor
Half day Temples Tour
Full day tour Tonle Sap
Day 1: Fly UK to Phnom Penh
Overnight flight UK – Phnom Penh.
Day 2: Phnom Penh
Arrive in Phnom Penh and transfer to your hotel. Enjoy the rest of the day at leisure.
Overnight Phnom Penh. Breakfast included.
Day 3: Phnom Penh
Enjoy a full day's sightseeing in Phnom Penh including a visit to Tuol Sleng and sights in the city including Wat Phnom and the Silver Pagoda.
Overnight Phnom Penh. Breakfast included.
Day 4: Phnom Penh
Enjoy a morning visit to the Killing Fields with the afternoon at leisure to explore Phnom Penh independently, visit the markets or perhaps enjoy a spa treatment.
Overnight Phnom Penh. Breakfast included.
Day 5: Siem Reap
Transfer to the airport for your flight to Siem Reap.
On arrival in Siem Reap transfer to your hotel.
Enjoy an afternoon visit to the temples at Angkor in time for sunset.
Overnight Siem Reap. Breakfast included.
Day 6: Siem Reap
Enjoy a full day's sightseeing in Angkor, the highlight of any tour of Cambodia.
Today visit Angkor Wat, Angkor Thom, spectacular Ta Prohm and round off the day with a visit to a temple for sunset.
Overnight Siem Reap. Breakfast included.
Day 7: Siem Reap
Enjoy a full day's sightseeing of Tonle Sap Lake a short distance from Siem Reap.
This is a great way to break up exploring the temples and offers an insight into life in rural Cambodia.
Overnight Siem Reap. Breakfast included.
Day 8: Siem Reap
This morning is at leisure and is a great chance to explore Angkor independently.
Alternatively add on a morning excursion to Angkor or to one of the outlying temples such as Beng Mealea.
Overnight Siem Reap. Breakfast included.
Day 9: Cambodian Riviera
Transfer to the airport for the flight to Sihanoukville.
On arrival in Sihanoukville transfer to your chosen luxury resort on the Cambodian Riviera.
Overnight Cambodian Riviera. Breakfast included.
Days 10 - 13: Cambodian Riviera
Enjoy the days at leisure at your chosen resort.
Overnight Cambodian Riviera. Breakfast included.
Day 14: Cambodia - UK
Transfer from your resort to the airport in Phnom Penh for your return flight to the UK.
Day 15: UK
Arrive back in UK.
Phnom Penh
Cambodia's capital is often overlooked as visitors head straight to Angkor Wat in the north.
Phnom Penh is well worth a visit however as the city has some lively markets, impressive temples and a great little museum which will elucidate much about the magnificent monuments further north.
On a more sobering note, the Killing Fields memorial is a moving testament to more recent events and an important place to visit to really understand modern day Cambodia.
Phnom Penh is essential on any tour of Cambodia - don't miss it.
Raffles le Royal Phnom Penh
The colonial style Raffles Hotel Le Royal is the premier hotel in Phnom Penh, with an original building dating back to 1929.
In those days, the hotel was graced by various dignitaries, royalty and globetrotters.
After extensive renovation, the hotel re-opened in 1997 as Raffles Le Royal.
Raffles has 170 rooms, which are set in three low-rise buildings surrounding landscaped gardens and a large swimming pool.
The main hotel building has been restored to its original splendour. Most city sights are within easy access.
Siem Reap
Siem Reap has grown rapidly in recent years as the gateway to the magnificent Angkor temples.
Angkor Wat is just the most famous of the Angkor temples, that are spread out over a wide area and deserve at least two full days for exploration.
There is now a good choice of luxury boutique hotels in Siem Reap.
Boutique hotels in Siem Reap we recommend include Heritage Suites and the luxury La Residence Angkor.
Direct flights now link Siem Reap to Sihanoukville making a Cambodia beach holiday an easy add on to tour of Cambodia.
Phum Baitang
Phum Baitang is a brand new (2015) boutique luxury hotel offering an authentic Cambodian experience in an intimate setting, within eight acres of lush gardens and paddy fields close to Siem Reap.
Phum Baitang consists of forty-five spacious villas, twenty-five with private terraces and twenty with private plunge pools.
Facilities include a luxurious and tranquil Spa Temple, a yoga pavilion, fitness room and 50m outdoor infinity pool.
For elegant dining, Phum Baitang's two restaurants, one locally-inspired and the other offering international cuisine, focus on fresh organic herbs and vegetables from the resort's own gardens.
Sihanoukville
Sihanoukville is the premier Cambodian beach resort destination, just 3 hours by car from Phnom Penh.
Sihanoukville (also known as Kampong Som) is now served by direct flights from Siem Reap, making a combination of Cambodia tour and Cambodia beach holiday a great option.
Sihanoukville offers a less developed (though far from undeveloped) beach holiday option than neighbouring Thailand.
Islands

There are now 4 luxury beach resorts on islands close to Sihanoukville on the so called Cambodian Riviera.
New in 2019 are the Six Senses Krabey Island and Alila Koh Russey, whilst Song Saa Resort remains the most luxurious beach resort in Cambodia.
On Koh Rong, the Golden Sands has had a very succesful opening year in 2018 and offers a beautiful beachfront setting within easy reach of the mainland.
Kep
Kep was once the top Cambodian beach resort destination and is now a quiet but developing region of Cambodia close to the Vietnamese border.
Whereas Sihanoukville has long stretches of golden sand, Kep is a little more rugged, with shorter stretches of beach interspersed with mangroves and rocky coastal stretches.
Kep is famous throughout Cambodia for its seafood and the crab market is an ever popular spot - both for tasting the delicious fresh crab and for people watching.
Knai Bang Chatt is a great boutique resort to spend a few days unwinding.
Is this a Private Tour or a Group Tour?
All of our tours are private tailor made itineraries, customised for you - we can amend things to entirely suit you.
You will have your own private car, driver and guide on excursions.
What are the departure dates?
Let us know your preferred dates of travel and we will find the best and most suitable flights to fit your itinerary.
As this is a private tour, there are no set departure dates.
Which Airlines do you use?
We work with all the major airlines flying to this part of the world.
Typically for Cambodia, Thai Airways, Singapore Airlines, Emirates or Vietnam Airlines would be airlines we would often use.
However, just let us know your preferred airline if you have one. We can organise flights from any regional destination in the UK.
There are no direct flights from the UK to Cambodia currently.
Which Hotels do you use?
We're careful with our choice of hotels, but we're guided by our customers also. If you have some preferred hotels, just let us know.
We specialise in boutique hotels and so we will often suggest some of our favourite smaller hotels where we think these will be suitable.
We keep on top of hotel developments in Cambodia from our office in Vietnam and regularly inspect the hotels we use.
Do you cater for Solo Travellers?
Yes, we have many solo travellers and Cambodia is a very safe, friendly and welcoming destination for those travelling alone.
River cruises on the Mekong in Cambodia are a popular option for solo travellers, especially with Pandaw Cruises who offer no Single Supplements on many departures.
How long have you been organising holidays to Cambodia?
We've been organising tailor made holidays to Cambodia for over 10 years.
Our team has a wealth of combined experience in the industry and our Director has been involved in organising holidays to Cambodia since the early 1990's - whilst Pol Pot was still living in the jungle close to Siem Reap.
Our partners on the ground in Cambodia have over 20 years experience in operating there.
They understand the country extremely well and have a strong infrastructure of staff, guides and vehicles within Cambodia. We've had the same partnership for over 10 years.
Where can I combine a holiday to Cambodia with?
Many people visit Cambodia as a stand-alone destination although once you are away from Phnom Penh, Siem Reap and Sihanoukville, the infrastructure and accommodation is nowhere near as developed.
Cambodia and Vietnam or Laos (or all three) sit perfectly together and there are good connecting flights between Cambodia and Vietnam in particular.
Combining Cambodia with neighbouring Thailand is another popular and easy option.
A Mekong River Cruise between Vietnam and Cambodia is a superb way to combine both destinations.
Deluxe Hotel Suggestions Phnom Penh:
Raffles le Royal Phnom Penh
La Rose Suites
The Bale
Deluxe Hotel Suggestions Siem Reap:
Raffles Grand d'Angkor
Belmond La Residence
Phum Baitang
Shinta Mani Bensley Collection
Shinta Mani Angkor
Deluxe Hotel Suggestions Beach:
Song Saa Private Island (Sihanoukville)
Fusion Maia (Hoi An, Vietnam)
Six Senses Krabey Island
Alila Koh Russey
Golden Sands, Koh Rong
12 nights Luxury Cambodia:
This is a guide price only, based on travel in low season.
Prices will vary according to choice of hotel and seasonal airfare and hotel surcharges. Please ask us for any current special offers.
All of our Cambodia Holidays are completely tailor-made and can be adjusted to suit your interests or budget.
Contact Us:
All of our Cambodia Holidays are completely tailor made and we can put together any kind of itinerary to suit your interests and budget.
Call us now to speak to a Cambodia holiday expert about your luxury Cambodia holiday.
Call us now on 0333 7000 747
We're open from 9 until 9 daily and our 0333 number is a local rate number included in most call packages.