Call us now:
0333 7000 747
Open 9 until 9 daily
Start your perfect holiday
contact us today!
9 Nights - £1,750pp
Flight Inclusive Price from UK
International flights from UK
Domestic flights
9 nights accommodation
Breakfast & some other meals
Private car, driver & guide
Entrance fees
Based on 2019 - 20 prices
View Map
Holiday Confusion?
You need a Specialist
Solve my Problem
Confused about Laos?
Speak to a Laos expert
Kingdom of the Elephant
Discover Luang Prabang
Discover Vientiane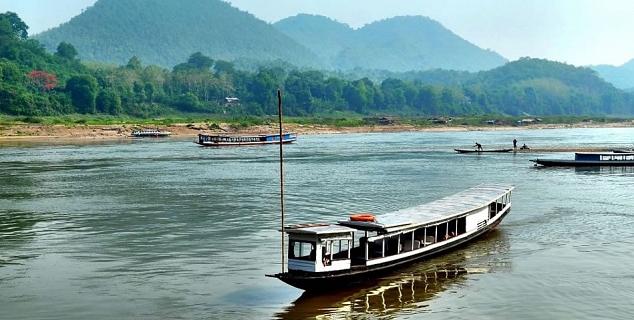 Cruise down the Mekong
Exotic Laos
Temples in Luang Prabang
Kingdom of the Elephant
This Laos and Thailand combination tour will take you from Laos' sleepy capital city through the cultural capital of Luang Prabang, up the Mekong to Thailand's Golden Triangle region and Chiang Mai.
Begin with a 2-night stay in Vientiane with a full day of sightseeing including the Buddha Park.
From Vientiane, fly north to Laung Parabang, the cultural capital of Laos and discover the temples, markets and natural attractions in and around Luang Prabang.
Enjoy a half-day elephant experience (no riding) to learn about the iconic animal of Laos.
From Luang Prabang board the Luang Say cruise and travel upstream along the Mekong through spectacular scenery with an overnight stop at Pakbeng.
The following day head towards the border with Thailand and drive down to Chiang Rai for a night in the Golden Triangle region bordering Laos.
Explore the Golden Triangle on a full day tour before driving to Chiang Mai, Thailand's second city, with time to discover the temples and enjoy this charming city.
As with all of our Laos holidays, this one can be tailored to fit your interests, time and budget, so just let us know your preferences and we can adjust things as you wish.
Inclusions
International flights from the UK
Accommodation
Breakfast & some other meals
All airport transfers by private car
Private car, driver and guide on excursions
Entrance Fees
Accommodation
2 nights Vientiane
2 nights Luang Prabang
1 night Pakbeng
1 nights Chiang Rai
3 nights Chiang Mai
Excursions
Full day tour Vientiane
Full day tour Luang Prabang
Half day Elephant Experience
Excursions from Luang Say Cruise
Full day tour Golden Triangle
Half day tour Chiang Mai
Day 1: Fly UK – Vientiane
Overnight flight from the UK to Vientiane.
Day 2: Vientiane
On arrival in Vientiane you will be met and transferred to your chosen hotel with the rest of the day at leisure.
Overnight Vientiane. Breakfast included.
Day 3: Vientiane
You will be collected from your hotel for a full day private tour of Vientiane.
The capital city of Laos still feels like a sleepy city with relaxed charm, tree-lined boulevards, interesting temples and colourful markets.
Visit Buddha Park, a collection of whimsical but compelling statues of Buddhist and Hindu gods.
'That Luang' is one of Vientiane's landmarks, a gleaming golden stupa, perhaps the most important national monument in Laos.
Ho Pha Keo is the formal royal temple, now a museum with beautiful examples of Buddhist sculpture. Visit Wat Si Saket, one of Vientiane's most famous Buddhist Wats.
Patuxai is a monumental arch inspired by the Arch de Triumph, but executed with Lao motifs.
Visit Wat Si Muang and end the day at the 'morning market' (actually open all day), the best place to buy traditional Lao fabrics before returning to your hotel.
Overnight Vientiane. Breakfast included.
Day 4: Vientiane - Luang Prabang
Transfer to the airport for your morning flight to Luang Prabang where you will be met for your full day private tour of Luang Prabang.
Start at the former Royal Palace, now the National Museum, where you will explore the history of Laos.
Continue on foot to Wat Mai, a temple renowned for its golden bas-relief, and Wat Sensoukarahm, which features a beautiful dazzling golden façade.
Finish this morning's tour at Wat Xieng Thong, the most revered temple in Luang Prabang.
Located at the end of the peninsula, close to the Mekong, this temple was built in 1560 and is decorated with ornate carvings and mosaics.
Enjoy a traditional Lao lunch before visiting Wat Visoun, the holiest temple of the city, which was entirely rebuilt in 1887 after being destroyed by the invading Black Flags from Southern China.
In the courtyard of Wat Visoun stands the Watermelon Stupa shaped like the fruit from which it takes its name.
Continue past Wat Aham, which was first built in the 1500's, and on to Wat That where the ashes of King Sisavang Vong are kept inside the large central stupa.
Continue to the Traditional Arts & Ethnology Centre, a museum dedicated to exploring the rich diversity of Laos' ethnic minorities. Traditional costumes, tools, and artifacts are on display.
As today comes to a close, climb the 328 stairs of Mount Phousi and watch the sun set over the city and surrounding hills.
Visit the hilltribe evening market for some shopping. This colourful market takes place every evening around 5 pm along the main streets of town and is a great place to look for souvenirs.
Transfer back to your hotel or spend more time at the hilltribe market.
Overnight Luang Prabang. Breakfast included.
Day 5: Luang Prabang
This morning spend half a day interacting with the elephants on a non-riding elephant experience.
In the morning you will be collected from your hotel and driven to the nearby village of Ban Xieng Lom.
Over a coffee or tea your guide will tell you about elephant behavior and how to interact with them.
Cross the Nam Khan River to meet the elephants in person. Feed them some special treats before taking them to the river for one of their favourite treats - bathtime!
Join the elephants in the water and learn the correct way to clean them.
Set off on a 2-hour trek with your new friends through the countryside. Walking alongside, rather than riding, is a much better way to bond with, and understand these gentle giants.
At Huay Nok stream spend some time wading through the cool water of the stream.
Walk back to Mandalao and then say goodbye to the elephants. In the restaurant enjoy a traditional Lao lunch made from organically grown produce while admiring the views over the river and misty mountains.
Return to Luang Prabang and enjoy the afternoon at leisure in Luang Prabang to relax or explore further independently.
Overnight Luang Prabang. Breakfast included.
Day 6: Luang Prabang – Pakbeng
This morning you will be collected from your hotel early and transferred to board the Luang Say, which departs at 7 a.m.
Breakfast is served on board whilst the boat cruises towards Pak Ou.
Opposite the mouth of the Nam Ou River, near Pak Ou village, the cruise stops to visit the Tam Thing cave.
Translated as Rock Cave, it is famous for housing over 2,500 Buddha statues of all sizes and for being a place of pilgrimage for locals.
Return to the boat for lunch before continuing upstream passing by granite cliffs and sparkling sandy shores.
The Luang Say makes a stop to visit the hilltribe village of Baw, where you can watch the traditional process of making Lao whiskey.
The Luang Say reaches Pakbeng around 5 pm where a dinner is served on a terrace overlooking the river.
Overnight Luang Say Lodge, Pakbeng. Breakfast, Lunch & Dinner included.
Day 7: Pakbeng – Huay Xai – Chiang Rai (Thailand)
Breakfast is served on the terrace at Luang Say Lodge from 7 am and the boat departs upstream at 8 am with lunch served on board.
After lunch, the boat stops at a traditional village. This is a chance to observe rural life along the Mekong and witness the daily life of ethnic minorities and their talented craftsmanship.
The boat reaches Huay Xai on the Thai border around 5 pm where you will be assisted with border formalities, met by your guide and transferred to your chosen hotel in Chiang Rai by private car.
Overnight Chiang Rai. Breakfast & lunch included.
Day 8: Chiang Rai – Golden Triangle - Chiang Mai
The Golden Triangle for centuries was known as the centre of the opium trade. This Half Day excursion from Chiang Rai explores this scenic and intriguing corner of Thailand going right up to the borders with Myanmar and Laos.
Visit a hill top viewpoint, above the junction of the Mekong and Ruak Rivers, which forms a three-way border with Laos, Myanmar and Thailand.
Continue to Mae Sai, the northernmost point of Thailand, to observe border life and explore the market for exotic goods.
After lunch in a local restaurant, you will be transferred to your chosen hotel in Chiang Mai.
Overnight Chiang Mai. Breakfast included.
Day 9: Chiang Mai
Chiang Mai is Thailand's second biggest city but feels a world away from the traffic and bustle of Bangkok.
It's a great city for spending days on foot and relaxing - at the night market, on the street of Temples, enjoying a spa treatment.
This morning enjoy a half-day introduction to Chiang Mai with your car, driver and guide.
Visit the famous Wat Doi Suthep, Wat Phra Sing, Wat Suan Dok and Wat Chedi Luang as you guide shows you the main sights of Chiang Mai.
The afternoon is at leisure.
Overnight Chiang Mai. Breakfast included.
Day 10: Chiang Mai
Enjoy the day at leisure in Chiang Mai to relax or explore further independently.
There are plenty of excursions we can include today if you prefer something organised.
Chiang Mai is not very big and is easy to get around by taxi or tuk tuk.
Overnight Chiang Mai. Breakfast included.
Day 11: Fly Chiang Mai – UK
Today you will be collected from your hotel and transferred to the airport for your flight back to the UK.
Day 12: Arrive UK
Arrive back in the UK.
Is this a Private Tour or a Group Tour?
All of our tours are private tailor made itineraries, customised for you - we can amend things to entirely suit you.
You will have your own private car, driver and guide on excursions.
What are the departure dates?
Let us know your preferred dates of travel and we will find the best and most suitable flights to fit your itinerary.
As this is a private tour of Laos, there are no set departure dates.
Which Airlines do you use?
We work with all the major airlines flying to this part of the world.
Typically for Laos, Vietnam Airlines, Thai Airways and Singapore Airlines would be airlines we most often use.
However, just let us know your preferred airline if you have one. We can organise flights from any regional destination in the UK.
Which Hotels do you use?
We're careful with our choice of hotels, but we're guided by our customers also. If you have some preferred hotels, just let us know.
We specialise in boutique hotels and so we will often suggest some of our favourite smaller hotels where we think these will be suitable.
We keep on top of hotel developments in Laos from our office in Vietnam and regularly inspect the hotels we use.
Do you cater for Solo Travellers?
Yes, we have many solo travellers, and Laos is a very safe, friendly and welcoming destinations for those travelling alone.
River cruises on the Mekong through Laos are a popular option for solo travellers, especially with Pandaw Cruises who offer no Single Supplements on many departures.
How long have you been organising holidays to Indochina?
We've been organising tailor made holidays to Laos & Indochina for over 10 years.
Our team has a wealth of combined experience in the industry and our Director has been involved in organising holidays to Indochina since the early 1990's.
Our partners on the ground in Indochina have over 20 years experience in operating there.
They understand the region extremely well and have a strong infrastructure of staff, guides and vehicles.
We've had the same partnership in Vietnam, Cambodia and Laos for over 10 years.
How does your office in Vietnam help?
We have our own staff in Saigon which helps in many ways with our customers in Indochina and South East Asia.
It helps us to keep on top of any new hotel and travel developments in the region and forge stronger relationships with hotels and other partners.
We regularly do our own inspections of hotels and destinations in the region.
Should our clients need any assistance during a trip, we always have at least one of our own staff on the same time zone, and we're open 7 days a week in Saigon.
Standard Hotel Suggestions Vientiane:
Ansara Hotel
Standard Hotel Suggestions Luang Prabang:
Le Sen Boutique Hotel
Mekong Riverview
Burasari Heritage Hotel
Standard Hotel Suggestions Pakbeng:
Luang Say Lodge
Standard Hotel Suggestions Golden Triangle:
Suanthip Vana
Standard Hotel Suggestions Chiang Mai:
Ping Nakara Boutique Hotel
Puripunn Boutique Hotel
9 nights Kingdom of the Elephant - Standard:
This is a guide price only, based on travel in low season.
Prices will vary according to choice of hotel and seasonal airfare and hotel surcharges. Please ask us for any current special offers.
Contact Us:
All of our Indochina Holidays are completely tailor made and we can put together any kind of itinerary to suit your interests and budget.
Call us now to speak to a Laos expert about your Indochina holiday or honeymoon to Indochina.
Call us now on 0333 7000 747
We're open from 9 until 9 daily and our 0333 number is a local rate number included in most call packages.
Southern Thailand
View
Stopover in Bangkok
View
Add Chiang Mai
View