Call us now:
0333 7000 747
Open 9 until 9 daily
Start your perfect holiday
contact us today!
12 Nights - £2,075pp
Flight Inclusive Price from UK
International Flights
Domestic flights
All taxes
12 nights accommodation
Breakfast
All transfers
Tours with a private car, driver and guide
ATOL Protection
Based on 2021 - 22 Prices
View Map
Holiday Confusion?
You need a Specialist
Solve my Problem
We know Indochina
Request a Holiday Quote Now!
Indochina Highlights
Colours of Vietnam
Angkor Wat
Cruise Halong Bay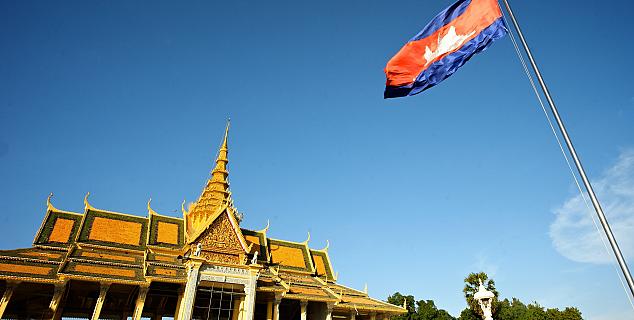 Discover Phnom Penh
Colonial Saigon
Indochina Highlights
Cambodia and Vietnam make a great combination and are easily combined to make a wonderful Indochina holiday.
In Cambodia explore lively and youthful Phnom Penh with its pleasant riverside setting, wide boulevards and bustling markets.
The Temples of Angkor are a highlight of any Indochina Tour. See the best of the temples at Angkor, with time for more exploration if you wish.
From Cambodia fly to Hanoi, the capital of Vietnam and enjoy a day visiting the historic sights of the city.
From Hanoi it's a short distance to Halong Bay one of the scenic highlights of Asia. Enjoy an overnight trip on a traditional Vietnamese style Junk.
From Halong Bay fly to Central Vietnam for 3 nights in Hoi An, many people's favourite town in Vietnam.
Relax by the beach and explore Hoi An's old cobbled streets and temples. A walking tour is included.
Finish the trip in Saigon, Vietnam's economic powerhouse where you will enjoy a city tour.
Enjoy a full day trip to the Mekong Delta which is a great way to finish your journey around Indochina.
All of our Indochina itineraries can all be adjusted to suit your interests and budget so just let us know how we can tailor this trip to suit your interests and budget.
Inclusions
International flights from the UK
Accommodation with breakfast
All airport transfers by private car
Private car, driver and guide on excursions
Entrance Fees
Accommodation
2 nights Phnom Penh
2 nights Siem Reap
2 nights Hanoi
1 night Halong Bay
3 nights Hoi An
2 nights Saigon
Excursions
Full day tour of Phnom Penh
Half day tour Siem Reap
Full day tour Angkor
Full day tour Hanoi
Morning walking tour Hoi An
Half day tour Saigon
Full day tour Mekong Delta
Is this a Private Tour or a Group Tour?
All of our tours are private tailor made itineraries, customised for you - we can amend things to entirely suit you.
You will have your own private car, driver and guide on excursions.
What are the departure dates?
Let us know your preferred dates of travel and we will find the best and most suitable flights to fit your itinerary.
As this is a private tour, there are no set departure dates.
Which Airlines do you use?
We work with all the major airlines flying to this part of the world.
Typically for Indochina, Vietnam Airlines, Thai Airways, Singapore Airlines or Cathay Pacific would be airlines we most often use.
However, just let us know your preferred airline if you have one. We can organise flights from any regional destination in the UK.
There are no direct flights from the UK to Cambodia or Laos currently, but Vietnam Airlines fly directly to both Hanoi and Saigon from the UK.
Which Hotels do you use?
We're careful with our choice of hotels, but we're guided by our customers also. If you have some preferred hotels, just let us know.
We specialise in boutique hotels and so we will often suggest some of our favourite smaller hotels where we think these will be suitable.
We keep on top of hotel developments in Indochina from our office in Vietnam and regularly inspect the hotels we use.
Do you cater for Solo Travellers?
Yes, we have many solo travellers, and Cambodia, Vietnam & Laos are all very safe, friendly and welcoming destinations for those travelling alone.
River cruises on the Mekong are a popular option for solo travellers, especially with Pandaw Cruises who offer no Single Supplements on many departures.
How long have you been organising holidays to Indochina?
We've been organising tailor made holidays to Vietnam, Laos and Cambodia for over 10 years.
Our team has a wealth of combined experience in the industry and our Director has been involved in organising holidays to Indochina since the early 1990's.
Our partners on the ground in Indochina have over 20 years experience in operating there.
They understand the region extremely well and have a strong infrastructure of staff, guides and vehicles. We've had the same partnership in Vietnam, Cambodia and Laos for over 10 years.
How does your office in Vietnam help?
We have our own staff in Saigon which helps in many ways with our customers in Indochina and South East Asia.
It helps us to keep on top of any new hotel and travel developments in the region and forge stronger relationships with hotels and other partners.
We regularly do our own inspections of hotels and destinations in the region.
Should our clients need any assistance during a trip, we always have at least one of our own staff on the same time zone, and we're open 7 days a week in Saigon.
View Itinerary in Detail
To view a sample holiday, click on one of the links below. This will open the itinerary up in a new window.
All of our Vietnam Holidays are completely tailor made and we can put together any kind of itinerary to suit your interests and budget.
We have many other options so if you have a particular hotel in mind just let us know and we'll put together a price and itinerary for you.
Contact Us:
Call us now to speak to a Vietnam holiday expert about your Vietnam holiday or honeymoon to Vietnam.
Call us now on 0333 7000 747
Open 09:00 - 17:30 Mon - Fri. 09:00 - 12:00 Sat.
Standard Hotels
Indochina Highlights
See the Best of Indochina in 13 days.
Flights from the UK, Boutique style hotels, Private Tours, Tailor Made Journey.
12 nights from £2,050 pp
View
Superior Hotels
Indochina Highlights
See the Best of Indochina in 13 days.
Flights from the UK, Boutique style hotels, Private Tours, Tailor Made Journey.
12 nights from £2,295 pp
View
Deluxe Hotels
Indochina Highlights
See the Best of Indochina in 13 days.
Flights from the UK, Boutique style hotels, Private Tours, Tailor Made Journey.
12 nights from £2,795 pp
View