Call us now:
0333 7000 747
Open 9 until 9 daily
Start your perfect holiday
contact us today!
2 Nights - £125pp
Hotel, Transfers, Tours included
Hotel Accommodation
Private car transfers
Tours
Based on 2019 - 20 Prices
View Map
Holiday Confusion?
You need a Specialist
Solve my Problem
Confused about Siem Reap?
Speak to someone who's been
Siem Reap City Stays
Apsara Dancers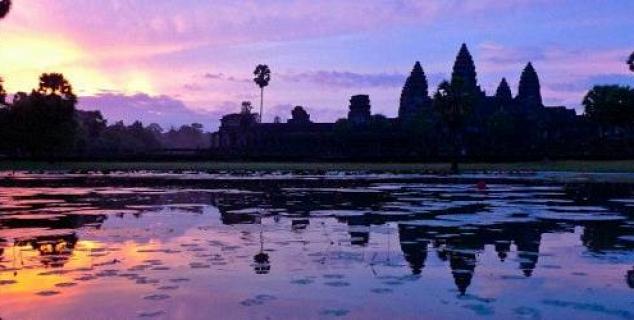 Siem Reap Stopovers
Apsara Dancer reliefs
On Tonle Sap Lake
Bakong Temple in the Roulos Group
Monks at Angkor
Siem Reap City Stays
This 2 night Siem Reap City Stay is ideal for those visiting Siem Reap for the first time.
See the highlights of Angkor in a 2 night stay with a full day of privately guided sightseeing of the Temples of Angkor.
All of our Siem Reap city stays and Cambodia holidays are completely customisable.
We offer fully tailored Cambodia and Indochina holidays, tailored to your interests and budget.
Inclusions
Accommodation with breakfast
Return airport transfers by private car
Private car, driver and guide on excursions
Entrance Fees
Accommodation
Excursions
Day One: Siem Reap
Arrive Siem Reap and transfer to your hotel by private car.
Enjoy the rest of the day at leisure to relax or explore independently.
Overnight Siem Reap. Breakfast included.
Day Two: Siem Reap
This Full Day Tour covers the highlights of Angkor, from Angkor Wat itself to the royal city of Angkor Thom, the Terrace of the Elephants, the Terrace of the Leper King and the Bayon.
Visit Angkor Wat, the crowning jewel of Khmer architecture. Angkor Wat is the national symbol and the highlight of any tour of Cambodia.
The largest, best preserved, and most religiously significant of the Angkor temples, Angkor impresses visitors both by its sheer scale and beautifully proportioned layout, as well as the delicate artistry of its carvings.
Angkor Wat is stunning at any time of the day, but sunrise and sunset are especially beautiful times to watch the play of light on the stones.
Visit Sras Srang, a basin opposite Banteay Kdei measuring 800 by 400 metres with a tiny island in the middle where only the stone base remains of what was once a wooden temple.
The fortified city of Angkor Thom covers an area of 10 sq. km. Enclosed by a wall and wide moats, Angkor Thom includes many of Angkor's most popular sights.
Enter by the monumental South Gate over a causeway lined on either side by statues of demons and gods, each carrying a giant Naga.
Continue to the Terrace of the Elephants and the Terrace of the Leper Kings, former spaces for public ceremonies, both adorned with dramatic bas-reliefs.
Visit the ruined Baphuon, Royal Enclosure and Phimeanakas before continuing to the mysterious Bayon Temple, one of the most popular and compelling in Angkor.
Explore the galleries of beautifully preserved bas reliefs and ascend narrow stairs to reach the central sanctuary, where you will find giant stone faces smiling enigmatically down at you from every angle.
Banteay Kdei Temple is a massive Buddhist temple dating from the second half of the 12th century, surrounded by four concentric walls.
Finally, visit Ta Prohm, one of the most popular attractions of Angkor as much of the jungle has not been cleared and it looks very much as most of the Angkor monuments would have appeared when European explorers first stumbled across them.
Watch the sun set over the Cambodian countryside from the upper terraces of an ancient Angkorian Temple.
Return to your hotel for overnight.
Overnight Siem Reap. Breakfast included.
Day Three: Siem Reap
Transfer to the airport by private car for your onward flight.
Siem Reap
Siem Reap has grown rapidly in recent years as the gateway to the magnificent Angkor temples.
Angkor Wat is just the most famous of the Angkor temples, that are spread out over a wide area and deserve at least two full days for exploration.
There is now a good choice of luxury boutique hotels in Siem Reap. Boutique hotels in Siem Reap we recommend include Heritage Suites and the luxury La Residence Angkor.
Direct flights now link Siem Reap to Sihanoukville making a Cambodia beach holiday an easy add on to tour of Cambodia.
Why visit Siem Reap?
Angkor Wat
The Bayon
Angkor Thom
Beng Mealea
Great boutique hotels
Tonle Sap Lake
How long to spend in Angkor?
Of course, no visit to Siem Reap would be complete without a visit to the Temples of Angkor. Over 100 temples lie within Siem Reap province dating from the 9th-14th century.
Passes are sold for 1 day, 3 days or 1 week and whilst you could spend a lifetime exploring, we recommend at least 2 full days for temple exploration.
This will allow you to see all of the main temples, plus a few outlying ruins without racing around.
Getting around Angkor
There are several options for getting around the temples. Car, bus, and van remain the vehicles of choice, but we recommend taking a day to cycle through the temples.
Traveling by two wheels, either by regular bike or electric bike, gives you a unique perspective and an eco-friendly way to see the temples.
Elephant Rides are available and you'll feel as if you've stepped back in time to the days of the Angkorian kings as you meander through the woods and temples.
A tethered hot air balloon is available near Angkor Wat, which gives distant, but sweeping views of the temples and their surroundings.
But the most exciting experience available is a helicopter flight around the area.
Ranging in length from 8 minutes to a half-day excursion, buzzing around the temples in a helicopter is an unparalleled experience.
Which Temples to visit?
Any itinerary should include Angkor Wat, the magnificent legendary temple.
The Bayon is another favorite with its mysterious faces smiling down on visitors, while the jungle covered Ta Phrom is an evocative blend of nature and architecture with the jungle roots reclaiming the moss-covered stones.
Other temples in the vicinity worth seeing are Phnom Bakeng, Pre Rup, Baphoun, and Preah Khan.
If you have more time, trips further afield lead to less crowded temples and spectacular photo opportunities.
Just 12 km from Siem Reap are the Rolous Group of temples, some of the earliest ruins in the region.
The petite Banteay Srey features intricate carvings in pink sandstone and nearby Banteay Kdei is a hidden gem tucked away in the jungle.
Beng Mealea sprawls across one square kilometer and remains covered in trees, roots, and vines.
Constructed in a similar style to Angkor Wat yet overrun by nature, Beng Mealea is a truly adventurous place to visit.
Koh Ker, situated to the northeast of Siem Reap, is the remnants of the Khmer capital in the late 9th century and features a circular loop of about a dozen ruins.
What else to see in Siem Reap?
Need a break from temple touring? Siem Reap has several other activities and opportunities for travelers. A boat trip on the Tonle Sap Lake is very worthwhile.
Each year during the rainy season, the lake swells to five times larger and the plethora of fish provide the livelihood for the lake's residents.
A favourite is the Paneman Boat, a large wooden cruising boat run by an eco-tourism company, which provides an elegant ride along the water.
A boat trip departing from Kampong Phluck takes you through the floating villages and ancient mangrove forests of the lake, a great way to see the unique lifestyle of the lake's residents.
Artisan's D'Angkor is a unique organization working to preserve traditional Khmer arts and crafts. They have established two centres in Siem Reap.
The location in town features a stone-carving workshop where locals produce magnificent sculptures, while the silk centre is a bit further afield.
Here you can see the entire process of silk creation: from the breeding of the silk worms, to the dyeing and weaving of the material.
Siem Reap's small downtown turns into a hive of activity as the sun begins to set; the small 'Old Market' closes down and tourists flood in to town to enjoy cocktails on 'Pub Street' and dinner in one of the many restaurants.
Vendors have capitalized on this area's popularity by establishing a night market at the south end of Pub Street.
Cambodian crafts such as artwork, silks, carvings, and t-shirts are for sale in an open-air market off a tranquil side street making it the perfect place to pick up souvenirs.
A traditional Apsara Dance performance is a great evening activity as the elegant dancers, elaborate costumes, and live music create an enchanting atmosphere.
Another treat is a traditional massage at Bodia Spa.
Here you will be treated to a relaxing spa or massage treatment, using top quality natural products and traditional techniques.
Is this a Private Tour or a Group Tour?
All of our tours are private tailor made itineraries, customised for you - we can amend things to entirely suit you.
You will have your own private car, driver and guide on excursions.
What are the departure dates?
Let us know your preferred dates of travel and we will find the best and most suitable flights to fit your itinerary.
As this is a private tour, there are no set departure dates.
Which Airlines do you use?
We work with all the major airlines flying to this part of the world.
Typically for Cambodia, Thai Airways, Singapore Airlines, Emirates or Vietnam Airlines would be airlines we would often use.
However, just let us know your preferred airline if you have one. We can organise flights from any regional destination in the UK.
There are no direct flights from the UK to Cambodia currently.
Which Hotels do you use?
We're careful with our choice of hotels, but we're guided by our customers also. If you have some preferred hotels, just let us know.
We specialise in boutique hotels and so we will often suggest some of our favourite smaller hotels where we think these will be suitable.
We keep on top of hotel developments in Cambodia from our office in Vietnam and regularly inspect the hotels we use.
Do you cater for Solo Travellers?
Yes, we have many solo travellers and Cambodia is a very safe, friendly and welcoming destination for those travelling alone.
River cruises on the Mekong in Cambodia are a popular option for solo travellers, especially with Pandaw Cruises who offer no Single Supplements on many departures.
How long have you been organising holidays to Cambodia?
We've been organising tailor made holidays to Cambodia for over 10 years.
Our team has a wealth of combined experience in the industry and our Director has been involved in organising holidays to Cambodia since the early 1990's - whilst Pol Pot was still living in the jungle close to Siem Reap.
Our partners on the ground in Cambodia have over 20 years experience in operating there.
They understand the country extremely well and have a strong infrastructure of staff, guides and vehicles within Cambodia. We've had the same partnership for over 10 years.
Where can I combine a holiday to Cambodia with?
Many people visit Cambodia as a stand-alone destination although once you are away from Phnom Penh, Siem Reap and Sihanoukville, the infrastructure and accommodation is nowhere near as developed.
Cambodia and Vietnam or Laos (or all three) sit perfectly together and there are good connecting flights between Cambodia and Vietnam in particular.
Combining Cambodia with neighbouring Thailand is another popular and easy option.
A Mekong River Cruise between Vietnam and Cambodia is a superb way to combine both destinations.
Standard Hotel Suggestions Siem Reap:
Siddharta Boutique Hotel
Pavilion d'Orient
FCC Angkor
Viroths Hotel
Sojourn Boutique Villas
2 night Stopovers - Standard:
First Timer: from £125 pp
This is a guide price only, based on travel in low season.
Prices will vary according to choice of hotel and seasonal hotel surcharges. Please ask us for any current special offers.
Contact Us:
All of our Classic Cambodia Tours are completely tailor made and we can put together any kind of itinerary to suit your interests and budget.
Call us now to speak to a Vietnam & Cambodia holiday expert about your Cambodia holiday or honeymoon to Indochina.
Call us now on 0333 7000 747
We're open from 9 until 9 daily and our 0333 number is a local rate number included in most call packages.
Classic Cambodia
Tailor Made Cambodia
Cambodia and Indochina holidays Tailor Made.
Boutique Hotels, Private Tours with Driver & Guide. Totally Flexible.
7 Nights from £1,395 pp
View
Pandaw Mekong Cruise
Mekong River Cruise
Fantastic value Boutique Mekong River Cruise.
Pandaw Cruises - Various Itineraries & Destinations. Pre and Post Cruise.
12 Nights from £1,799 pp
View
Lost Kingdoms
Indochina Holiday
See the best of Cambodia, Laos & Vietnam in two weeks.
Includes Siem Reap, Phnom Penh, Luang Prabang, Hanoi, Halong Bay, Hue, Hoi An.
14 Nights from £1,795 pp
View