Call us now:
0333 7000 747
Open 9 until 9 daily
Start your perfect holiday
contact us today!
2 Nights - £125pp
Hotel, Transfers, Tours included
Hotel Accommodation
Private car transfers
Tours
View Map
Holiday Confusion?
You need a Specialist
Solve my Problem
Confused about Siem Reap?
Speak to someone who's been
Siem Reap City Stays
Apsara Dancers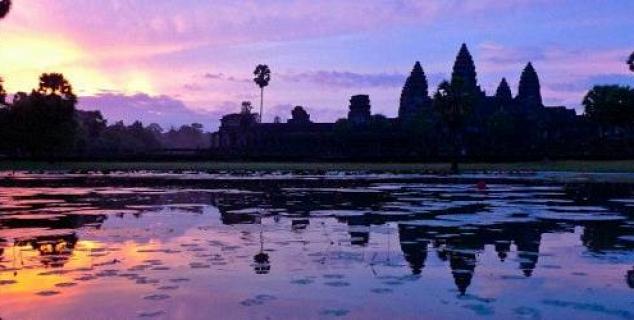 Siem Reap Stopovers
Apsara Dancer reliefs
On Tonle Sap Lake
Bakong Temple in the Roulos Group
Monks tattoos
Monks at Angkor
This 2 night Siem Reap City Stay is ideal for those visiting Siem Reap for the first time.
See the highlights of Angkor in a 2 night stay with a full day of privately guided sightseeing of the Temples of Angkor.
All of our Siem Reap city stays and Cambodia holidays are completely customisable.
We offer fully tailored Cambodia and Indochina holidays, tailored to your interests and budget.
At a Glance
2 nights accommodation
Return private car airport transfers
Full day Temples of Angkor Tour
Angkor Wat
Ta Phrom
The Bayon
Angkor Thom
Terrace of the Elephants
Sras Srang
Bantaey Kdei
Baphuon
Phimeanakas
Sunset View
Day One: Siem Reap
Arrive Siem Reap and transfer to your hotel by private car.
Enjoy the rest of the day at leisure to relax or explore independently.
Overnight Siem Reap. Breakfast included.
Day Two: Siem Reap
This Full Day Tour covers the highlights of Angkor, from Angkor Wat itself to the royal city of Angkor Thom, the Terrace of the Elephants, the Terrace of the Leper King and the Bayon.
Visit Angkor Wat, the crowning jewel of Khmer architecture. Angkor Wat is the national symbol and the highlight of any tour of Cambodia.
The largest, best preserved, and most religiously significant of the Angkor temples, Angkor impresses visitors both by its sheer scale and beautifully proportioned layout, as well as the delicate artistry of its carvings.
Angkor Wat is stunning at any time of the day, but sunrise and sunset are especially beautiful times to watch the play of light on the stones.
Visit Sras Srang, a basin opposite Banteay Kdei measuring 800 by 400 metres with a tiny island in the middle where only the stone base remains of what was once a wooden temple.
The fortified city of Angkor Thom covers an area of 10 sq. km. Enclosed by a wall and wide moats, Angkor Thom includes many of Angkor's most popular sights.
Enter by the monumental South Gate over a causeway lined on either side by statues of demons and gods, each carrying a giant Naga.
Continue to the Terrace of the Elephants and the Terrace of the Leper Kings, former spaces for public ceremonies, both adorned with dramatic bas-reliefs.
Visit the ruined Baphuon, Royal Enclosure and Phimeanakas before continuing to the mysterious Bayon Temple, one of the most popular and compelling in Angkor.
Explore the galleries of beautifully preserved bas reliefs and ascend narrow stairs to reach the central sanctuary, where you will find giant stone faces smiling enigmatically down at you from every angle.
Banteay Kdei Temple is a massive Buddhist temple dating from the second half of the 12th century, surrounded by four concentric walls.
Finally, visit Ta Prohm, one of the most popular attractions of Angkor as much of the jungle has not been cleared and it looks very much as most of the Angkor monuments would have appeared when European explorers first stumbled across them.
Watch the sun set over the Cambodian countryside from the upper terraces of an ancient Angkorian Temple.
Return to your hotel for overnight.
Overnight Siem Reap. Breakfast included.
Day Three: Siem Reap
Transfer to the airport by private car for your onward flight.
Siem Reap has grown rapidly in recent years as the gateway to the magnificent Angkor temples.
Angkor Wat is just the most famous of the Angkor temples, that are spread out over a wide area and deserve at least two full days for exploration.
There is now a good choice of luxury boutique hotels in Siem Reap. Boutique hotels in Siem Reap we recommend include Heritage Suites and the luxury La Residence Angkor.
Direct flights now link Siem Reap to Sihanoukville making a Cambodia beach holiday an easy add on to tour of Cambodia.
Why visit Siem Reap?
Angkor Wat
The Bayon
Angkor Thom
Beng Mealea
Great boutique hotels
Tonle Sap Lake
Standard Hotel Suggestions:
Siddharta Boutique Hotel
Pavilion d'Orient
FCC Angkor
Viroths
Sojourn Boutique Villas
2 night Stopovers - Standard:
First Timer: from £125 pp
This is a guide price only, based on travel in low season.
Prices will vary according to choice of hotel and seasonal hotel surcharges. Please ask us for any current special offers.
Contact Us:
All of our Classic Cambodia Tours are completely tailor made and we can put together any kind of itinerary to suit your interests and budget.
Call us now to speak to a Vietnam & Cambodia holiday expert about your Cambodia holiday or honeymoon to Indochina.
Call us now on 0333 7000 747
We're open from 9 until 9 daily and our 0333 number is a local rate number included in most call packages.
Classic Cambodia
Tailor Made Cambodia
Cambodia and Indochina holidays Tailor Made.
Boutique Hotels, Private Tours with Driver & Guide. Totally Flexible.
7 Nights from £1,395 pp
View
Pandaw Mekong Cruise
Mekong River Cruise
Fantastic value Boutique Mekong River Cruise.
Pandaw Cruises - Various Itineraries & Destinations. Pre and Post Cruise.
12 Nights from £1,799 pp
View
Lost Kingdoms
Indochina Holiday
See the best of Cambodia, Laos & Vietnam in two weeks.
Includes Siem Reap, Phnom Penh, Luang Prabang, Hanoi, Halong Bay, Hue, Hoi An.
14 Nights from £1,795 pp
View