Call us now:
0333 7000 747
Open 9 until 9 daily
Start your perfect holiday
contact us today!
11 Nights - £2,395pp
Flight Inclusive Price from UK
International flights from the UK
11 nights accommodation
Meals as specified
All transfers throughout
Based on 2019 - 20 prices
View Map
The Seychelles Destinations
Holiday Confusion?
You need a Specialist
Solve my Problem
Advice from a Seychelles Expert
Request a Seychelles Quote Now!
Seychelles Island Explorer
Bird Island
View of Mahe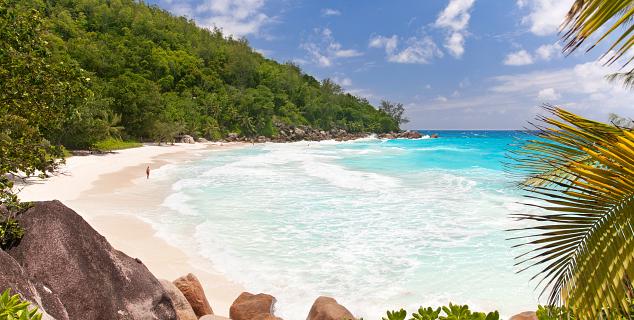 Praslin, Anse Georgette
Anse Lazio, Praslin
Turtle tagging on Bird Island
Seychelles Island Explorer
This Seychelles island hopping itinerary includes the two main Seychelles islands of Mahe and Praslin with a short visit to the stunning Bird Island.
Mahe's rainforests seem to begin right from the beautiful white sandy beaches and coves and climb up and around the dramatic granite rocks of this mountainous island.
Mahe is a great island to explore, including the waterfront and the capital, Victoria.
From Mahe, it's a 30-minute scenic flight to Bird Island, a tiny island surrounded by the most incredible turquoise blue and white sandy beaches.
Bird Island is a natural paradise and is aptly named because of its Sooty Tern bird colony. It's also famous for the female turtles which come ashore to lay their eggs between October and February.
From Bird Island, fly on to Praslin Island, via Mahe, for the remainder of your holiday.
Praslin is the second largest island in the Seychelles and has a very different feel to Mahe.
There are plenty of powder soft beaches, more rainforested mountains and the famous Vallee De Mai National Park where you can see the unique giant double coconut of the Coco de Mer as well as the rare Black Parrot.
As with all of our holidays to the Seychelles, this one can be tailored to suit you, so just let us know your preferences.
Inclusions
International flights from the UK
Domestic flights
All airport transfers by private car
Accommodation
4 nights Mahe
2 nights Bird Island
5 nights Praslin
Day 1: Fly UK - Seychelles
Overnight flight from the UK to Mahe.
Day 2: Mahe
On arrival into Mahe, transfer to your hotel.
Overnight Mahe. Meals according to hotel choice.
Days 3 - 5: Mahe
Relaxing on the beautiful beach and exploring the island of Mahe.
Overnight Mahe. Meals according to hotel choice.
Day 6: Mahe - Bird Island
This morning transfer to the airport and take the short flight to Bird Island.
Walking, kayaking and snorkelling trips by boat are possible from the lodge.
Overnight Bird Island. Breakfast included.
Day 7: Bird Island
Enjoy the days exploring the island or relaxing by the beach.
Overnight Bird Island. Meals according to hotel choice.
Day 8: Bird Island - Praslin
Transfer back to Praslin and transfer to your chosen hotel.
Overnight Praslin. Meals according to hotel choice.
Days 10 - 12: Praslin
Spend your time relaxing or exploring the island, where we highly recommend a visit to the Valle de Mai.
Overnight Praslin. Meals according to hotel choice.
Day 13: Praslin - UK
On your final afternoon, transfer back to the airport for your flight back to the UK via Mahe.
Day 14: Arrive UK
Arrive UK.
Which Airlines do you use?
We work with all the major airlines flying to the Seychelles.
Typically for the Seychelles we will use British Airways for direct flights.
There are currently twice-weekly flights from Heathrow (Wednesdays and Saturdays) direct to Mahe using the Dreamliner.
The flying time for direct flights is around 10 hours, making the Seychelles a little shorter flying time than going to South East Asia.
We also commonly use Emirates via Dubai, Qatar Airways via Doha and Etihad via Abu Dhabi. These all allow stopover options in the Arabian Gulf to create a multi-centre holiday.
Regional connections from across the UK are available.
Which Hotels do you use?
We're careful with our choice of resorts in the Seychelles, but we're guided by our customers also. If you have some preferred hotels, just let us know.
We specialise in boutique hotels and so we will often suggest some of our favourite smaller hotels where we think these will be suitable.
This particular Seychelles three-centre holiday is based on a stay in boutique hotels on three different islands.
Do I need a visa for the Seychelles?
If you're travelling on British Passports, no visa is required for stays of up to a month.
Please double check before travel however as visa requirements are subject to change at any time.
How long have you been organising holidays to the Seychelles?
We've been organising tailor made holidays to the Seychelles since 2009.
We use a very reliable local partner in the Seychelles for our tours and transfers and to assist our clients in the Seychelles. They are a family owned company who are one of the most established and respected local travel companies.
We keep up to date with developments in the Seychelles with regular visits and through our local contacts.
When is the best time to visit the Seychelles?
The driest time of year to visit the Seychelles is normally between June and September.
April to May and October to November can be the best value times of year to visit the Seychelles as these are shoulder-season periods.
Superior Hotel Suggestions Mahe:
Petit Amour Villas
Superior Hotel Suggestions Bird Island:
Bird Island Lodge (Full Board)
Superior Hotel Suggestions Praslin:
Coco de Mer (Half Board)
11 nights Seychelles Island Explore - Superior:
This is a guide price only, based on travel in low season.
Prices will vary according to choice of hotel and seasonal airfare and hotel surcharges. Please ask us for any current special offers.
Contact Us:
All of our Classic Seychelles Holidays are completely tailor made and we can put together any kind of Seychelles itinerary to suit your interests and budget.
Call us now to speak to a Seychelles expert about your tailor made Seychelles holiday.
Call us now on 0333 7000 747
We're open from 9 until 9 daily and our 0333 number is a local rate number included in most call packages.
Inner Seychelles
View
Seychelles & Dubai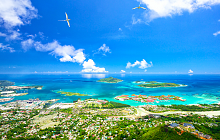 View
Safari & Beach
View