Call us now:
0333 7000 747
Open 9 until 9 daily
Start your perfect holiday
contact us today!
7 Nights - £1,390pp
Flight Inclusive Price from UK
Bali & Indonesia Destinations
Holiday Confusion?
You need a Specialist
Solve my Problem
Ask us about Kayumanis Sanur
Speak to Someone Who's Been
Kayumanis Sanur Private Villa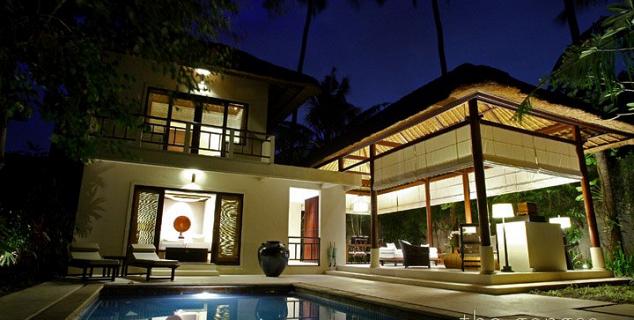 Pool Villa
Villa Bedroom
Villa Living
Villa
Family Friendly
Kayumanis Sanur Private Villa
Situated in a quiet residential area of Sanur Village, Kayumanis Sanur Private Villa Bali is not the typical Sanur hotel.
With just a handful of private villas in a simple village-like setting, Kayumanis Sanur Private Villa Bali offers a peaceful escape, with top-notch service and an atmosphere quite different to that of many Bali hotels.
The Kayumanis Sanur Private Villa was formerly known as the Gangsa and is the sister hotel to the Kayumanis hotels in Nusa Dua, Ubud and Jimbaran which have pioneered exclusive, luxury villas in Bali.
What's so Special?
Kayumanis Sanur's Villas are two-storeyed with a decent sized swimming pool and a handy upstairs living space.
Many guests at the Kayumanis Sanur seem to stay for extended periods and it's not hard to understand why.
Although Kayumanis Sanur Private Villa is small, it is well equipped for families and offers a Kids program (more geared towards local activities than X-Boxes etc).
Bear in Mind
The location means the beach is under 5 minutes drive away or a lengthy walk.
Villas
Inspired by the rustic village setting that embraces it, the Kayumanis Sanur offers 1, 2 and 3 bedroom Villas, all featuring private swimming pools.
Villas are spacious, completely private and feature stylish Balinese touches and décor.
There are 7 one-bedroom villas, 2 two-bedroom villas and 2 three-bedroom villas.
Villas all feature a comprehensive kitchen and stylish outdoor bathrooms. An upstairs studio can be used as an additional bedroom, as a space to read or somewhere to practice yoga. (The studio is only available in the one and two-bedroom villas).
Features:
Air-con bedrooms
TV with Satellite channels
BOSE CD entertainment system
Private swimming pool surrounded by a sundeck, outdoor dining space and tropical garden
Semi-open integrated living and dining environment
Fully equipped gourmet kitchen
IDD phone
Safe
Gong
"Gong" is the signature restaurant of Kayumanis Sanur, specializing in the finest in traditional Balinese cuisine, using the freshest local ingredients, herbs and spices available.
Offering an intimate and relaxed setting, Gong is a simple but stylish place to enjoy quality Balinese food.
Private Dining
Villas can be magically transformed into a candlelit haven for two, or a romantic dinner can be served poolside by a personal butler.
24-hour in-villa dining service is offered.
Kayumanis Sanur also frequently organises private beach club picnic lunches, a hideaway picnic to Ubud, or private cooking classes.
Facilities:
Rebab Spa aims to restore Balance through the use of traditional Balinese healing techniques.
A beach facility with sun loungers and umbrellas is available at Sanur Beach and free transport is available on demand.
Kayumanis Sanur is child-friendly and offers cots and high chairs. Qualified babysitters can be arranged.
Kayumanis Sanur offers a small play centre for children.
Facilities:
Spa
Beach Club
Babysitting
Play Centre
Activities
View Itinerary in Detail
To view a sample holiday, click on one of the links below. This will open the itinerary up in a new window.
All of our Bali Holidays are completely tailor made and we can combine different hotels and airlines to create your ideal Bali holiday.
We have many other options so if you have a particular hotel in mind just let us know and we'll put together a price and itinerary for you.
Contact Us:
Call us now to speak to a Bali holiday expert about your Bali holiday or honeymoon to Bali.
Call us now on 0333 7000 747
Open 09:00 - 17:30 Mon - Fri. 09:00 - 12:00 Sat.
Pool Villa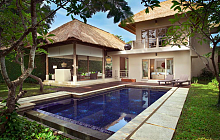 Free Nights Included
7 nights at Kayumanis Sanur - One Bedroom Villa including Breakfast.
Includes all Flights, Transfers, Breakfast.
7 nights from £1,390 pp
View