Call us now:
0333 7000 747
Open 9 until 9 daily
Start your perfect holiday
contact us today!
7 Nights - £1,550pp
Flight Inclusive Price from UK
Bali & Indonesia Destinations
Holiday Confusion?
You need a Specialist
Solve my Problem
Unsure about Kayumanis Nusa Dua?
Speak to someone who's stayed
Kayumanis Nusa Dua
Private Pool Villa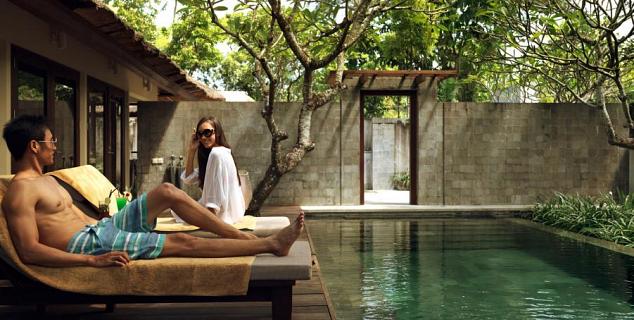 Private Pool Villa
Romantic Dining
Restaurant
Butler Service
Complete privacy and luxury are the hallmarks of Kayumanis Nusa Dua, one of three Kasyumanis luxury boutique resorts in Bali.
The all pool-villa Kayumanis offers luxurious, spacious and private pavilions, enclosed in walled gardens and featuring 24-hour private butler service.
The villas at Kayumanis are beautifully designed and combine tropical elegance with modern touches and convenience.
Kayumanis Nusa Dua is just a short stroll from Nusa Dua Beach but most guests find little reason to stray too far beyond the resort, which offers wonderful dining and a great little spa.
For those who want to venture further afield, Kayumanis also has a great boutique resort in Ubud, which offers a totally contrasting atmosphere to Nusa Dua. Many guests combine a stay at Kayumanis Nusa Dua with Kayumanis Ubud.
What's so Special?
The setting is really serene and Kayumanis Nusa Dua is like a shining jewel amongst the huge faux-Balinese 5 star resorts that surround it.
We love the privacy of the Villas at Kayumanis and it is far too easy to become used to having a Private Butler on call.
Kayumanis means Cinnamon in Balinese. There are two other Kayumanis resorts in Bali, one in Jimbaran Bay and one in Ubud.
Bear in mind
Kayumanis Nusa Dua does not accommodate children below 16 years old. For a luxury family villa in Bali, Kayumanis Jimbaran is the perfect option as the resort caters very well for families.
Exceptional villas offer decor and styling in various themes, including Balinese, Javanese, Oriental, Palembang, Primitive, and Modern - each tastefully furnished in a blend of ethnic, modern and traditional styles.
Kayumanis' villas are sinfully spacious, each with its own swimming pool, private garden and open-air garden bathroom.
Features:
Air Con
Free Wi-Fi
Flat screen TV with Satellite channels
DVD
Minibar
Safe
Tetaring
Tetaring is the signature restaurant of Kayumanis and features an exciting fusion of Western and Southeast Asian specialties. Every dish is masterfully prepared using only the finest ingredients and freshest market produce.
Piasan
Piasan is another exciting dining venue that maintains Kayumanis' flair for style, presentation, and culinary appeal. Celebrating the passionate flavours of Italy, Piasan offers traditional Italian home dining. The espressos aren't too bad either.
Private Dining
From the freshest, crisp salads to exquisitely delightful desserts, Kayumanis is able to accommodate most requests. Be it a hearty breakfast to begin the day, a barbeque party among close friends, or a romantic candle-lit dinner for two, Kayumanis can arrange for every perfect private dining occasion.
Nearby Dining
There aren't restaurants within easy walking distance although just a couple of minutes drive away by hotel shuttle are several restaurants in a strip on the edge of Nusa Dua offering a variety of dining options, but mostly standard 'tourist' restaurants.
There are countless dining options in the other luxury hotels in Nusa Dua such as the Mulia, Hilton, Grand Hyatt or Four Seasons.
Fine dining restuarants in Seminyak are about 20-30 minutes away.
Spa
Kayumanis has a great spa with a range of treatments from foot massages to scrubs and wraps.
Beach Club
Kayumanis has private beach facilities just a short walk along a private footpath from the villas. A perfect spot for relaxing, swimming in the sea, or to have breakfast as you greet the first rays of the sun at dawn. On clear days you can even see the peak of the highest mountain on the island of Bali, Mount Agung.
Facilites:
Swimming Pool
Spa
Excursions
Cooking lessons
Picnic lunches
2018 - 19 Price Guide:
Includes:
International Flights from the UK
All taxes
7 nights accommodation with breakfast
Private car airport transfers
This is a guide price only, based on travel in low season.
Prices will vary according to availability of airfares on the dates of travel and seasonal hotel and airfare surcharges.
Please ask us for any current special offers.
Jasmine Bonus:
Jasmine Free Night Offer:
Pay 6 nights get 1 more night FREE
Pay 12 get 2 more FREE
Pay 18 get 3 FREE
Valid year round
Jasmine Honeymoon Bonus:
One flower bath, honeymoon cake & gift
Contact Us:
All of our Bali Holidays are completely tailor made and we can put together any kind of itinerary to suit your interests and budget.
Call us to speak to a Bali expert about your Bali holiday or honeymoon to Bali.
Call us now on 0333 7000 747
We're open from 9 until 9 daily and our 0333 number is a local rate number included in most call packages.
Add on Ubud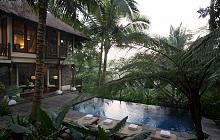 View
Kayumanis Jimbaran
View
Kuala Lumpur Stopover
View