Call us now:
0333 7000 747
Open 9 until 9 daily
Start your perfect holiday
contact us today!
7 Nights - £1,775pp
Flight Inclusive Price from UK
Bali & Indonesia Destinations
Holiday Confusion?
You need a Specialist
Solve my Problem
Need to be sure about Kayumanis?
Talk to someone who's stayed
Kayumanis Jimbaran
Gardens
Luxury Villas for Families
One Bedroom Villa
Spa
Restaurant
One Bedroom Villa
Kayumanis Jimbaran is an idyllic luxury pool villa resort in Bali virtually hidden amongst the hypnotic sway of groves of coconut trees backing on to Jimbaran Bay.
Kayumanis Jimbaran's luxury villas are all completely private with large swimming pools, walled tropical gardens, separate living area and 24-hour butler service.
The resort is ideal for families as well as couples as the villas can accommodate a family of four.
Kayumanis Jimbaran enjoys a wonderful setting, serene and luxurious and just a short stroll down a little lane to Jimbaran Bay.
Privacy and luxury are the hallmarks of Kayumanis Jimbaran. The villas are intelligently designed and offer space, character and privacy.
Kayumanis is just a short stroll from Jimbaran Beach, but for us, the private pool villas mean a beachfront location isn't really a necessity. Enjoy the luxury and privacy with the beach close at hand.
What's so Special?
We happen to be big fans of Kayumanis, which translates as 'Cinnamon'.
The 3 Kayumanis Resorts in Bali – Jimbaran, Nusa Dua and Ubud are a delight, with top-notch service and super spacious villas at each one.
Combining a stay at Kayumanis Ubud with one of the beach resorts makes a great option for a luxury Bali holiday.
Bear in mind
Kayumanis Jimbaran isn't right on the beach but the sand is literally a short stroll down a quiet lane (2-3 minutes).
Kayumanis Jimbaran now has its own exclusive beach club at Balangan Bay, with a private beach area, 20-minutes away by free hotel shuttle.
One Bedroom Villas
These private villas are spacious, luxurious, individually themed villas – with Balinese, Javanese, Oriental, Palembang, Primitive, and Modern styles. Each is a tasteful blend of ethic, modern, and traditional influences.
Villas have high ceilings, wooden floors and huge floor to ceiling blind covered windows.
They really are masterpieces in indoor - outdoor living and feature very large swimming pools set amongst totally private gardens.
Bathrooms are semi-open, with bathtubs in the garden and an indoor shower.
Living areas include a kitchenette, table and chairs, adjoining the bedroom.
The villas are ideal for families since a second smaller bedroom is included in a separate annexe. Two Bedroom Villas are also available.
Features:
Air Con
Free Wi-Fi
Swimming pool (good for swimming lengths)
Private study
Open-air garden bath
Private Butler Service
Kitchenette
Small dining table
Kayumanis Resto
Kayumanis Resto enjoys a tranquil setting in a traditional thatched dining pavilion, with garden gazebos, and an open kitchen.
Generously shaded by coconut trees, Kayumanis Resto offers shade and tasty Indonesian cuisine.
The freshest market produce, exotic herbs and spices, Jimbaran's seafood, and imported meats are used.
Private Dining
Breakfast, a barbeque, or a romantic candle-lit dinner for two, Kayumanis can arrange the perfect setting for every remarkable dining occasion.
Nearby Dining
There isn't all that much within easy walking distance with the exception of a small night market and the odd local Warung in the village.
Nearby hotel restaurants for a splurge include the Four Seasons, Jimbaran Puri and Ritz Carlton.
Kuta has countless dining options and is 10 minutes away by taxi. Seminyak offers more sophisticated dining and is 20-30 minutes away, at a quiet time.
Jimbaran Bay's famous seafood restaurants however are just a short stroll away down the beach and a memorable place for dinner.
Each evening at sunset tables are set up on the sand, with barbeque seafood on offer as the sun sets.
Spa
Kayumanis has a small spa with a range of treatments from foot massages to scrubs and wraps.
Beach Club
Jimbaran Beach is just a short stroll from the villas at Kayumanis.
In addition, Kayumanis has a private beach club at Balangan Bay, twenty minutes away by free hotel shuttle - the perfect spot to relax with its golden sands, gentle surf and hypnotic evening sunsets.
A light menu of refreshments is also available throughout the day and conveniently charged directly back to your room.
Alternatively, enjoy the Beach Club at Kayumanis Nusa Dua, just a 20 minutes drive away.
Facilities:
Swimming Pool
Spa
Fishing trips
Market Tour & cooking Lesson
Yoga
Cycling
Picnics
Excursions
Cooking classes
2019 - 20 Price Guide:
Includes:
International Flights from the UK
7 nights accommodation with breakfast
All taxes
Private car airport transfers
This is a guide price only, based on travel in low season.
Prices will vary according to availability of airfares on the dates of travel and seasonal hotel and airfare surcharges.
Please ask us for any current special offers.
Jasmine Bonus:
Jasmine Free Night Offer:
Pay 6 nights get 1 more night FREE
Pay 12 get 2 more FREE
Pay 18 get 3 FREE
Valid year round
Jasmine Honeymoon Bonus:
One flower bath, honeymoon cake & gift
Contact Us:
All of our Bali Holidays are completely tailor made and we can put together any kind of itinerary to suit your interests and budget.
Call us to speak to a Bali expert about your Bali holiday or honeymoon to Bali.
Call us now on 0333 7000 747
We're open from 9 until 9 daily and our 0333 number is a local rate number included in most call packages.
Add on Ubud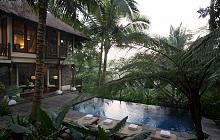 View
Kayumanis Nusa Dua
View
Singapore Stopover
View