Call us now:
0333 7000 747
Open 9 until 9 daily
Start your perfect holiday
contact us today!
5 Nights - £1,045pp
Flight Inclusive Price from UK
Bali & Indonesia Destinations
Holiday Confusion?
You need a Specialist
Solve my Problem
Ask us about Ayana Komodo Resort
Speak to an Indonesia expert today!
Ayana Komodo Resort
Pink Beach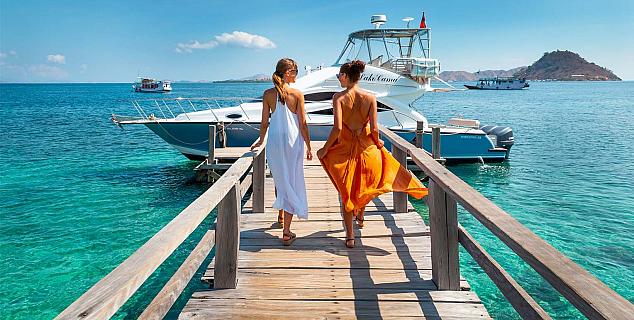 Rinca Restaurant
Suite
Snorkelling on Komodo Island
Top Class diving
Rooftop Restaurant
Ayana Resort and Spa is the only luxury resort on Flores Island's breath-taking Waecicu Beach, just a one-hour flight from Bali.
Ayana Komodo is set on one of the most rugged and picturesque islands of the Indonesian Archipelago alongside crystal blue waters and pristine white sand beaches.
Ayana Komodo Resort has 192 premium guest rooms and 13 suites.
Inspired by light, comfort and open living, each contemporary room features a flawless ocean view with large windows to capture the sunsets behind distinctive Kukusan Island.
The resort has a wonderful rooftop bar and international dining at Rinca.
What's so Special?
There's so much to see and do here that it's a destination which really suits those looking for a mix of relaxation and activity - a place to chill out, where you're never likely to be bored, especially if you enjoy snorkelling.
Divers naturally will be very happy here as there are several quality diving locations within easy reach.
A stay at Ayana makes for a great combination with Bali. Enjoy the cultural attractions and volcanic scenery of Bali combined with the contrasting beauty and things to do at Ayana Komodo.
Full Ocean View Rooms
Pairing sustainable design with contemporary lines and a refined attention to detail, these rooms perfectly blend indoor and outdoor space.
Light and airy spaces make the most of natural sunlight, while quality drapery tones down the effect for lazy mornings and mid-afternoon naps.
Deluxe Full Ocean View Rooms
Perfect for extended stays and for honeymooners, Deluxe Full Ocean View Room offer a bountiful sense of space complemented by ocean views which capture Labuan Bajo's famed natural beauty.
Enjoy the beautiful day and night time views from your private balcony.
Scandinavian inspired furnishings, marble bathrooms and the latest technology complete the picture.
Full Ocean Suites
The Full Ocean Suites showcase unparalleled ocean views overlooking Waecicu Beach and the resort's private jetty.
Every view from the luxurious master bedroom and spacious living area is an impressive one.
Rangko Cave
Rangko Cave is a magical stalagtite filled cave where the water is crystal clear, transforming into a turquoise colour when sunlight shines in. Take your time swimming, floating and just being in awe of the beauty of the cave.
Makassar Reef
After your diving or snorkelling session with manta rays at Manta Point, stop by Makassar Reef.
This sand bed island is a great spot for swimming around the whole island. Make sure you fit in a beautiful photo session on the sandy beach with its crystal clear water.
Rincol Island
Rinca Island is one of three major islands in the Komodo National Park area.
In addition to Komodo Island, Komodo Dragons can also be seen in here.
Komodo National Park
Renowned as one of the world's '7 New Wonders of Nature', Komodo National Park is home to Indonesia's rarest gems: wild Komodo Dragons, protected coral heads bursting with colour, rugged hillsides overlooking crystalline waters, deep sea fish and smiling local children learning the fishing trade in centuries-old villages.
Nusa Kode
Komodo Island and Rinca Island are great places to see Komodo dragons, but there is another secret spot to find them - Nusa Kode.
Located in the southern part of Rinca Island, the island is very peaceful with a perfect landscape of beach and hillside cooled by sea breezes.
Dolphin Watching
Experience a once in a lifetime opportunity to cherish a moment with wild dolphins in their natural habitat on your way to explore the islands around Flores.
Kelor Island
Kelor Island is located not far from Menjerite and offers a beautiful underwater view through the translucent water.
Before your snorkelling session, take a moment to hike to the top of the steep hill where a stunning view awaits.
If you feel lazy after the hike, just relax and sit on the white sand beach while enjoying a fresh young coconut.
Pink Beach
Comprising billions of tiny glistening specks of red and white coral, Pink Beach is one of the most romantic spots on earth.
Perfect for an unforgettable marriage proposal, family photo shoot, 5-star picnic, or relaxing snorkel in calm, aquamarine waters; Pink Beach is a must-do destination.
Bat Island
Explore the secrets and panoramic views of Bat Island.
Home to mangrove plantations and thousands of indigenous bats, or 'kalong' in the local dialect, plan your visit during sunset time to witness National Geographic worthy scenery as the sky fills with bats heading to other islands for their nightly feeding.
Gili Lawa Trek
East Nusa Tenggara has even more to offer with a combination of land and water activities that will keep you busy all day long.
At Gili Lawa, you can have it all. Hike the hill to the top and enjoy cotton candy shades of sunset or the golden hour of sunrise.
Gili Lawa also has a colorful underwater life for you. A snorkelling session before your sunset hike, or after your sunrise hike, is a must.
Menjerite
Not a big fan of diving but you want to enjoy the gorgeous sight of colourful coral reefs and tropical fish? Menjerite is perfect.
Near the snorkelling site is a long jetty which is often called 'The Jetty of Menjerite' - a great spot for a selfie.
Mesa Village
Flores Island not only has great natural beauty, but it is also rich with arts and culture.
Visit one of the local villages on your sailing trip, such as Mesa Village, a fishing village on a small island where Bajau people - or "sea gypsy" as they often called - have lived for generations.
Explore the village and see the colourful houses which range from marigold yellow to muted blues and greens. Don't be surprised by the villagers' warm welcome.
Kanawa Island
Robinson Crusoe style Kanawa Island is protected by tranquil, clear waters, alive with exotic marine life.
Pull up to Kanawa's shores to see baby reef sharks, graceful lionfish, and smooth cowrie shells tattooed with tribal markings.
A long rustic wooden pier serves as the perfect home base for snorkelling adventures along Kanawa's famous coral shelf.
Wainilu
While most dive sites are accessible from the middle of the ocean, divers can start their journey to Wainilu right in front of the beach.
Don't come to a fast conclusion when all you see is a sandy slope without corals, because if you keep going, you will find another interesting diving experience that Komodo Island has to offer.
At Wainilu, you will discover the best muck dive of Komodo, surrounded by frog fish, pipe fish and many more.
Manta Point
Manta Point offers nature lovers the opportunity of a lifetime to experience open water swimming, diving, and snorkelling with Komodo's majestic school of manta rays.
Drift effortlessly along a gentle natural current for a spectacular underwater moment to be remembered forever.
Cannibal Rock
While most of dive sites are in the northern part of Komodo National Park, Cannibal Rock is located in the southern part.
Divers will see underwater hills covered with all types of coral, rare nudibranchs, frogfish, and anemones and their inhabitants. This is a favourite place of night divers.
Crystal Rock
Located between Gili Lawa Laut and Castle Rok, Crystal Rock has quite a strong current similarly to Castle Rock.
Here, you can see brighter colours of fish and several series of walls covered with soft corals and large fans.
Manta Alley
If you have visited Manta Point and want more time to swim with Komodo's graceful manta rays, Manta Alley is another diving spot for you to enjoy the moment with these gently ocean ambassadors.
Shot Gun
If you are looking for more challenges in your diving, Shotgun is the place.
This site is known for having a very beautiful yellow-coloured coral garden and numerous marine creatures, such as stingrays, white tip sharks, giant trevally, and reef octopus.
Aside from its beautiful view, the site has the power and speed of the water to give you an exhilarating ride.
Castle Rock
Castle Rock creates unforgettable memories for people who dive here, making it a must-do over and over again.
Although the current at Castle Rock can be very strong, the visibility is excellent.
Swim around the main dome and enjoy the view of pygmy seahorses, blue-eyed crabs - and many more under the table corals or in the gorgonian fans.
2019 - 20 Price Guide:
Includes:
International Flights from the UK
All taxes
5 nights accommodation with breakfast
Private car airport transfers
This is a guide price only, based on travel in low season.
Prices will vary according to availability of airfares on the dates of travel and seasonal hotel and airfare surcharges.
Please ask us for any current special offers.
Jasmine Bonus:
Includes Daily American Breakfast
Contact Us:
All of our Bali & Indonesia Holidays are completely tailor made and we can put together any kind of itinerary to suit your interests and budget.
Call us to speak to an Indonesia expert about your Indonesia holiday or honeymoon to Indonesia.
Call us now on 0333 7000 747
We're open from 9 until 9 daily and our 0333 number is a local rate number included in most call packages.