Call us now:
0333 7000 747
Open 9 until 9 daily
Start your perfect holiday
contact us today!
8 Nights - £3,495pp
Flight Inclusive Price from UK
International Flights from UK
8 nights Accommodation
Meals as Specified
All Transfers
English Speaking Guide
Entrance fees
ATOL Protection
Travel Trust Protection
Based on 2021 - 22 Prices
Holiday Confusion?
You need a Specialist
Solve my Problem
Ask us about the Peloponnese
Call us Now 0333 7000 747
Peloponnese & Kythira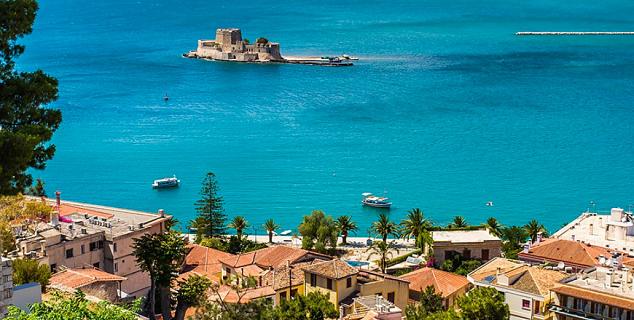 Peloponnese & Kythira
This private luxury Greek journey will take you from Athens into the Peloponnese on an in-depth cultural journey taking you beyond the standard tourist trails.
You'll begin with 2 nights in Athens to delve into classical Greece and the birthplace of Western civilisation.
From Athens head down into the Peloponnese and spend two nights in charming Nafplio.
You'll stop at the Corinth Canal on the way and pay a visit to Mycenae, dating back to Homeric times. You'll also visit a historic olive oil farm and the historic sites of Nemea and Epidaurus.
In Napflio you have some unique experiences lined up including an Ouzo and Honey tour and cycling around town.
Heading south you'll visit Mystras, once the capital of the Byzantine Empire and charming Monemvasia where you'll feel like you've stepped back in time. You'll be staying at the Kinsterna Hotel, which is a real highlight of the trip.
Capture the beauty of Elafonisos with its stunning beaches and the ravishing scenery and romantic ruins of Kythira with its Venetian Castle and churches.
From here you'll make a visit to Chytra Islet famous for its seabirds and gorgeous yellow flowers.
You'll be staying in boutique, luxury hotels throughout and have a private car and guide on all touring.
This Greek holiday can be tailored to suit your exact requirements, so just let us know your ideal trip.
Everything can be adjusted to suit your needs and create your perfect luxury Greece holiday.
Inclusions
International flights from UK
Accommodation with breakfast
All Airport Transfers by Private Car
Private Guide & Vehicle
Entrance Fees
ATOL Protection
Travel Trust Protection
Accommodation
2 nights Athens
2 nights Nafplio
2 nights Monemvasia
2 nights the Kythira
Excursions
Athens
Nafplio
Ouzo Distillery & Apiary
Corinth Canal
Nemea
Mycenae
Epidaurus
Mystras
Elafonisos
Kythira
Chytra Islet
Day 1: UK - Athens
Fly from the UK to Athens where you will be met on arrival and transferred to your chosen hotel.
Enjoy the rest of the day at leisure.
Overnight Athens.
Day 2: Athens
Enjoy a full day private tour of Athens.
This can be tailored to your interests but we suggest focusing on the highlights of classical Athens.
Overnight Athens. Breakfast included.
Day 3: Nafplio
After breakfast, your driver will collect you from your hotel for your journey south into the Peloponnese.
You'll make a stop to view the Corinth Canal and visit a historic olive farm.
Visits to ancient Nemea, Mycenea and the ancient theatre at Epidaurus will take you even further back into Greek history.
Overnight Nafplio. Breakfast included.
Day 4: Nafplio
Nafplio is a charming seaport town.
Today you'll enjoy an Ouzo and Honey tour and the chance to get on two wheels for some leisurely exploration of town.
Overnight Nafplio. Breakfast included.
Day 5: Monemvasia
Today you'll head deeper into the Peloponnese and visit ancient Mystra, which was once the capital of the Byzantine Empire.
Head down to the beautiful village of Monemvasia with its unique citadel built behind a hill.
The Kinsterna Hotel is a dreamy, magical place and will be a highlight of your journey.
Overnight Monemvasia. Breakfast included.
Day 6: Monemvasia
Today you'll visit Elafonisos, where the stunning beauty of the setting and the beaches of Simou and Sarakinio will capture your imagination.
You're right in the far south of the Peloponnese here and you'll feel very far removed from the touristy regions of Greece.
Overnight Monemvasia.
Day 7: Kythira
Kythira was known in antiquity as the birthplace of Aphrodite and it's a beautiful island with a Venetian heritage.
The 12th century Fortress houses four churches which feature some amazing frescoes.
You'll also visit Myllopotamos, a stunning waterfall.
Overnight Kythira.
Day 8: Kythira
Today you'll make the short trip across Kapsali Bay to Chytra Islet, a rocky and inaccessible place famous for its birdlife and yellow Sempreviva flowers.
Overnight Kythira.
Day 9: Kalamata - UK
Your driver will transfer you to Kalamata Airport for your flight back to the UK.
Fly back to the UK.