Call us now:
0333 7000 747
Open 9 until 9 daily
Start your perfect holiday
contact us today!
13 Nights - £2,895pp
Flight Inclusive Price from UK
International flights from UK
Accommodation
Cruise journey to Luang Prabang
Breakfast & some other meals
Private car transfers throughout
Based on 2019 - 20 prices
View Map
Holiday Confusion?
You need a Specialist
Solve my Problem
Ask us about Mountains & Hilltribes
Speak to a Thailand & Indochina expert!
Mountains & Hilltribes
Akha girl, northern Laos
Luang Say Cruise on the Mekong
Luang Say Lodge
Hilltribe girl northern Vietnam
Hmong village, Thailand
Luang Prabang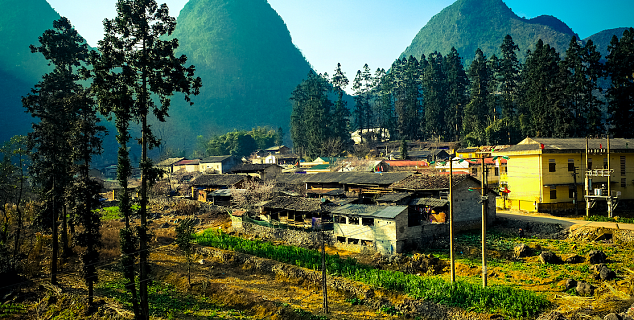 Ha Giang, Vietnam
Rice Terraces, Vietnam
Akha woman, Vietnam
Mountains and Hilltribes
Travel through the north of Thailand from Chiang Mai through the Golden Triangle to Luang Prabang and on to the north of Vietnam in a unique and immersive cultural journey.
Begin with 2 nights in Chiang Mai, ample time to explore this charming city. A half-day city tour has been included.
From Chiang Mai drive by private car to the Golden Triangle region, with a full day tour included to explore this remote corner of Thailand.
Stay for 2 nights in a Hmong Hilltribe Lodge and encounter a different way of life at first hand.
From the Golden Triangle you will transfer to the border with Laos and board your Mekong cruise on the Luang Say.
Cruise down the Mekong River, visiting some riverside villages and spending the night in a comfortable lodge by the Mekong with all meals included.
Spend 3 nights in the cultural capital of Laos, with a half-day city tour and a visit to the Elephant Conservation Centre included.
Fro Luang Prabang fly to Hanoi, the capital of Vietnam and enjoy an unforgottable overnight cruise on Halong Bay aboard a traditional Vietnamese Junk.
Head to the mountains in the far north of Vietnam near the border with China, one of the most spectacular and beautiful locations in South East Asia.
As with all of our holidays to Thailand and Indochina, this one is entirely amendable to suit your interests, time and budget. So just let us know your preferences.
Inclusions
International flights from the UK
All taxes
Accommodation
Mekong cruise to Luang Prabang
Breakfast & many other meals
Private vehicle, driver and guide
Airport Transfers by Private Car
Entrance Fees
Accommodation
2 nights Chiang Mai
1 night Golden Triangle
2 nights Hilltribe Lodge
1 night Pakbeng
1 night Eco Lodge
2 nights Luang Prabang
1 night Hanoi
1 night Halong Bay
3 nights Northern Vietnam
Excursions
Half day tour Chiang Mai
Full day tour Golden Triangle
Activities at Lanjia Lodge
Mekong River cruise with Pak Ou Caves
Full day tour Luang Prabang
Half day tour Elephant Conservation Centre
4 day Northern Vietnam touring
Day 1: Fly UK – Chiang Mai
Overnight flight from the UK to Chiang Mai.
Day 2: Chiang Mai
On arrival in Chiang Mai you will be met at the airport and transferred by private car to your chosen hotel.
Enjoy the rest of the day at leisure.
Overnight Chiang Mai.
Day 3: Chiang Mai
After breakfast set out on a fun morning tour of 'local' Chiang Mai.
Amazingly, Chiang Mai has no bus network, so this tour will show you the best of Chiang Mai travelling as the locals do, by tuk-tuk, samlor (cycle rickshaw) and songthaew (literally meaning 'two-row' – a mini pick-up truck).
This experience is about discovering the real Chiang Mai, visiting various temples and markets along the way.
The tour has no fixed itinerary and spontaneity is the key – the guide will adjust things according to your interests and pace. You will be back at the hotel around 1 pm.
The afternoon is at leisure to relax or further explore Chiang Mai.
A visit up to the hill-top temple at Doi Suthep is highly recommended.
Overnight Chiang Mai. Breakfast included.
Day 4: Chiang Mai - Golden Triangle - Lanjia Lodge
After a three-hour drive through the mountains, arrive in Chiang Rai, and drive to Yao and Akha Hilltribe village, Chiang Saen and the Golden Triangle, where the border of Thailand, Burma and Laos meet.
Then browse through the local market at Mae Sai on the Myanmar border.
Afterwards, transfer to the Lanjia Lodge for your stay in a Hilltribe Lodge.
Herbal juice will be served while you are checking in at the lodge.
Overnight Lanjia Lodge. Breakfast & dinner included.
Day 5: Lanjia Lodge
You will be collected from your hotel and transferred to Lanjia Lodge.
Today you will learn about the unique cultures of the Hmong, including a guided tour of the village.
Learn how to make Hmong batik handkerchiefs with the village ladies. Alternatively, you can learn how to make and set animal traps.
If the village shamen is there you may be invited into his home for tea.
Activities available include a nature walk, trekking and a Hmong Batik class.
Enjoy dinner and watch traditional Hmong performances. ​
Overnight Lanjia Lodge. Dinner included.
Day 6: Golden Triangle - Pakbeng
You will be transferred to the border crossing point at around 7 am (it's about 30 minutes away) and helped with border formalities before boarding your Luang Say Cruise which departs around 9:30 a.m.
After one-hour journeying along the river, the boat stops at a traditional village.
This is a chance to observe rural life along the Mekong and witness the daily life of ethnic minorities and their talented craftsmanship.
The river cruise arrives at Luang Say Lodge near Pakbeng before sunset, giving plenty of time to refresh, enjoy the scenery of the river and admire the surrounding nature.
A Laotian dinner is served on the open-air terrace overlooking the Mekong River.
Overnight Pakbeng. Breakfast, lunch & dinner included.
Day 7: Pakbeng - Kamu Lodge
Breakfast is served on the terrace around 7 a.m. In the morning, visit the morning market (optional) of Pakbeng village where the nearby villagers and hill tribes buy and exchange their goods.
In the morning, visit the morning market (optional) of Pakbeng village where the nearby villagers and hill tribes buy and exchange their goods.
The boat departs at 8:30 a.m. for the second part of trip. A stop is made at Ban Baw to observe the processing traditional rice alcohol. Lunch is served on board.
At around 2:30 the Luang Say will dock and you will be transferred to Kamu Lodge.
In the afternoon, you can participate in a variety of activities; visiting Kamu village, archery contest, rice planting and harvesting, traditional fishing and gold panning (January to June).
Overnight Kamu Lodge. Breakfast, lunch & dinner included.
Day 8: Kamu Lodge - Luang Prabang
This morning you can plough, harvest or mill rice with the villagers if you wish.
The rest of the morning is at leisure to enjoy the optional activities offered at the lodge.
Experience a traditional Kamu Massage if you wish in a hut overlooking the Mekong river.
Check out is 12, with a Laotian lunch served at the Lodge restaurant.
The boat will depart after lunch cruising downstream.
On arrival at Pak Ou village at the mouth of Nam Ou River, the boat stops for a trip to visit Tam Ting Caves and Tham Phoum Caves of thousand Buddhas.
Arrive in Luang Prabang before sunset, around 4 or 5 pm and transfer to your hotel.
Overnight Luang Prabang. Breakfast & lunch included.
Day 9: Luang Prabang
The former royal capital of Laos, Luang Prabang sits on the confluence of the Mekong and Nam Kham Rivers.
In this half-day guided tour by tuk tuk, discover the rich cultural and historical heritage of this charming town.
Your guide will pick you up from your hotel after breakfast.
Start your city tour at the former Royal Palace, now the National Museum, where you will learn about the history of Laos.
Continue on foot to Wat Mai, a temple renowned for its golden bas-relief, and Wat Sensoukarahm, which features a beautiful dazzling golden façade.
Finish the tour at Wat Xieng Thong, the most revered temple in Luang Prabang.
Located at the end of the peninsula, close to the Mekong, this temple was built in 1560 by King Setthathirat and is decorated with ornate carvings and mosaics.
Transfer back to your hotel with your guide.
Note: this tour can be done in the morning or in the afternoon.
Overnight Luang Prabang. Breakfast included.
Day 10: Luang Prabang - Hanoi
Spend this morning interacting with the elephants on a non-riding elephant experience.
In the morning you will be picked up from your hotel and driven to the nearby village of Ban Xieng Lom.
Over a coffee or tea your guide will tell you about elephant behavior and how to interact with them.
Then cross the Nam Khan River to meet the elephants in person.
Feed them some special treats before taking them to the river for bathtime.
Join the elephants in the water and learn the correct way to clean them.
Afterwards, set off on a 2-hour trek with your new friends through the countryside.
Walking alongside, rather than riding, is a much better way to bond with, and understand these gentle giants.
At Huay Nok stream, spend some time wading through the cool water of the stream.
Walk back to Mandalao and then say goodbye to the elephants. In the restaurant enjoy a traditional Lao lunch made from organically grown produce while admiring the views over the river and misty mountains.
Return to Luang Prabang with the rest of the day at leisure to relax or explore Luang Prabang on your own until your evening flight to Hanoi where you will be met and transferred to your chosen hotel
Overnight Hanoi. Breakfast included.
Day 11: Hanoi - Ha Giang
Transfer by car to the mountains of northern Vietnam.
Located 5 km from Ha Giang, Ban Me is a well-preserved village, with a clean and well-run homestay.
This afternoon, enjoy some trekking - about 6 km in total.
Overnight Ha Giang. Breakfast included.
Day 12: Ha Giang - Dong Van
Travel north to Quan Ba to visit a local market (On Saturday's only).
This is a market by the road with H'mong, Dzao ethnic minority.
As in other ethnic markets, this is a place where young people wear their Sunday best as it's a place to meet and mingle as much as to buy things.
Drive to Pho Cao village (a H'mong village), a stunning village set amongst corn fields.
Visit Pho Bang (a Chinese minority village) where the houses are built from clay and have colourful Chinese scrolls above every door.
Visit Lung Cu Flag Pole, situated atop Dragon Mountain and marking the border with China.
There are panoramic views here of terraced fields, the Nho Que river and of the mountain ranges stretching into the distance.
Travel to Dong Van Rocky Plateau and Dong Van for your overnight stay in this small town.
Overnight in Dong Van. Breakfast & lunch included.
Day 13: Dong Van - Ha Giang
Visit Dong Van market (Sundays only) which is a colourful weekly occasion.
Travel to Meo Vac with a photo stop at the Ma Pi Leng Pass over some of the most amazing scenery in Vietnam.
The pass descends into a pretty valley where a colourful bustling market and little town of Meo Vac are situated.
Meo Vac is a land of rugged mountains and beautiful hill villages remaining unchanged for centuries.
The Meo Vac market (Sunday only) attracts a wide variety of ethnic minority groups who walk here all the way from their mountain villages.
Markets in the northern mountainous areas are often called the Love Markets as young people come here on parade in search of prospective husbands or wives.
Overnight in Ha Giang. Breakfast & lunch included.
Day 14: Ha Giang - Hanoi
Today return by private vehicle back to Hanoi with the rest of the day at leisure.
Overnight in Hanoi. Breakfast & lunch included.
Day 15: Hanoi - UK
Transfer to the airport for your flight back to the UK.
Day 16: Arrive UK
Arrive back in the UK.
On Board
Luang Say Mekong Cruises has three boats travelling from Huay Xai to Luang Prabang and vice versa.
All programs stop over for one night at Luang Say Lodge in Pakbeng.
Each boat is 34 metres long with a 420 HP engine and a steel hull for strength and safety.
The boats have a capacity for 40 people seated in comfortable chairs and benches. Each seat has an open air vista.
There are also some coffee tables with magazines and booklets to read during the cruise.
The central section of the boats have bench seats, a perfect spot for a game of cards, to share your Mekong stories, or to have lunch.
Each cruise departure has an English speaking guide who is able to answer your questions and point out the many sights of interest along the way.
The crew also consits of a captain, a qualified mechanic and a boat boy.
There are two western style toilets on board, one at the back of the boat as well as one next to the bar in the central section.
Life jackets are carried on board in a variety of sizes including sizes for children.
There are also rails around the sides of the boat for passenger safety.
Luggage can be stored and locked securely overnight in a large compartment underneath the deck.
Luang Say Lodge
On the left bank of the river, the Luang Say Lodge is backed by mountainous jungle.
The Luang Say Lodge sits peacefully above the river, blending artfully into the natural environment through careful landscaping, raised platforms and indigenous styling.
It features 20 large pavilions, each elegantly furnished in dark-toned wood and white fabrics, and offering stunning panoramic views on three sides of the Mekong.
The large pavilions of solid teak and rosewood all have beautiful views over the Mekong and the mountains beyond.
The traditional Laotian architecture provides accommodation of comfort and character, each bedroom equipped with high ceiling mosquito nets, electric fans and a large private bathroom with hot shower and western style toilet.
Restaurant
A central riverbank restaurant is reached by wooden walkways from the pavilions.
Here you can enjoy fine, mainly organic, food and can order a choice of drinks from the well-stocked bar.
A buffet dinner of traditional Lao food and continental breakfasts are served in this restaurant area.
On days with passengers exceeding 20 people, there is normally an ethnic minority dance performance in the restaurant area.
The performers are a mixture of Luang Say Lodge staff, local villagers and school children.
The Lodge also has a fully equipped bar serving soft drinks, beer Lao and spirits.
Laotian coffee, tea and drinking water, are included free for the duration of your stay at the Lodge.
Kamu Lodge - Laos
On the banks of the Mekong River flanked by jungle and hills, Kamu Lodge is a deliberately rustic retreat with 20 luxury safari tents.
Locals go about their daily lives in this part of Laos little changed for decades and the river here is also pristine.
Between the lodge and the village, is a two-hectare rice field in which villagers work and were guests can also experience working the rice paddy.
The luxury tents are thick-walled, while sturdy thatch roofs guard against rain and sun.
However rustic the look and feel, Kamu's mattresses guarantee a good night's sleep. Each 'tent' has a verandah and easy chairs from which to admire the views.
Kamu Lodge tries to strike a delicate balance between tourism and the maintenance of the region's cultural and ethnic heritage and is all about a low-impact footprint.
Everything is done on a small scale and the lodge supports the empowerment of the Kamu villages.
63 families make a living in traditional Kamu fashion in the neighbouring village, fishing and farming.
No visit to Kamu Lodge is complete without a visit to the village to witness life as the Kamu live it.
Lanjia Lodge - Thailand
The Lanjia Lodge, ('Lanjia' means 'peaceful' in the Hmong language), is an eco-friendly community-based lodge nestled high on a hill in Chiang Rai Province, northern Thailand, just 30 minutes from the Thailand-Laos border crossing.
Lanjia Lodge offers comfortable accommodation in a Hmong village, combining experiences of Hmong culture with eco-friendly tours such as hiking and Hmong batik class.
Offering dramatic views of the Mekong Valley and Laos, the lodge has 4 guest cottages with a total of 16 rooms.
It is built in complete harmony with the lush green environment as well as the Hmong and Lahu villages in which it is located.
Rooms at the lodge are fan-cooled, with comfortable mattresses on the floor and private bathrooms.
This 2-night Lanjia Lodge Hmong Village experience is a great way to come into contact with hilltribe culture and encounter a completely different way of life at first hand.
Is this a Private Tour or a Group Tour?
All of our tours are private tailor made itineraries, customised for you - we can amend things to entirely suit you.
You will have your own private car, driver and guide on excursions on our tailor made tours.
Shore excursions on the Luang Say cruise are on a shared basis as are the activities from Lanjia Lodge.
What are the departure dates?
Let us know your preferred dates of travel and we will find the best and most suitable flights to fit your itinerary.
The Luang Say departs daily in both directions.
Which Airlines do you use?
We work with all the major airlines flying to this part of the world.
Typically for this Mountains and Hilltribes journey, Thai Airways or Vietnam Airlines would be the airlines we most often use as they normally have the most direct flights and best fares.
However, just let us know your preferred airline if you have one. We can organise flights from any regional destination in the UK.
Which Hotels do you use?
We're careful with our choice of hotels, but we're guided by our customers also. If you have some preferred hotels, just let us know.
We specialise in boutique hotels and so we will often suggest some of our favourite smaller hotels where we think these will be suitable.
We keep on top of hotel developments in Thailand and Laos from our office in Vietnam and regularly inspect the hotels we use.
Luckily in Chiang Mai, Luang Prabang and Hanoi there is a great choice of boutique hotels and some very nice places to stay.
Accommodation in the far north of Vietnam is more limited but comfortable enough.
Do you cater for Solo Travellers and Families?
Yes, we have many solo travellers, and both all three countries on this trip are very safe, friendly and welcoming destinations for those travelling alone.
This trip is a good one for families with older children. Younger children may find the travelling times more wearisome.
How long have you been organising holidays to Thailand and Indochina?
We've been organising tailor made holidays to Thailand & Indochina for over 10 years.
Our team has a wealth of combined experience in the industry and our Director has been involved in organising holidays to Thailand and Indochina since the early 1990's.
Our partners on the ground in Thailand and Indochina have over 20 years experience in operating there.
They understand the region extremely well and have a strong infrastructure of staff, guides and vehicles.
We've had the same partnership in Thailand and Laos for over 10 years.
How does your office in Vietnam help?
We have our own staff in Saigon which helps in many ways with our customers in Indochina and South East Asia.
It helps us to keep on top of any new hotel and travel developments in the region and forge stronger relationships with hotels and other partners.
We regularly do our own inspections of hotels and destinations in the region.
Should our clients need any assistance during a trip, we always have at least one of our own staff on the same time zone, and we're open 7 days a week in Saigon.
Standard Hotel Suggestions Chiang Mai:
Ping Nakara Boutique Hotel
Tamarind VillageDe Naga
Standard Hotel Suggestions Golden Triangle:
Lanjia Lodge
Standard Hotel Suggestions Mekong:
Luang Say Lodge (1st night)
Kamu Lodge (2nd night)
Standard Hotel Suggestions Luang Prabang:
Mekong Riverview
Les 3 Nagas
Maison Souvannaphoum
Standard Hotel Suggestions Hanoi:
Chi Boutique Hotel
Oriental Suites
La Siesta Central
Conifer Boutique Hotel
Standard Hotel Suggestions Ha Giang:
Pan Hou Village
Standard Hotel Suggestions Dong Van:
Hoa Cuong Hotel
13 nights Mountains & Hilltribes - Standard:
This is a guide price only, based on travel in low season.
Prices will vary according to choice of hotel and seasonal airfare and hotel surcharges. Please ask us for any current special offers.
Contact Us:
All of our Thailand & Indochina Tours are completely tailor made and we can put together any kind of itinerary to suit your interests and budget.
Call us now to speak to a Thailand & Indochina holiday expert about your holiday or honeymoon to Thailand & Indochina.
Call us now on 0333 7000 747
We're open from 9 until 9 daily and our 0333 number is a local rate number included in most call packages.
Add Halong Bay
View
Add on Sapa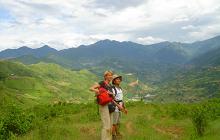 View
Add Mae Hong Son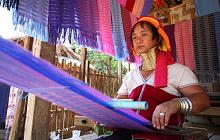 View