Call us now:
0333 7000 747
Open 9 until 9 daily
Start your perfect holiday
contact us today!
10 Nights - £1,350pp
Flight Inclusive Price from UK
International Flights from UK
All taxes
10 nights accommodation
Breakfast
All transfers
ATOL Protection
Travel Trust Protection
Based on 2021 - 22 Prices
View Map
Holiday Confusion?
You need a Specialist
Solve my Problem
The Best Hideaways in Malaysia
Perfect for Social Distancing
Malaysia Hideaways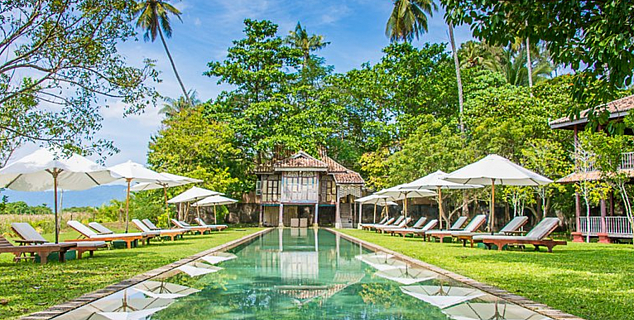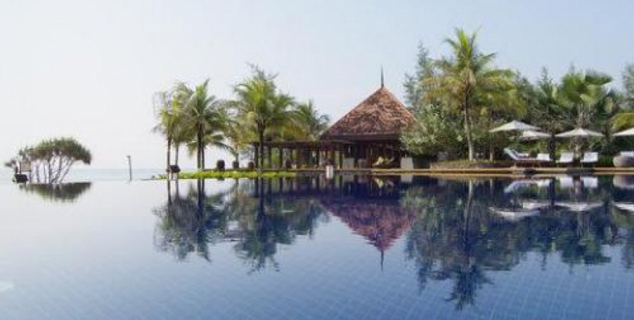 Malaysia Hideaways
No doubt that 'Social Distancing' was on everyone's lips in 2020.
If you prefer things quiet, low-key, boutique and private - that's exactly what we've always specialised in, and here you'll find a handful (there aren't many more) of great hideaway hotels in Malaysia.
They'll really suit you if you want to stay away from larger resorts and just enjoy the feeling of privacy and personal service.
We've included 3 YTL Resorts, where we always have excellent offers - they're fantastic value and offer plenty of space for seclusion if you wish.
We've included two really boutqieu resorts - Ambong Ambong in Langkawi, with it's rainforest setting and Japamala on Tioman Island, which is a great boutique resort, especially good for travel between May and October.
We've included a private villa resort in Borneo and three luxury hotels in Langkawi where you can have a private villa to yourself.
Remember that all of our Malaysia Holidays can be adjusted to suit your interests and budget so just let us know how we can tailor this trip to suit you.
We offer many more hotels and resorts in Malaysia, so if you have something else in mind, just let us know - it's almost certain we'll be able to help.
Inclusions
International flights from the UK
Domestic flights
Accommodation
Meals as specified
Airport Transfers by Private Car
ATOL Protection
Travel Trust Protection
Accommodation
Which Airlines do you use?
We work with all the major airlines flying to Malaysia.
Typically for Malaysia we will use British Airways or Malaysia Airlines for direct flights.
The flying time for direct flights is around 12-13 hours.
We also commonly use Emirates via Dubai, Qatar Airways via Doha and Etihad via Abu Dhabi. These all allow stopover options in the Arabian Gulf to create a multi-centre holiday.
Regional connections from across the UK are available.
Which Hotels do you use?
We're careful with our choice of hotels and resorts in Malaysia, but we're guided by our customers also. If you have some preferred hotels, just let us know.
We specialise in boutique & luxury hotels and so we will often suggest some of our favourite smaller hotels where we think these will be suitable.
That's where our expertise can help - it's always useful to speak to someone who's been to all of the destination in Malaysia and who has first hand experience of travelling in Malaysia.
Do I need a visa for Malaysia?
If you're travelling on British Passports, no visa is required for stays of up to a month.
Please double check before travel however as visa requirements are subject to change at any time.
How long have you been organising holidays to Malaysia?
We've been organising tailor made holidays to Malaysia since 2008.
We use a very reliable local partner in Malaysia for transfers and to assist our clients in country.
We keep up to date with developments in Malaysia with regular visits, through our local contacts and via our office in South East Asia.
When is the best time to visit Malaysia?
We've put together a month by month climate guide for travel to Malaysia.
The weather varies considerably across the peninsula - so whilst the weather is perfect from November to March on the West Coast, the East Coast will be experiencing rainy conditions.
What board basis should I choose in Malaysia?
There are virtually no All Inclusive hotels in Malaysia. Most hotels include breakfast in their rates.
Generally, with the exception of a few resorts (which we can let you know about), there are plenty of dining options outside the hotels and one of the joys of travel in Malaysia is discovering the 'hawker' stalls and small local restaurants.
View Itinerary in Detail
To view a sample holiday, click on one of the links below. This will open the itinerary up in a new window.
All of our Malaysia Holidays are completely tailor made and we can put together any kind of itinerary to suit your interests and budget.
We have many other options so if you have a particular hotel in mind just let us know and we'll put together a price and itinerary for you.
Contact Us:
Call us now to speak to a Malaysia holiday expert about your Malaysia holiday or honeymoon to Malaysia.
Call us now on 0333 7000 747
Open 09:00 - 17:30 Mon - Fri. 09:00 - 12:00 Sat.
Bon Ton Langkawi
Charming Boutique Hotel
One of the most stylish, unique and intimate boutique resorts in Langkawi.
Just 8 individually styled antique Malay villas, the perfect boutique hotel.
10 nights from £1,090 pp
View
Ambong Ambong
Rainforest Retreat
A hidden gem in Langkawi. In the rainforest within a short walk of the beach.
Handful of cottages in a beautiful natural location in the lush, breezy rainforest.
10 nights from £1,275 pp
View
Japamala, Tioman
Tioman Island Beauty
The best resort on Tioman Island and an idyllic island hideaway in Malaysia.
Perfect for a socially distanced holiday - stunning beach. Ideal for May-October.
10 nights from £1,375 pp
View
Tanjong Jara Resort
East Coast Escape
The best resort on Malaysia's East Coast and an idyllic boutique hideaway in Malaysia.
Perfect for a socially distanced holiday - quiet beach. Ideal for May-October.
10 nights from £1,375 pp
View
Gaya Island Resort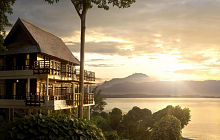 Borneo Island Escape
Superb small resort on Gaya Island in Sabah, Borneo. Superb value for money luxury.
Exceptionally well run boutique island resort in Borneo. Combine with wildlife tour.
10 nights from £1,275 pp
View
Pangkor Laut Resort
One Island, One Resort
Two beaches, plenty of space, lush rainforest setting and exceptional standards.
One of the best luxury resorts in Malaysia. Stay in the Spa Village for extra privacy.
10 nights from £1,475 pp
View
Hibiscus Villa
Borneo Pool Villa
Privately owned 3-bedroom luxury villa in Borneo's Kudat Peninsula.
Ideal for a private family holiday in Borneo. Combine with a few days of wildlife.
10 nights from £1,475 pp
View
The Datai Langkawi
Luxury in the Rainforest
Our favourite hotel in Langkawi. Be at one with nature at the luxurious Datai.
We recommended a Rainforest Villa with Pool for really private escape at the Datai.
10 nights from £2,975 pp
View
St. Regis Langkawi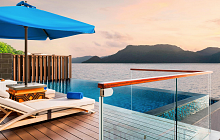 Privacy & Sea Views
Enjoy a boutique luxury escape in Langkawi - just 85 Suites and Villas.
We recommended a Sunset Villa with Plunge Pool for extra luxury and privacy.
10 nights from £3,275 pp
View