Call us now:
0333 7000 747
Open 9 until 9 daily
Start your perfect holiday
contact us today!
12 Nights - £2,195pp
Flight Inclusive Price from UK
View Map
Holiday Confusion?
You need a Specialist
Solve my Problem
Speak to a Costa Rica Expert
Request a Quote Now!
Classic Costa Rica
Costa Rica, Pura Vida
Three-toed sloth
Poás Volcano
Monteverde
Keel-Billed Toucan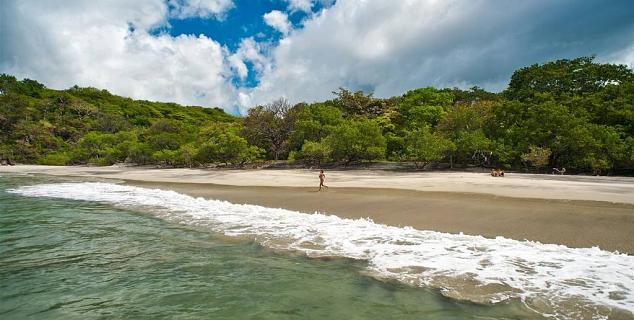 Tamarindo Beach
This tailor-made tour of Costa Rica offers the opportunity to discover Costa Rica's most iconic attractions.
Begin in Costa Rica's Central Valley with a visit to Poas Volcano National Park and learn about one of the most important crops in the country at Doka Coffee Plantation.
Continue to La Paz Waterfall Gardens to explore Costa Rica's flora and fauna before heading to the lush canals of Tortuguero National Park.
From Tortuguero, head to the impressive Arenal Volcano region and walk above the rainforest along the Hanging Bridges and enjoy the most extraordinary views of Arenal.
The next destination is Monteverde, to visit the renowned Cloud Forest Reserve, before heading North for a relaxing beach stay in Tamarindo or one of the other Northern Pacific coast beaches in Costa Rica - the choice is yours.
Tamarindo is a lively beach town combining high-end shopping, dining and some nightlife with spectacular natural scenery.
At a glance:
International Flights from the UK
All Taxes
3 nights San José
2 nights Tortuguero
2 nights Arenal Area
2 nights Monteverde
3 nights Tamarindo
Private transfers where applicable
All meals and tours when in Tortuguero National Park
Guided visit to Doka Coffe Plantation
Guided visit to Poas Volcano
Guided visit to La Paz Waterfall Gardens
Natural history walk in the Hanging Bridges
Guided hike near Arenal Volcano
Guided visit to Monteverde Cloud Forest Reserve
Day 1: Fly UK to Costa Rica
On arrival you will be met and transferred to your hotel.
Overnight San Jose. Breakfast included.
Day 2: Poas Volcano - Doka Coffee Tour - La Paz Waterfall Gardens
After breakfast, enjoy a guided visit to Poas Volcano, Doka Coffee Plantation and La Paz Waterfall Gardens.
Poas Volcano is one of the most spectacular volcanoes in Costa Rica, with its enormous crater measuring 1 km in diameter and 314 metres deep.
Hike to the beautiful Botos Lagoon and continue onwards to discover La Paz Waterfall Gardens, a natural park with some spectacular trails leading to the White Magic Waterfall.
Overnight San Jose. Breakfast and lunch included.
Day 3: Tortuguero
This morning you will be woken up very early and transferred to Tortuguero.
On the way to Tortuguero, pass through the spectacular Braulio Carrillo National Park with a stop at Rio Danta Restaurant for a tasty typical local breakfast.
In the afternoon depart by boat to the nearby private trail, next to the National Park, for a guided walk into the tropical rainforest.
Please note that July to September is sea turtle nesting season. (Optional night tours are available at an additional cost).
Overnight Tortuguero. All meals included.
Day 4: Tortuguero
After breakfast, explore Mawamba Park's private trails and visit the butterfly gardens, the iguanas and a frog garden.
After lunch enjoy a canal boat tour through Tortuguero National Park.
Tortuguero is a great place for observing local wildlife such as birds, monkeys, two and three-toed sloths, American crocodiles and caimans.
The park also provides shelter to endangered animals such as manatees, tapirs and jaguars.
Overnight Tortuguero. All meals included.
Day 5: Arenal area
After breakfast, take a shared boat transfer back to the pier and on to your next destination.
The area of San Carlos offers a landscape of exceptional beauty with forests, lagoons, fields of crops, rivers with hot springs, and Costa Rica's most active volcano, Arenal.
Overnight Arenal. Breakfast and lunch included.
Day 6: Arenal area
After breakfast enjoy a walk in the Hanging Bridges.
The Hanging Bridges are located within the corridor followed by birds migrating between North and South America.
The trails and bridges of this project will bring you as close as possible to the birdlife, flowers and the lush vegetation of the primary rainforest.
More than 50 species of birds can be seen here, making this one of the most prolific bird watching walks in the region.
In the afternoon, enjoy a 2-3 hour walk along the lower slopes of Arenal Volcano.
The volcano is 5,437 feet high and although currently in a resting phase, Arenal has been Costa Rica's most active volcano for the past 43 years.
Overnight Arenal. Breakfast included.
Day 7: Monteverde
After breakfast, take a private boat transfer to Monteverde through Arenal Lake.
Overnight Monteverde. Breakfast included.
Day 8: Monteverde
After breakfast enjoy a morning visit to Monteverde Cloud Forest Reserve.
One of the main attractions of Monteverde Cloud Forest Biological Reserve is its 13-kilometer network of trails.
There are over 500 bird species resident, including the majestic quetzal and the three-wattled bellbird.
In addition, 120 species of reptiles and amphibians and more than 3000 plants can be found here, amongst which is the highest diversity of orchids in the world.
Overnight Monteverde. Breakfast included.
Days 9 - 12: Tamarindo
After breakfast, transfer to Tamarindo, a beautiful beach town located on the North Pacific coast.
Enjoy 3 days to relax in Costa Rica's North Pacific coast.
Overnight Tamarindo. Breakfast included.
Day 12: San José
After check-out, transfer back to San José with the rest of the day at leisure.
Overnight San Jose. Breakfast included.
Day 13: Fly back to the UK
After breakfast, transfer to the airport for your overnight flight back to the UK.
Day 14: Arrive UK
Arrive back in the UK.
San Jose & Nearby
Welcome to the heart of Costa Rica, home to active volcanos, coffee plantations, white water rafting and lush rainforests, plus San José, the lively and welcoming capital of Costa Rica.
Most visitors arriving in Costa Rica spend their first day or more in San José which features an array of cultural activities including museums and theatres.
Discover great restaurants, art galleries and colonial mansions now converted into boutique hotels or go shopping and enjoy San Jose's exciting nightlife.
Easily accessible from San José are the Central Valley's main tourist attractions including Poas Volcano National Park, Irazu Volcano, Botos Lagoon, Turrialba, the Pacuare River and La Paz Waterfall Gardens.
La Paz Waterfall Gardens
La Paz Waterfall Gardens is an eco-park easily accessible from San Jose and offering superb hiking trails, Costa Rica's most famous waterfalls and a wildlife reserve home to over 100 species of animals.
The area covers both Rainforest and Cloud Forest and offers safe hiking trails as well as an aviary, insect exhibit, various gardens and the world's largest butterfly observatory (the length of a football field).
Being able to get up close to Costa Rica's wildlife in one area makes this a great destination for anyone interested in nature and wildlife as well as a great option on a family holiday to Costa Rica.
Three kilometres of paved walking trails wind through the area, which has 5 waterfalls and viewing platforms below, above and amidst the waterfalls.
We love the hummingbird garden here, where the feeders attract most of the species of hummingbird in the area.
This is also a great place to see some of Costa Rica's species of colourful frogs.
Tortuguero National Park
Tortuguero is a fairly remote National Park on Costa Rica's Caribbean Coast side, but is still the third most visited national park in Costa Rica.
The park protects a large area of natural wetland on the Caribbean side of Costa Rica and covers an area of 77,000 acres.
The park formed from a series of volcanic islands which gradually became linked over time as alluvial soils from Costa Rica's mountains silted up the channels between them.
The high rainfall and rich soils here have helped to create an area of exceptional biodiversity and a magnet for nature lovers.
On any visit to Tortuguero, be prepared to encounter some rain as this is one of the rainiest areas of Costa Rica, even in the dry season!
There is no permanent settlement within the park and there are only 4 trails, 3 aquatic ones and a land trail, a 2 km walking route called the Gavilan Trail.
Consequently most visits to Tortuguero are by boat or canoe, gliding along the streams.
Wildlife in Tortuguero National Park
The park protects over 20 miles of coastline which are popular nesting locations for turtles (hence then name of the park, which means "turtle catcher" in Spanish).
Hawksbill, Loggerhead, Green and Leatherback Turtles all come to the beaches and canal sides of Tortuguero to lay their eggs in Tortuguero.
Leatherback Turtles come between February and April, whilst Green and Hawksbill Turtles have a longer nesting season, stretching from July to October (busiest in August).
Seeing turtles nesting and laying their eggs is normally an after-dark activity and can be one of the highlights of a tour of Costa Rica.
With some luck it is also possible to see turtles hatching and making their way to the sea.
Tortuguero's forests are home to three of Costa Rica's four species of monkey and also to three-toed sloths, jaguars and almost 400 species of birds.
Around one million birds utilise Tortuguero's wetlands every year on their migration.
Moteverde
"Pura Vida" as they say in Costa Rica. Immerse yourself in Costa Rica's pure and pristine nature!
Home to one of Costa Rica's most famous birds, the resplendent Quetzal, the Monteverde area offers pristine cloud forests and amazing biodiversity.
With more than 400 species of birds, thousands of insect species, a large number of mammals and over 400 different type of orchids, it's no wonder why Monteverde Cloud Forest Reserve is one of the main attractions in Costa Rica.
The misty cloud forest can be explored via numerous trails, hanging bridges and canopy tours.
When in Monteverde, explore the nearby Santa Elena Cloud Forest and the Children's Eternal Rainforest. Coffee plantations and cheese factories can also be visited here.
Sky Walk
The Sky Walk, a combination of 2.5 kilometres of trails and six suspension bridges allows visitors to safely appreciate the rich diversity of the canopy flora and fauna.
Sky Trek is a system of walking trails, zip lines and two observation towers.
The Serpentarium is an amphibian and reptile exhibit that opens every day and offers guided tours every half an hour.
Coffee – Don Juan Plantation
Monteverde is one of the best places in Costa Rica to learn about coffee production in Costa Rica.
Enjoy an excursion to a coffee plantation and learn all the stages in the production process, starting with the planting, harvesting, drying, toasting and grinding of the bean.
A popular trip is the visit to the Don Juan Plantation which lasts 2 hours, with the chance to taste a delicious cup of coffee.
Sugar Cane – Trapiche Tour
Another great short experience we recommend is a visit to a "trapiche" (sugar cane mill), owned and operated by a Costa Rican family.
Here it's possible to see how sugar cane is processed, to walk through the plantations and to taste its varied products.
An explanation about coffee, bananas and other crops is included.
Selvatura Park
Experience gliding along the zip lines through the cloud forest on a canopy tour or take the treetop walkways consisting of a 1.9-mile trail and eight different bridges.
Selvature Park also has a butterfly garden and a great hummingbird garden, plus a reptile and amphibian exhibition and a large private insect collection, property of world famous entomologist Dr. Richard Whitten.
Papagayo Gulf & Northern Guanacaste
The Papagayo Gulf and the north of the province of Guanacaste are located within easy driving distance of Liberia Airport, making these amongst the most accessible of Costa Rica's beach resort areas.
The Gulf of Papagayo is home to many of the best luxury resorts in Costa Rica, with beaches lapped by warm, clear and calm waters.
Coco, Hermosa, Ocotal and Panamá beaches as well as Culebra Bay are popular spots and the area has seen something of a boom in recent years.
Villa Buena Onda is a great option on Coco Beach for an adults-only boutique hotel, whilst El Mangroove on Panama Beach is one of our favourite luxury boutique hotels in Costa Rica.
Many of Costa Rica's All Inclusive resorts are found here, but there are also several of Costa Rica's best boutique hotels.
The Gulf of Papagayo is ideal for those looking to combine a luxury Costa Rican beach resort with some nature or adventure activities.
With dry tropical forest, volcanic landscapes and several national parks close by, there is no shortage of attractions beyond the beaches of the Gulf.
Southern Guanacaste & The Nicoya Peninsula
South of the Gulf of Papagayo, The Nicoya Peninsula offers dramatic scenery and charming small villages and is home to many of the best beach resorts in Costa Rica's north Pacific Coast.
From Potrero beach up north to Pinilla beach further south, this area is home to some of the most beautiful and unspoilt beaches in Costa Rica.
Portrero Beach is home to the lovely boutique Bahia Del Sol Beachfront Hotel.
The lively town of Tamarindo offers some exciting nightlife and a wide variety of restaurants.
This is Costa Rica's Pacific Coast at it's most developed and will suit those looking for nightlife, shopping and dining.
There are a handful of lovely boutique hotels in Tamarindo including Capitan Suizo on Langosta Beach and the luxurious Cala Luna.
Surfing, fishing and snorkelling are also popular along the Nicoya Peninsula.
Nosara and Samara
Wild and beautiful Nosara beach is ideal for surfing and is also well-known amongst yoga-lovers - an ideal location for a yoga retreat.
Samara is a much quieter beach, with calm waters ideal for kayaking. The town offers a wide selection of hotels, restaurants and entertainment.
Punta Islita
Further south down the Nicoya Peninsula, Punta Islita offers spectacular sunsets and beautiful beaches and is a good choice for those looking for a serene ambience.
Punta Islita Beach itself is a kilometre long stretch of beach on a private cove which connects with the longer Playa Corozalito, backed by mangroves and a popular turtle nesting site.
The quaint village is home to a lovely white-washed church and there are plenty of activities on offer around here including hiking trails in the forest.
The area features excellent surfing conditions.
Malpais, Santa Teresa, Montezuma and Tambor beaches are also popular in the south of the Nicoya Peninsula.
Accommodation in San José:
Studio Hotel
Accommodation in Tortuguero:
Mawamba Lodge
Accommodation in Arenal Area:
Arenal Springs
Accommodation in Monteverde:
Hotel Trapp Family Lodge
Accommodation in Tamarindo:
Tamarindo Diriá Hotel
12 night Classic Costa Rica - Standard:
This is a guide price only, based on travel in low season.
Prices will vary according to choice of hotel and seasonal airfare and hotel surcharges. Please ask us for any current special offers.
Contact Us:
All of our Costa Rica Tours are completely tailor made and we can put together any kind of Costa Rica itinerary to suit your interests and budget.
Call us now to speak to a Costa Rica expert about your tailor made Costa Rica Holiday or Honeymoon to Costa Rica.
Call us now on 0333 7000 747
We're open from 9 until 9 daily and our 0333 number is a local rate number included in most call packages.