Wildlife of Costa Rica
8th February 2018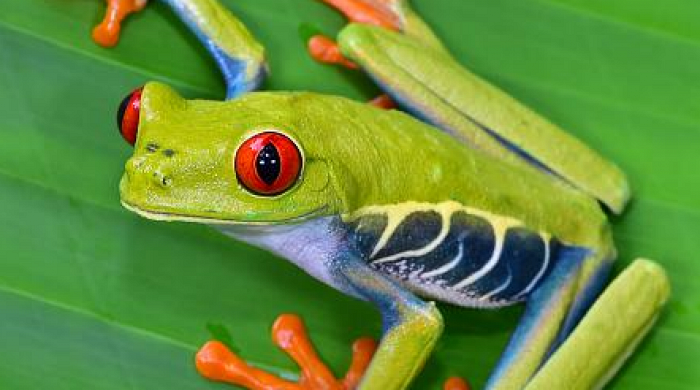 Costa Rica offers a great diversity of habitats for birdlife, both migratory and resident, which makes bird watching in Costa Rica a highlight for many visitors, however strong their twitching inclinations.
Bird Watching in Costa Rica
It is estimated that around 5 billion birds migrate over Costa Rica annually, many pausing to rest along the coastline. In addition, there are over 850 endemic species, located in 12 different habitational zones.
One of the best locations for bird watching in Costa Rica is the Monteverde Cloud Forest which is home to at least 400 different species, including the Resplendent Quetzal, the most emblematic bird in Costa Rica.
Bird watchers and non-twitchers alike will be thrilled to catch a glimpse of one of these enigmatic and colourful birds, a highlight of any Wildlife Holiday in Costa Rica.
Mating time in April probably offers the best chance of seeing a Resplendent Quetzal in Costa Rica.
Birding enthusiasts will also be thrilled to see Scarlet Macaws, Bell Birds, Keel-billed Toucans and ubiquitous hummingbirds.
Turtles in Costa Rica
Seeing sea turtles coming ashore to nest can be a thrilling experience and Costa Rica is an excellent destination to observe Sea Turtles.

Costa Rica is home to 4 species of Sea Turtle; The Olive Ridley, the Leatherback, the Hawksbill and the Green Sea Turtle.
Turtles gather at night near to some of Costa Rica's beaches in order to come ashore to nest, returning to the same beach over again and running the gauntlet of predators.

The arribada is an annual occurence when thousands of sea turtles come ashore to lay their eggs. It's a spectacular sight.
The best places in Costa Rica to see Turtles Nesting include Tortuguero National Park, named indeed after the preponderence of Turtle nesting sites in this region. Tortuguero Beach is one of the most important nesting sites in the world for Green Turtles, which nest between July and October.
Leatherback Turtles also nest in Tortuguero between February and June.
Ostional Beach on The Nicoya Peninsula is the best place in Costa Rica to see the Arribada or 'arrival' of thousands of Olive Ridley Turtles in September and October, a remarkable event when hundreds of thousands of turtles can come ashore on a single night.
Frogs in Costa Rica
Much of Costa Rica's wildlife is small scale and that includes a remarkable array of colourful and dazzling small frogs. With over 150 species of frogs and toads, Costa Rica is the best place in Central America to see frogs.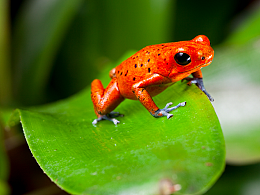 Red Poison Dart Frog Red Eyed Tree Frog

Of the 43 species of tree frog in Costa Rica, none is more famous than the red-eyed tree frog.Costa Rica's most famous amphibians are nocturnal and have loud, distinct calls as night falls.
The tiny Strawberry Poison Dart Frog is remarkable for its ability to change colours.
Manuel Antonio National Park is one of the best places in Costa Rica to see frogs for most visitors, although for those determined, a visit to the Costa Rican Amphibian Research Centre in the Guayacan Rainforest Reserve is recommended as probably the best place in Central America to see frogs.
Sloths in Costa Rica
Sloths sleep up to 18 hours a day and live high in the jungle canopies of Costa Rica's forests, rarely coming down from the treetops or moving very far.

Three-toed sloths are one of the most unusual animals in the world and seeing sloths in the wild in Costa Rica is a real highlight - but don't expect much activity!

Ocelots & Coati in Costa Rica
One of the joys of visiting somewhere new can be discovering animals you had no idea existed. For most visitors to Costa Rica, the Coati is one such creature.

Related to the racoon, Coati are found throughout Costa Rica and are known to be strong fighters, with sharp teeth and strong jaws.
Coati Ocelot

Ocelots are nocturnal felines about twice the size of domestic cats and living in the forests of Costa Rica. They have large paws and are excellent tree climbers.
Monkeys in Costa Rica
The White Headed Capuchin Monkey is the most populous of the four species of monkey found in Costa Rica and a common sight throughout the country. These highly intelligent primates live in troops of around 40 and can live to be over 50 years old.

White Headed Capuchin Mantled Howler Monkey

Of Costa Rica's four species of monkey only Corcovado National Park is home to all four.
The Central American Squirrel Monkey is also found in Manuel Antonio National Park, whilst the much larger Mantled Howler is a common sight and sound in Costa Rica's forests and can also be found in Monteverde.
Geoffroy's Spider Monkey is the fourth of Costa Rica's species of monkey and is notable for its size, its strong prehensile tail and long arms.
Discover some of our most popular Holidays to Costa Rica

Caribbean Rainforest Adventure
or Call Us on 0333 7000 747
and Speak to a Costa Rica Expert