Call us now:
0333 7000 747
Open 9 until 9 daily
Start your perfect holiday
contact us today!
13 Nights - £4,125pp
Flight Inclusive Price from the UK
International Flights
Domestic flights
2 nights Calcutta
5 nights Bhutan Tour
7 nights Brahmaputra River Cruise
Most meals
Shore excursions
Entrance fees
View Map
Holiday Confusion?
You need a Specialist
Solve my Problem
Ask us about Bhutan & Assam
Contact an India Expert Today!
Brahmaputra & Bhutan - Pandaw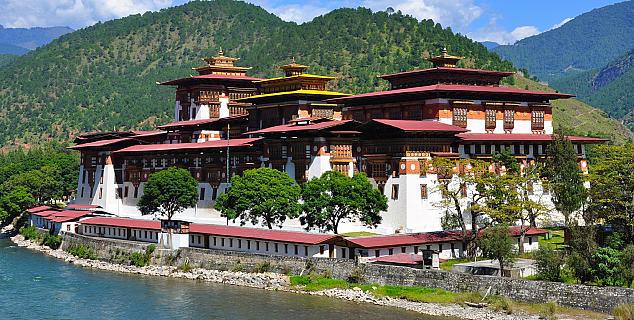 Phunaka Dzong
Brahmaputra Cruise
Colourful India
Prayer Wheels, Bhutan
Assam girls
Rhino, Kaziranga
Brahmaputra & Bhutan - Pandaw
This is a truly spectacular journey, from the secretive Himalayan Kingdom of Bhutan, along the Brahmaputra River through the exotic Eastern Indian state of Assam.
Fly to the Himalayan Kingdom of Bhutan and discover famous cliff-top monasteries, soaring mountain peaks and unique way of life in a country rarely visited by outsiders.
From Bhutan, fly to Calcutta and discover the best of the capital of West Bengal on a full day excursion.
From West Bengal fly to Assam and explore one of the least visited but most exotic regions of India on a Pandaw Cruise along the Brahmaputra River.
The mighty Brahmaputra River in Northern India originates high in the Himalayas before flowing through the scenic Assam Valley where UNESCO protected national parks and remote rural communities provide the traveller with the most wonderful and authentic expedition.
The RV Indochina Pandaw is a very comfortable and specially designed vessel, crewed by a highly knowledgeable expedition team.
Enjoy exploratory safaris by small boat, jeep and even elephant in search of the Greater One-Horned Indian Rhinoceros and Indian tiger.
With fascinating visits to 'Mishing' people who live on the world's largest river island, tea plantations and many exotic Satras to explore, this Assam adventure will leave lifetime-lasting memories.
This itinerary can be tailored to fit your requirements, with any number of additions or amendments, so just let us know if your requirements differ from the advertised itinerary.
At a glance
International Flights from UK
5 nights Bhutan
1 night Calcutta
7 night Brahmaputra Pandaw Cruise
All meals on cruise
Breakfast in Calcutta
Shore excursions
Full day tour Calcutta
Full touring in Bhutan
All airport transfers
Day 1: Fly to Bhutan
Overnight flight UK to Paro, Bhutan.
Day 2: Paro - Thimphu
On arrival in Paro you will be met and transferred to Thimphu (about one hour).
Visit Tashichho Dzong, Bhutan's most impressive building, traditionally the seat of the head of Bhutan's government. The current Dzong is the impressive result of a redesign of the original medieval structure.
Overnight Thimphu. Breakfast & Lunch included.
Day 3: Thimphu
After breakfast visit the Memorial Chorten, also known as the Thimphu Chorten, a large Tibetan-style Buddhist Monastery with golden spires and bells.
Continue to the Folk Heritage Museum, offerring a glimpse into the traditional Bhutanese material culture and way of life.
Visit the National Institute of Zorig Chusum and learn about handmade paper production.
Visit the Bhutan Postal Museum which tells the story of Bhutan's progress and development through the lens of the postal system.
Overnight Thimphu. Breakfast included.
Day 4: Thimphu - Punakha
After breakfast, take the Dochula pass, located 30 km from the capital, on the way to Punakha which offers a 360-degree panoramic view of the Himalayas.
The 108 chortens that adorn the beauty of this place were built by Queen Mother of Bhutan. The pass is also a popular spiritual place.
Visit Chimi Lhakhang, located near Lobesa, standing on a round hillock and flanked by hundreds of prayer flags.
Continue to Drukpa Kinley, also a cultural icon in Bhutan around whom countless yarns, fictions, stories and legends have been spun.
Overnight Punakha. Breakfast included.
Day 5: Punakha - Paro
After breakfast, visit Punakha Dzong, the second oldest and second largest dzong in Bhutan and one of its most majestic structures.
Drive to Paro then and visit the National Museum and Paro Dzong.
The National Museum of Bhutan is housed inside the revamped circular Ta-dzong building, an ancient watchtower above the Paro Dzong and houses some of the finest specimens of Bhutanese art.
Visit Paro Dzong, one of the most impressive and well-known dzongs in Bhutan and one of the finest examples of Bhutanese architecture.
Overnight Paro. Breakfast included.
Day 6: Paro Taktsang Soft Hike
Drive to Satsam Chorten for a soft hike to Taktsang Monastery (Tiger's Nest).
The monastery is perched on a rocky ledge with a sheer drop of nearly 800m, overlooking the Paro Valley and the river.
The hike takes about 4 hours back and forth. Once you reach the view point of the monastery you have the option to visit the monastery which takes another hour on foot.
The first monastery was constructed 1694, but in 1998 a tragic fire destroyed most of the original buildings - which have since been painstakingly restored to their former glory.
Later visit Kyichu Lhakhang, a Buddhist temple in Paro, one of the oldest monasteries in the country.
Afterwards, visit a Farm House where your dinner will be arranged with a local family.
Overnight Paro. Breakfast & Dinner with a local family included.
Day 7: Calcutta
Transfer to the airport for your flight to Calcutta where you will be met to embark on your day tour of Calcutta.
Enjoy a full day tour of Calcutta.
In the morning, join the Heritage Tram Ride across the Old Town to witness the bygone era of charming Bengali colonies, chic cafes and traditional houses.
Visit the sacred Hooghly Riverside to see Howrah Bridge, 1906 Howrah Junction Railway Station, St John's Church, the Old Court House and the Colonial Secretariat Buildings.
The next stop is the riverside located Mullik Ghat to explore some of India's most colourful Flower Bazaar Markets.
Continue to the Victoria Memorial, a landmark of Calcutta and now serving as a royal museum of British Rule in India. From here, visit the iconic Eden Garden Cricket Stadium.
Visit Mother Teresa's Mission and House and afterwards discover the curious lanes of Kumartuli. The tour ends at Calcutta's New Market area to enjoy some street shopping and bargaining with the locals.
Overnight Calcutta. Breakfast included.
Day 8: Guwahati
This morning fly to Guwahati and transfer to the RV Indochina Pandaw via a visit to the 'Kama-khya Temple', devoted to the goddess of desire.
Set sail passing Peacock Island, famous for the endangered Golden Langur.
Enjoy an evening welcome dinner and talk.
Overnight on board. All meals included.
Day 9: Sail towards Silghat
Spend the day enjoying the stunning natural scenery and wildlife of the Brahmaputra River.
Observe river dolphins and birds of prey as the ship sails past uninhabited islands and the fragile communities that live here.
After tea enjoy a talk on 'The River Brahmaputra and the tribal life that exists alongside'.
Overnight on board. All meals included.
Day 10: Silghat
Pass Tezpur and a gigantic 3 km long arched bridge before arriving at Silghat.
Take an excursion through stunning countryside to a tea estate and factory producing the famous Assam tea.
Overnight on board. All meals included.
Day 11: Kaziranga National Park
The expedition continues with a visit to the UNESCO accredited Kaziranga National Park.
Here enjoy a safari on elephant searching for the elusive Greater One-Horned Indian Rhinoceros and Indian tiger.
Continue to Bagori, explore the wildlife of this magnificent park by open jeep.
Also travel to Biswanath Ghat and discover the charming village by small boat. Here women weave colourful traditional handicrafts by the riverside.
Overnight on board. All meals included.
Day 12: River Safari
After more scenic cruising along the Brahmaputra, take a boat safari on the Eastern range of Kaziranga where the Dhansiri and Brahmaputra Rivers meet.
Here, observe wildlife at its most natural including pied kingfishers, eagles, vultures, water buffalos, monitor lizards and otters. Dinner is enjoyed al fresco on a deserted island.
Overnight on board. All meals included.
Day 13: Towards Majuli
Visit a local village on what is the world's largest river island and home to the ethnic 'Mishing' people.
Here, women weave on hand-looms to create characterful costumes. Enjoy a demonstration of a Dhoti & Chaddor - traditional dresses for the men and women of the Mishing communities.
Overnight on board. All meals included.
Day 14: Majuli, Neamati Ghat and Sibsagar
Arrive at the ancient town of Majuli and explore the impressive Satras dating back to the 15th century.
Continue to Sibsagar, capital of the Tai-speaking Ahoms who came from Yunan and China in the 13th Century AD.
Explore the Shiva Dol, built in 1734, the highest Shiva temple in India.
The day is completed with an insight into the making of Assam tea from a tea estate family.
Overnight on board. All meals included.
Day 15: Jorhat - UK
Disembark after breakfast and transfer to Jorhat Airport for your flight back to the UK.
Day 16: Arrive back in the UK
Arrive back in the UK.
Life on Board Pandaw
Life on board a river cruise is quite different from ocean cruising. Things are very much more informal, with no 'Captain's Table' or dressing up for dinner.
Unlike ocean cruising, all excursions and most other things are included in the price, such as drinks and tips for the crew.
With one member of crew per two passengers, the service on board is incredibly high and very personal.
Things are very relaxed on board a Pandaw River Cruise - with no unnecessary and wearisome PA announcements and no disturbing TV's from neighbouring cabins.
Cabins all open on to a social promenade deck, creating a very relaxed and social atmosphere on board.
One of the best things about a Pandaw River Cruise is the amount of space on board, which is said to be the highest per passenger of any ocean or river cruise vessel in the world.
Cabins don't have minibars – instead there is a bar service on the sundeck from dawn until dusk.
All excursions are included but there is no compulsion to join in. A daily briefing updates guests on the cultural activities of the day ahead.
Pandaw Club Members
Cruised with Pandaw before?
Then make sure you sign up as a Pandaw Club Member with us to receive further discounts and benefits on your next Pandaw Cruise holiday with Jasmine Holidays.
Benefits include:
Exclusive Members Club Cruise Discount
Unlimited in-house wine package worth up to $220
Free Laundry Service worth $50
Pre-post Expedition Discount
Remember that we guarantee a better price than booking direct and your holiday can be completely tailor made and will always be ATOL Protected if your holiday is flight inclusive.
Exclusive Expeditions for Pandaw Club Members
Pandaw have recently introduced special departures exclusive for Pandaw Club Members.
These offer the opportunity to bring like minded people together and for old ship mates to travel together again.
Members only Expeditions are a great chance to relive old experiences and encounter new ones in a more exclusive atmosphere.
A handful of selected departures are available and offer a considerable discount on standard departures as well.
Ask us for details of upcoming departures.
Hotel Suggestions Calcutta:
Taj Bengal
Hotel 233 Park Street
Hotel Casa Fortuna
Hotel Suggestions Paro:
Tashi Namgay Resort
Hotel Suggestions Punakha:
Damchen Resort
Hotel Suggestions Thimphu:
Druk Hotel
14 nights Brahmaputra Cruise & Bhutan - Pandaw:
This is a guide price only, based on travel in low season.
Prices will vary according to choice of hotel and seasonal airfare and hotel surcharges. Please ask us for any current special offers.
Contact Us:
All of our Bhutan & India River Cruise Holidays are completely tailor made and we can put together any kind of Bhutan & India River Cruise itinerary to suit your interests and budget.
Call us now to speak to a Bhutan & India expert about your tailor made Bhutan & India River Cruise holiday.
Call us now on 0333 7000 747
We're open from 9 until 9 daily and our 0333 number is a local rate number included in most call packages.