Call us now:
0333 7000 747
Open 9 until 9 daily
Start your perfect holiday
contact us today!
8 Nights - £1,280pp
Flight Inclusive Price from UK
Bali & Indonesia Destinations
Holiday Confusion?
You need a Specialist
Solve my Problem
Need advice on Spa Village?
Talk to someone who's stayed
Spa Village Resort Tembok, Bali
Jamu Drink
Star Gazing
Bale by the Sea
Swimming Pool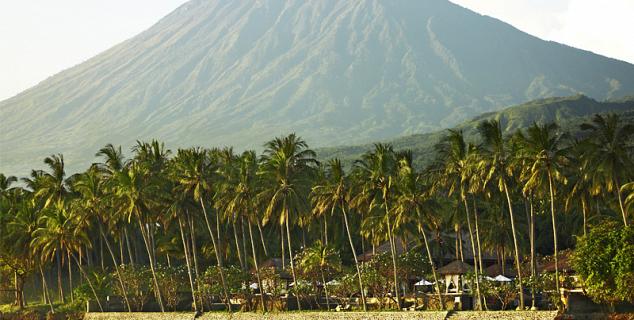 View from Sea
Pool at Dusk
Kamar Room
Spa Village Resort Tembok
Spa Village Resort Tembok, Bali is an oasis of peacefulness and calm, combining the therapeutic value of its beautiful location on Bali's quiet north east coast with Bali's rich cultural heritage and traditions.
This genuineness and respect for the traditions of Bali are important at the Spa Village Resort Tembok, Bali where guests can rejuvenate, re-charge or rediscover themselves to the backdrop of Bali's spectacular volcanoes.
The atmosphere at Spa Village Resort Tembok, Bali is peaceful intimate (there are just 31 rooms) and guests are able to choose from a number of spa and wellness programmess.
Nightly rates include all meals plus a daily spa treatment.
The Spa Village Resort Tembok, Bali is a genuine escape, where the focus is totally on you - a world away from the hustle and bustle of the busier areas of Bali.
The Spa Village Resort Tembok, Bali is very tranquil - rooms have no TV's and languid days are filled with reading, relaxing by the pool, a daily spa treatment, perhaps joining in the afternoon yoga class.
What's so Special?
On our last visit to Spa Village we tried 'Star Gazing' out of curiosity. What an unexpected delight - lying on an airbed, floating around the pool with relaxing music on the i-pod contemplating a sky studded with stars. Spa Village is a place to re-tune and re-balance.
Bear in Mind
The luxury at Spa Village Resort Tembok, Bali comes in the guise of the location, the small touches and the warmth and friendliness of the staff.
Rooms are comfortable but not 'luxurious' and the beach is pebbly (but the pool is such a nice place to relax around that the beach doesn't matter to most).
Simple elegance is the keyword for the 27 Kamar Rooms at Spa Village Tembok, Bali.
Each room blends exotic grace with modern comfort and really reflects the Balinese heritage, creating a strong sense of place.
Each bedroom connects to spacious marble bathrooms with wonderful sunken bathtubs. Beyond the sliding doors of every room, are wide terraces or balconies which open up to ocean or garden views.
The Wantilan Restaurant
The stunning beachside setting of the resort's restaurant, set high above the sea, offers beautiful views of the ocean.
Under a large thatch roof the restaurant is totally open-sided, to make the most of the gentle ocean breezes and is furnished with traditional artwork, rattan furniture and teakwood tables.
Breakfast, lunch and supper are served daily A La Carte. Ingredients are fresh from the ocean and from local farmers.
Spa Village Resort Tembok, Bali has welcomed Martin Büchele as its new Executive Chef who will specialise in sophisticated cuisine for healthy living, conducting consultations and personalising menus.
Through his experience at Relais Chateaux's Hotel Jagdhof in Austria and The Ritz-Carlton, Kuala Lumpur, coupled with his time in a Buddhist Monastery in Nepal, he weaves healthy lifestyle cuisine together with the holistic immersion of the resort's School of Life Wellness programmes.
Taman Gili
Pre-dinner drinks are available at Taman Gili during the early evening "chill-out" session.
Nearby Dining
There is nowhere to eat nearby. However, as 3 meals a day are usually included, this isn't an issue.
Swimming Pool
Situated adjacent to the beach, surrounded by majestic palm trees is the large midnight blue infinity pool.
Thatched "Bale" pavillions surround it, ideal for relaxing under the shade, reading a book or watching the local sampans sail by. The sound of the sea and the rolling waves may just lull you to sleep as well!
Hearts & Hands
Situated in the tranquil, coastal environment of northeast Bali, this intimate spa resort provides the perfect holistic retreat.
The peaceful atmosphere, warm sunshine, fresh air and soothing sounds of the ocean lend an ideal environment to de-stress and recharge.
At Spa Village Resort Tembok, Bali, discover a holistic approach to wellness that focuses on overall health and happiness.
Lumba Lumba - the recreation and exercise room
Dedicated to health and recreation this expansive room opens to the sea, providing a range of fitness machines and a perfect location for indoor yoga and exercise classes.
Here creativity gatherings and lectures take place in support of the chosen Discovery Paths. There is also a TV room here.
Facilities:
Swimming Pool
Spa
Games room
Activities:
Ubud Art Tour
Balinese Dance show
Village Tour
Sunset Cruise
Tegalalang & Kintamani Half Day Tour
Tritagangga Water Palace Full Day Tour
Weaving class
Wood-Carving class
2020 - 21 Price Guide:
Includes:
international Flights from the UK
8 nights accommodation with Full Board
Daily spa treatment
All taxes
Private car airport transfers
This is a guide price only, based on travel in low season.
Prices will vary according to availability of airfares on the dates of travel and seasonal hotel and airfare surcharges.
Please ask us for any current special offers.
Jasmine Bonus:
Includes 3 meals daily
One 50 minute massage per person per day
Jasmine Early Booking Discount:
Book 60 days or more in advance and receive a 10% discount on room rate
Valid to 31 Mar 20
Jasmine Free Night Bonus:
Pay 6 nights get 1 more night FREE
Pay 12 get 2 FREE
Pay 18 get 3 FREE
Valid to 31 Mar 20
Jasmine Honeymoon Bonus:
Contact Us:
All of our Bali Holidays are completely tailor made and we can put together any kind of itinerary to suit your interests and budget.
Call us now to speak to a Bali holiday expert about your Bali holiday or honeymoon to Bali.
Call us now on 0333 7000 747
Or email us on sales@jasmineholidays.co.uk
Open 09:00 - 17:30 Mon - Fri. 09:00 - 12:00 Sat.
Stopover in Singapore
View
Combine with Ubud
View
Kuala Lumpur Stopover
View