Call us now:
0333 7000 747
Open 9 until 9 daily
Start your perfect holiday
contact us today!
3 Nights - £675pp
Flight Inclusive Price from UK
Holiday Confusion?
You need a Specialist
Solve my Problem
Shanghai Mansion the right choice?
Speak to someone who's been
Shanghai Mansion
Ying Hua Deluxe Room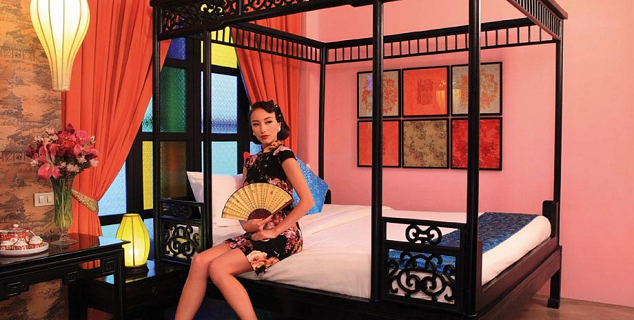 Mei Hua Superior Room
Shanghai Gallery
Ying Hua Deluxe Room
Shanghai Gallery
Room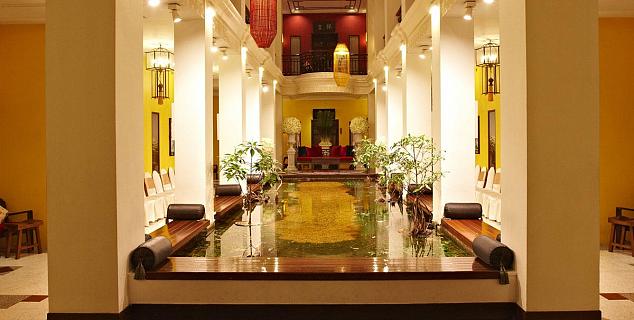 Interior
On busy Yawarat Road in the heart of China town, Shanghai Mansion is a unique and wonderful hidden gem in Bangkok for those looking for a colourful and imaginative hotel stay in Bangkok.
Shanghai Mansion is a historic building, built in 1923, and embodies the style and elegance of 1930's Shanghai - appropriate for a hotel in the heart of Bangkok's Chinatown.
Shanghai Mansion's rooms are brightly decorated, with four-poster beds and quirky Chinese décor (a birdcage in the bathroom!).
Shanghai Mansion's location in busy and bustling Chinatown means that the Chao Phraya River and the Grand Palace are within easy reach.
In the immediate vicinity there are numerous markets, food shops, restaurants, old Chinese herbalists, gold shops, old Chinese shrines and old buildings to explore in one of Bangkok's most fascinating districts.
In the evenings Yawarat Road reveals itself as a street full of restaurants and street stalls, making the Shanghai Mansion a very convenient location for food lovers.
What's so Special?
Shanghai Mansion is small and simple, cute and quirky and those with a romantic imagination will love it. The term may be 'Chinoise Chic', so we'll go with that.
We love the rooms at Shanghai Mansion, which are the best feature – colourful and quirky.
Shanghai Mansion is fantastic value for money for those looking for a great value boutique hotel in Bangkok.
There's a well-priced little Spa on the floor below and plenty of places to eat nearby (this is Chinatown after all).
Bear in mind
Yawarat Road and Chinatown is a busy and bustling area.
Shanghai Mansion Bangkok is a boutique hotel, so facilities are fairly limited and service is friendly but not necessarily super slick.
Plum Blossom Havens
Mei Hua Havens (Plum Blossom – Superior Rooms) are like mini suites and have a chic contemporary Chinese style combining exquisite antiques with vibrant silks in fresh, youthful colours which evoke the exuberance and energy of Old Shanghai.
These interesting rooms are the most popular at Shanghai Mansion and have heaps of character, as you would expect from a 1930's Chinese mansion.
Bathrooms have Rainforest showers.
Features:
Air Con
Free Wi-Fi
TV with Satellite channels
IDD Phone
Minibar
Tea & coffee making facilities
Hairdryer
Safe
Restaurant
Shanghai Mansion has a small restaurant serving breakfast, lunch and afternoon tea.
Cotton
Cotton is a cool little Jazz Bar which has found the best Thai jazz artists to do their thing, including Siam Band, Harmony and Marshmallow; each playing all types of jazz, from avant-garde to bebop to jazzy interpretations of classic pop songs (think Coltrane's 'My favourite Things'!).
Nearby dining
The location in Chinatown means that there are dozens of great local places to eat with a few minutes walk of the hotel.
Facilities
Shanghai Mansion doesn't have much in the way of facilities, although the spa is a nice feature, especially for foot massages after a long day sightseeing in Bangkok.
The hotel runs free tuk-tuk transfers to a few locations in Bangkok.
Facilities:
Yin Yang Massage & Spa
Free scheduled Tuk Tuk transfer to Hua Lumpong MTR station, Silom, Patpong, Siam shopping malls, and the Erewan Shrine leaving 4 times a day
Laundry & Dry Cleaning
2019 - 20 Price Guide:
Includes:
International Flights from the UK
3 nights accommodation with breakfast
All taxes
Private car airport transfers
This is a guide price only, based on travel in low season.
Prices will vary according to availability of airfares on the dates of travel and seasonal hotel and airfare surcharges.
Please ask us for any current special offers.
Jasmine Bonus:
Contact Us:
All of our Thailand Holidays are completely tailor made and we can put together any kind of itinerary to suit your interests and budget.
Call us now to speak to a Thailand holiday expert about your Thailand holiday or honeymoon to Thailand.
Call us now on 0333 7000 747
We're open from 9 until 9 daily and our 0333 number is a local rate number included in most call packages.
Koh Samui
A holiday to Bangkok can easily be combined with a beach holiday to Koh Samui. Just over an hour's flight from Bangkok, Koh Samui has some great boutique hotels.
Koh Samui will certainly suit those looking for a boutique Thailand hotel and many resorts are within walking distance of local restaurants and attractions.
Khao Sok National Park
We think a visit to Khao Sok National Park and a stay at the wonderful Elephant Hills is a great option for combining with a city stay in Bangkok.
Khao Sok is one of the most beautiful destinations in Thailand and a chance to experience million year old jungle and get up close with elephants.
Add on Koh Samui
The Scent
A stay at the Scent Hotel in Koh Samui combines really well with Shanghai Mansions.
Both hotels have a unique and quirky style and bags of character.
View
Add on Koh Yao Noi
Paradise Koh Yao Noi
A stay at Paradise Koh Yao Noi is an excellent fit with a stay at Shanghai Mansions.
Paradise Koh Yao Noi offers superb value on an idyllic island setting.
View
Add on Chiang Mai
Add on Chiang Mai
A visit to Bangkok can easily be combined with a few days in cultural Chiang Mai.
Visit hilltribe villages, explore Lanna Temples and discover northern Thai cuisine.
View