Call us now:
0333 7000 747
Open 9 until 9 daily
Start your perfect holiday
contact us today!
3 Nights - £899pp
Full Board & Safari Activities
3 Nights - £899pp
See the best of the Serengeti from Nasikia Migration Camp.
Full board and all game activities - 8-12 tents in the midst of the migration.
Tanzania & Zanzibar Destinations
Holiday Confusion?
You need a Specialist
Solve my Problem
Ask us about Nasikia Camps
Request a quote Today!
Nasikia Migration Camp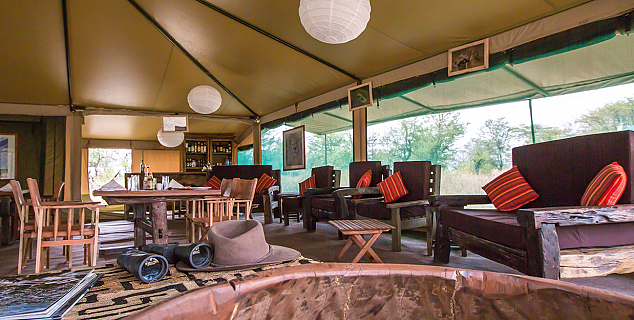 Main area
Tent exterior
Tent interior
River crossing
Campfire
Nasikia Mobile Camp offers 8-12 safari tents that remain mobile throughout the year, depending on the season and the location of the wildebeest migration.
Between December and April, the camp is normally located at the Small Marsh special campsite, a location in the midst of the great wildebeest migration on the southern Serengeti plains.
This is an ideal location for the calving season between late January and mid February. Between July and November the camp is located at Bologonja, in the far north of the Serengeti, allowing for game drive to the Bologonja and Mara Rivers during the migration and river crossing seasons.
Each tent is a spacious 12m long by 4m wide and made from well-known heavy-duty safari rip-stop canvas.
Tents are very nicely furnished and feature netted windows down each side, which can be fully opened with only the canvas remaining at all times with the mosquito netting stitched strongly into the actual tent.
What's so Special?
The uniqueness and intimacy of the camp is maintained, whichever location in the Serengeti is chosen.
2016 Price Guide:
Includes:
2 nights accommodation with all meals
Game activities
This is a guide price only, based on travel in low season.
Prices will vary according to availability of airfares on the dates of travel and seasonal hotel and airfare surcharges.
Please ask us for any current special offers.
Jasmine Bonus:
Contact Us:
All of our Tanzania Holidays are completely tailor made and we can put together any kind of holiday to Tanzania & Zanzibar to suit your interests and budget.
Call us now to speak to a Tanzania holiday expert about your Tanzania holiday or honeymoon to Tanzania.
Call us now on 0333 7000 747
We're open from 9 until 9 daily and our 0333 number is a local rate number included in most call packages.