Call us now:
0333 7000 747
Open 9 until 9 daily
Start your perfect holiday
contact us today!
7 Nights - £1,125pp
Flight Inclusive Price from UK
Bali & Indonesia Destinations
Holiday Confusion?
You need a Specialist
Solve my Problem
Need to be sure about Bali Pavilions
Speak to someone who's stayed
Bali Pavilions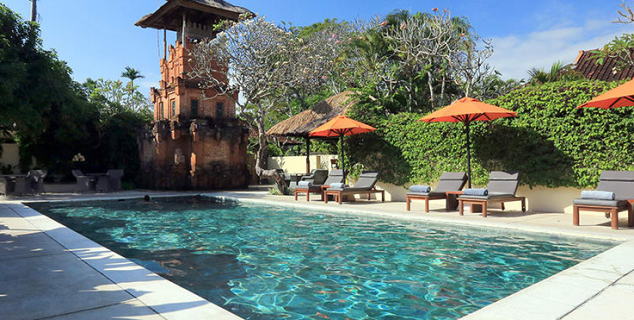 Pool
Honeymoon Pool Villa
Balinese Welcome
Pool Villa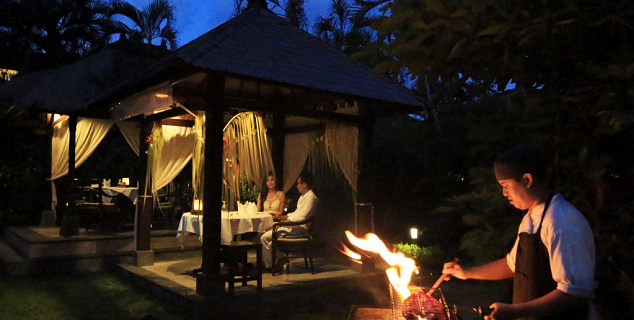 Private Dining
Bali Pavilions
Bali Pavilions is a collection of one and two bedroom villas set amongst peaceful gardens down a quiet lane just off the main beach road in central Sanur.
The atmosphere at Bali Pavilions is peaceful, intimate and very Balinese and is ideal for honeymooners or couples looking for a cosy retreat and an intimate and very personal Balinese boutique resort.
Villas at Bali Pavilions are very private and surround a small pool area and poolside restaurant and bar.
The evening restaurant at Bali Pavilions is set up in the garden in a very romantic location. Standards are very high but there are plenty of nearby places to eat for those who want to venture out.
Bali Pavilions mostly consists of Garden and Pool Villas, though two-storey honeymoon villas are also available.
What's so Special?
Bali Pavilions is a very Balinese style boutique villa hotel unlike many of the more contemporary villas on offer in Bali. It also offers extremely good value for money.
Bear in Mind
Bali Pavilions is tucked away in a quiet enclave of Sanur. Although Bali Pavilions isn't right on the beach, the beach is just a short walk away, and both transport and beach facilities are provided.
Breakfast is served in your room at Bali Pavilions. You'll have an a-la-carte menu to put your order in the night beforehand.
Garden Villas
Bali Pavilions' Garden Pavilions offer total privacy and 120 sq. m. of indoor and outdoor living space.
A Balinese entrance leads into a walled garden with a private terrace / sundeck.
There is no private pool in the Garden Villas, but a beautiful large pool and lounging area is available for common use.
Inside each Pavilion is a spacious air-conditioned living room with folding doors for views of the lush tropical gardens.
Balinese wooden interiors are furnished with traditional artefacts, natural cotton fabrics and exquisite local flowers.
Bathrooms are very spacious indeed and feature large baths and separate showers.
Features:
Air con
Free Wi-Fi
LCD TV with Satellite channels
DVD
CD
Kitchenette
Minibar
Fridge
Safe
Butler services
The Jahe Restaurant
In Balinese, Jahe means ginger, a plant known for its freshness, flavor and beauty.
Likewise, the Jahe restaurant is known for its authentic flavours and fresh ingredients.
Dine as the Balinese do in this relaxed, thatched roof garden setting, surrounded by lush nature.
Jahe is a mix of tropical charm with elegant simplicity, with a central dining area and private pavilions scattered in the tropical garden.

These intimate havens surrounded by flickering torches are perfect for romantic dinners.
The experienced culinary team offers an array of Western and Asian inspired A la carte specialties, as well as special private BBQs to delight your senses.
Poolside Bar
Cool off with one of the signature cocktail selections, healthy drinks, a freshly prepared lunch or a simple poolside snack.
Relaxed and tranquil, the Poolside Bar offers the ideal all-day dining experience.
Nearby Dining
There are plenty of other dining options in Sanur, right outside the hotel entrance, within easy walking distance.
Facilities
Bali Pavilions has a pleasant swimming pool and spa. Other facilities include a gym.
Facilities:
Spa
Swimming pool
Gym
Free DVD's & CD's
Business centre
Gift shop
Daily newspaper
Laundry & dry cleaning
Light clothes pressing
Babysitting
View Itinerary in Detail
To view a sample holiday, click on one of the links below. This will open the itinerary up in a new window.
All of our Bali Holidays are completely tailor made and we can combine different hotels and airlines to create your ideal Bali holiday.
We have many other options so if you have a particular hotel in mind just let us know and we'll put together a price and itinerary for you.
Contact Us:
Call us now to speak to a Bali holiday expert about your Bali holiday or honeymoon to Bali.
Call us now on 0333 7000 747
Open 09:00 - 17:30 Mon - Fri. 09:00 - 12:00 Sat.
Garden Villa
30% Early Bird
7 nights at Bali Pavilions - Garden Villa including Breakfast.
Includes all Flights, Transfers, Breakfast.
7 nights from £1,125 pp
View
Pool Villa
30% Early Bird
7 nights at Bali Pavilions - Pool Villa including Breakfast.
Includes all Flights, Transfers, Breakfast.
7 nights from £1,295 pp
View
Twin Centre Bali
Twin Centre Holiday
7 nights at Bali Pavilions, 3 nights Komaneka Tanggayuda, Ubud.
Includes all Flights, Transfers, Breakfast.
10 nights from £1,450 pp
View