Call us now:
0333 7000 747
Open 9 until 9 daily
Start your perfect holiday
contact us today!
12 Nights - £1,995pp
Flight Inclusive Price from UK
International Flights from UK
12 nights Accommodation
Meals as Specified
Private Car
English Speaking Chauffeur Guide
Entrance fees
ATOL Protection
Travel Trust Protection
Based on 2021 - 22 Prices
View Map

Holiday Confusion?
You need a Specialist
Solve my Problem
Need Sri Lanka help?
Contact a Sri Lanka Expert Now!
Highlights of Sri Lanka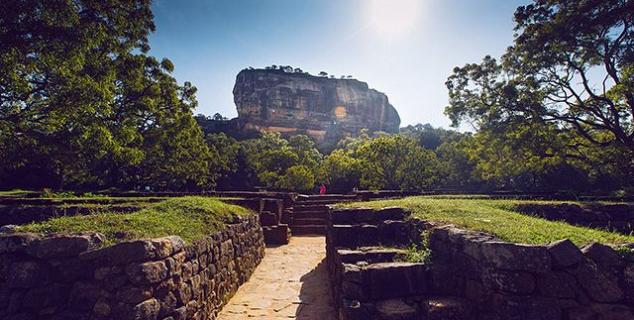 Sigiriya
Stay at Number ONE Mirissa
Visit Dambulla
Moonstone at Polonnaruwa
Stay at The Fortress near Galle
View of Kandy
Highlights of Sri Lanka
Enjoy Sri Lanka at a relaxed pace, with time to enjoy the best of Sri Lanka's stunning scenery and natural environment.
Ease into this relaxing Sri Lanka holiday with the first night in a working coconut estate within a short driving time from the airport.
From here head north to Sri Lanka's Cultural Triangle, for 3 nights in Sigiriya and the chance to discover Sri Lanka's ancient capitals at leisure, with plenty of time to visit Sigiriya, Polonnurawa and Dambula.
From here, head to Sri Lanka's Hill Country for 3 nights in Sri Lanka's cultural capital, Kandy.
From Kandy visit the famous Temple of the Tooth, enjoy a spectacular Kandyan dance performance and enjoy strolling around the beautiful Botanic Gardens.
From Kandy take the most spectacular train journey in Sri Lanka and enjoy superb scenery on this relaxing morning train ride.
From the Hill Country head to the coast for a few days relaxing in one of Sri Lanka's charming boutique hotels.
Sri Lanka's beaches are stunning and many people take the opportunity of going whale watching or visiting one of the turtle hatching sites along the coast.
Our Sri Lanka tours are all completely tailor made and can be adjusted to suit your interests and budget so just let us know your preferences.
Inclusions
International flights from UK
Accommodation with breakfast
All airport transfers by private car
Private car and cheauffeur-guide until beach
Entrance Fees
Accommodation
1 night Horathapola or at Notary's House
3 nights Sigiriya
3 nights Kandy
5 nights Boutique Beach Resort
Excursions
Sigiriya
Polonnaruwa
Temple of the Sacred Tooth
Royal Botanical Gardens
Scenic Railway Journey
Day 1: Fly UK to Sri Lanka
Fly UK to Sri Lanka.
Day 2: Horathapola
On arrival you will be met and transferred to your chosen hotel.
Either stay at Horathapola, in a beautiful boutique hotel on a working coconut plantation or in the charming Notary's House in Makandura.
Overnight Horathapola or Makandura. Breakfast included.
Day 3: Sigiriya - Dambulla
Transfer to Sigiriya with your driver-guide.
Dambulla is famous for its spectacular rock fortress.
Visit the Golden Temple Caves in Dambulla which contain beautiful paintings of the Buddha.
Overnight Sigiriya. Breakfast included.
Day 4: Sigiriya - Polonnaruwa
Visit and climb Sigiriya Rock Fortress.
Relax at your hotel or in the afternoon enjoy sightseeing in Polonnaruwa, the ancient capital of Sri Lanka.
Overnight Sigiriya. Breakfast included.
Day 5: Sigiriya
Enjoy the day at leisure in Sigiriya to enjoy the surroundings.
Alternatively enjoy a morning or afternoon excursion in Sri Lanka's Cultural Triangle.
Overnight Sigiriya. Breakfast included.
Day 6: Kandy
Transfer to Kandy, the cultural centre of Sri Lanka.
Check-in to your hotel with the rest of the day at leisure.
Overnight Kandy. Breakfast included.
Day 7: Kandy & Peradeniya
Visit the Temple of the Sacred Tooth of The Buddha.
Spend a relaxing afternoon in Peradeniya visiting the Royal Botanical Gardens.
Overnight Kandy. Breakfast included.
Day 8: Kandy
Enjoy the day at leisure in Kandy to enjoy the surroundings.
In the late afternoon enjoy a spectacular performance of Kandy's famous dancers.
Overnight Kandy. Breakfast included.
Day 9: Kandy - Nanu Oya - Beach
Transfer to Kandy Railway Station. Board the train for the scenic railway journey to Nanu Oya, a relaxing train ride through some of the most beautiful scenery in Sri Lanka.
Transfer to one of Sri Lanka's stunning boutique resorts along the coast, around Galle or perhaps further east around Tangalla.
Overnight Beach Resort. Breakfast included.
Day 10 - 13: Beach Resort
Relax in one of Sri Lanka's beautiful boutique hotels.
Overnight Beach Resort. Breakfast included.
Day 14: Fly Sri Lanka - UK
Transfer to the Airport for your flight back to the UK.
Day 15: Arrive UK
Arrive back in the UK.
Cultural Triangle
Sri Lanka's cultural triangle covers the region north of Kandy, and includes the historic capitals of Anuradhapura and Polonaruwa, the amazing rock citadel of Sigiriya, the cave temples of Dambulla and the Mineriya-Giritale National Parks.
This is one of Sri Lanka's most fascinating regions and is a great place to spend a few days exploring some superb ancient ruins, reclining buddhas, magnificent frescoes and some of Sri Lanka's best scenery and wildlife.
Kandy
About 3 hours drive from the coast, Kandy is a great base for exploring many of the surrounding attractions such as Buddhist temples, the botanic gardens and the Pinnawela elephant orphanage.
The sacred Temple of the Tooth and the famous Kandyan dancers are two things not to be missed within Kandy.
Kandy is the cultural capital of Sri Lanka, at least for the Sinhalese population and is home to the famous and very colourful Esala Perahera Festival in August, a great time to visit Kandy.
There are a handful of great boutique hotels in Kandy and we highly recommend Kandy House and Villa Rosa.
Galle
Wonderfully enigmatic and atmospheric, Galle Fort is a World Heritage designated area consisting of quiet streets lined with traditional houses, high quality antique shops, old churches and the occasional luxury boutique hotel.
The area close to the fort and Galle town also has some fantastic beaches and some of the best boutique hotels in Sri Lanka.
The Galle Coast is a great destination to consider for a beach stay in Sri Lanka.
Frangipani Tree is just one of the boutique hotels in Sri Lanka's Galle Coast which we love.
Day trips to Anuradhapura and Polonnaruwa or even Kandy are also very feasible.
Sri Lanka's Southern Coast
For the best beaches in Sri Lanka, then a Sri Lankan beach holiday in the south is hard to beat.
Things are much quieter here, east of Galle.
Weligama is a beautiful spot and home to some of the nicest boutique hotels in Sri Lanka.
For some real luxury in Sri Lanka, try Cape Weligama which is an outstanding luxury hotel.
Tangalle is very laid-back and quiet, with a few reminders of Dutch colonial times and some pretty surrounding villages.
The Amanwella is one of the finest hotels in Sri Lanka and a real treat in a superb location.
Mirissa is certainly one of the most beautiful and peaceful beaches in Sri Lanka and a stay here is ideal for those looking for tranquility.
Number ONE Mirissa is a great option for a boutique beach hotel in the south of Sri Lanka.
Is this a Private Tour or a Group Tour?
All of our tours are private tailor made itineraries, customised for you - we can amend things to entirely suit you.
You will have your own private car and chauffeur-guide on excursions.
Sri Lanka differs from many other destinations in this respect - the driver doubles as the guide.
What are the departure dates?
Let us know your preferred dates of travel and we will find the best and most suitable flights to fit your itinerary.
As this is a private tour, there are no set departure dates.
Which Airlines do you use?
We work with all the major airlines flying to Sri Lanka.
Typically for Sri Lanka, Sri Lankan Airlines, British Airways and Emirates are the airlines we most often use.
However, just let us know your preferred airline if you have one. We can organise flights from any regional destination in the UK.
Sri Lankan Airlines and British Airways fly directly to Sri Lanka and Sri Lankan Airlines and Emirates are both great options for combining Sri Lanka with the Maldives.
Which Hotels do you use?
We're careful with our choice of hotels in Sri Lanka, but we're guided by our customers also. If you have some preferred hotels, just let us know.
We specialise in boutique hotels and so we will often suggest some of our favourite smaller hotels where we think these will be suitable.
We keep on top of hotel developments in Sri Lanka through our own inspection trips and also through the expertise of our local partners. We also keep tabs on feedback online and from our customers.
Sri Lanka has a really great choice of boutique hotels and some excellent luxury hotels.
Do you cater for Solo Travellers & Families?
Yes, we have many solo travellers, and Sri Lanka is generally a safe, friendly and welcoming destination for those travelling alone.
Sri Lanka is very well suited for families of all ages and we can tailor something specifically to fit your family's needs.
This particular Sri Lanka Highlights itinerary can be tailored for families. Children of all ages tend to love Sri Lanka for the wildlife, jungle and activities such as cycling around the temples.
How long have you been organising holidays to Sri Lanka?
We've been organising tailor made holidays to Sri Lanka for over 10 years.
Our team has a wealth of combined experience in the industry and our Director has been involved in organising holidays to Sri Lanka since the early 1990's.
Our partners on the ground in Sri Lanka have over 20 years experience in operating there.
They understand the country inside out and have a strong infrastructure of staff, guides and vehicles.
We've had the same partnership in Sri Lanka since 2010.
What destinations can be combined with Sri Lanka?
A holiday to Sri Lanka is often combined with a beach holiday in the Maldives. It's really the perfect combination of culture, sights, wildlife and some of the best beaches in the world.
A stopover in Dubai or Abu Dhabi is a very popular option for Sri Lanka holidays - it makes a great contrast.
Sri Lanka is also sometimes combined with South East Asia or with a journey around India.
Should our clients need any assistance during a trip to Sri Lanka, we always have at least one of our own staff on a similar time zone, and we're open 7 days a week in Saigon.
Of course our local partners are always there to assist 24-7.
Standard Hotel Suggestions Sigiriya:
Kassapa Lion Rocks
Standard Hotel Suggestions Kandy:
Clove Villa
Serendib Stone Bungalow
Standard Hotel Beach:
Buckingham Place
12 night Highlights of Sri Lanka - Standard:
This is a guide price only, based on travel in low season.
Prices will vary according to choice of hotel and seasonal airfare and hotel surcharges. Please ask us for any current special offers.
Contact Us:
All of our Classic Sri Lanka Tours are completely tailor made and we can put together any kind of Sri Lanka tour itinerary to suit your interests and budget.
Call us now to speak to a Sri Lanka holiday expert about your Sri Lanka holiday or honeymoon to Sri Lanka.
Call us now on 0333 7000 747
We're open from 9 until 6 daily and our 0333 number is a local rate number included in most call packages.
Maldives & Sri Lanka
Maldives Combination
A tour of Sri Lanka goes perfectly with the Maldives.
Extend your Sri Lanka tour with a boutique hotel stay in the Maldives instead.
12 nts from £2,595 pp
View
Family Sri Lanka
Family Beach House
Special beach house ideal for families or a group of friends.
The Last House is Geoffrey Bawa's last design - hence the "Last House".
8 nts from £1,295 pp
View
Cape Weligama
Cape Weligama
Cape Weligama is one of the top luxury hotels in Sri Lanka.
Stay at Cape Weligama in a Private Residence and enjoy sweeping views.
8 nts from £1,995 pp
View