Call us now:
0333 7000 747
Open 9 until 9 daily
Start your perfect holiday
contact us today!
12 Nights - £1,795pp
Flight inclusive price from UK
International Flights from UK
12 nights accommodation
Most meals
Private chauffeur-guide
Entrance fees
Cultural Triangle
Kandy
Hill Country
Yala National Park
Galle / Beach
View Map

Holiday Confusion?
You need a Specialist
Solve my Problem
Need Sri Lanka help?
Contact a Sri Lanka Expert Now!
Classic Sri Lanka Tours
Polonnaruwa
Steam Train through Tea Plantations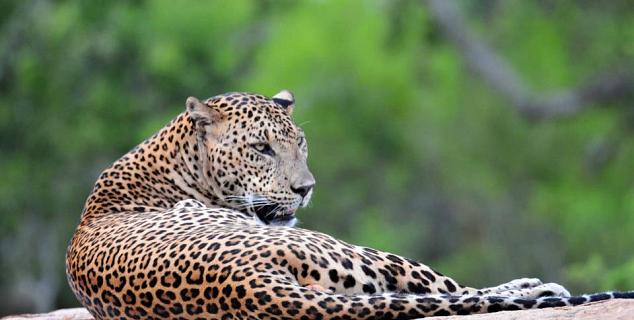 Yala National Park
Sigiriya Rock Fortress
Stilt Fishermen
This comprehensive Classic Sri Lanka tour includes Sri Lanka's Cultural Triangle, Sigiriya Rock Fortress, the Buddhist Caves at Dambulla, the ancient capital Polonnaruwa, Kandy, the Hill Country, Yala National Park and Galle.
You will be accompanied by a chauffeur-guide on your private tour of Sri Lanka.
Begin the trip in Sri Lanka's Cultural Triangle region including a trip to the spectacular Sigiriya Rock Fortress.
From the Cultural Triangle region, head south to Kandy, the cultural capital of Sri Lanka, famous for its dancers and the Temple of the Sacred Tooth.
From Kandy take a scenic train ride into sri Lanka's beautiful Hill Country, with its tea plantations and stunning scenery.
From the Hill Country head to Yala National Park in search of leopards, before relaxing on the beach or in the historic town of Galle with its atmospheric old walled Fort.
Our Sri Lanka tours are all completely tailor made and can be adjusted to suit your interests and budget.
Just let us know the kind of thing you would like to do and let us create your perfect Sri Lanka holiday.
At a Glance
Return Flights from UK
All Taxes
Private Chauffeur-Guide
1 night Kotugoda
2 nights Sigiriya
2 nights Kandy
2 nights Pussellawa
2 nights Yala National Park
3 nights Galle
Sigiriya Rock Fortress
Polonnaruwa - ancient capital
Dambulla Cave Temples
Spice Garden
Batik Factory
Temple of the Sacred Tooth
Royal Botanical Gardens
Scenic Railway Journey
Yala National Park game drives
Airport Transfers
Day 1: Fly UK to Sri Lanka
Fly UK to Sri Lanka
Day 2: Kotugoda
Transfer to Kotugoda, about 30 minutes drive. Enjoy the rest of the day at leisure.
Overnight Kotugoda.
Day 3: Sigiriya – Pinnawela - Dambulla
Transfer to Sigiriya, famous for its spectacular rock fortress.
Visit the Golden Temple Caves in Dambulla which contain beautiful paintings of the Buddha.
Overnight Sigiriya. Breakfast included.
Day 4: Sigiriya - Polonnaruwa
Visit and climb Sigiriya Rock Fortress.
In the afternoon enjoy sightseeing in Polonnaruwa, the ancient capital of Sri Lanka.
Overnight Sigiriya. Breakfast included.
Day 5: Matale - Kandy
Transfer to Kandy, the cultural centre of Sri Lanka, en-route visiting a Spice Garden & Batik Factory at Matale.
Overnight Kandy. Breakfast included.
Day 6: Peradeniya
Visit the Temple of the Sacred Tooth of The Buddha. Afternoon in Peradeniya visiting the Royal Botanical Gardens.
Overnight Kandy. Breakfast included.
Day 7: Kandy - Pussellawa
Transfer to Kandy Railway Station and board the train for the scenic railway journey to Nanu Oya. Transfer to Pussellawa.
Overnight Pussellawa. Breakfast included.
Day 8: Pussellawa
Enjoy the day at leisure.
Overnight Pussellawa. Breakfast included.
Day 9: Pussellawa - Yala National Park
Transfer to Yala National Park. Check in to your luxurious game lodge bordering Yala National Park.
Overnight Yala. Breakfast included.
Day 10: Yala National Park
Excursions in Yala National Park.
Overnight Yala National Park. Breakfast included.
Day 11: Yala National Park - Galle
Transfer to Galle. Stay in Galle Fort or a nearby beach resort. Enjoy 3 days to relax.
Overnight Galle. Breakfast included.
Day 12 - 13: Galle
Enjoy the time at leisure in Galle.
Overnight Galle. Breakfast included.
Day 14: Fly Sri Lanka - UK
Transfer to the Airport for your flight back to the UK.
Day 15: Arrive UK
Arrive back in the UK.
Galle
Wonderfully enigmatic and atmospheric, Galle Fort is a World Heritage designated area consisting of quiet streets lined with traditional houses, high quality antique shops, old churches and the occasional luxury boutique hotel.
The area close to the fort and Galle town also has some fantastic beaches. Galle is acclaimed for its Dutch Fort, intricate Galle lace, ebony, woodcarvings and polished gems.
The area around Galle has some of the best boutique hotels in Sri Lanka. Some of the top luxury hotels in Sri Lanka are also found in the area.
Stay at Franigpani Tree
Sister Hotel to Galle's Fort Printers, Frangipani Tree is a Geoffrey Bawa inspired elegant but minimalist beachfront resort in Thalpe, a secluded and quiet beach location a short distance from Galle fort.
Just 10 very modern Suites are located in separate villas. Named after the different species of turtle which visit the beach, Frangipani Trees' Suites are deliberately sparingly furnished and feature private terraces and four-poster beds.
The minimalist design and polished concrete interiors are quite a change from most of the heritage inspired boutique hotels in this part of Sri Lanka and will suit those looking for something more contemporary in style.
Frangipani Tree also benefits from peaceful and shaded gardens, ideal for chilling-out.
The resort has a decently sized pool, deliberately long (35 m) and thin to please swimmers. The surf beach can be a little rough for swimming so the long pool is a well-considered feature.
The property is the sister venture from the folks at the Fort Printers in Galle, who have gained an excellent reputation of the last couple of years and a property that receives great feedback from our clients.
What's so Special?
Calm and tranquil, Frangipani Tree offers a picture perfect Sri Lankan beachfront escape – complete with stilt-fishermen!
The staff receive particularly good feedback for their welcoming, professional but informal approach, which fits the style of the hotel perfectly.
The sound of the waves crashing on the beach. The tennis court is quite a feature for such a small hotel.
Bear in Mind
No in-room tv's, phone or DVD players (or minibar). There is a communal room however with TV, DVD and plenty of books.
There are no restaurants within walking distance, but a short tuk-tuk ride offers plenty of options in Galle. Vijaya Beach Club just 5 minutes away is a popular spot for lunch.
Yala National Park
One of Sri Lanka's prime wildlife parks, Yala covers almost 1000 square kilometres of parkland, jungle, beaches, rivers, scrubland and freshwater lakes.
The park offers some of the best wildlife in Sri Lanka because of the diverse landscapes.
Surprisingly, Yala has the highest concentration of leopards anywhere in the world.
There are also elephants, wild boar, crocodiles, monkeys, eagles and many other species of bird.
Including Yala on a tour of Sri Lanka is a great way to get close to Sri Lanka's wildlife.
Stay at Chaaya Wild
Chaaya Wild in Yala National Park is Sri Lanka's premier wildlife destination offering a high standard of accommodation and a great base for some of the best wildlife experiences in Sri Lanka.
Asian elephants, leopards, sloth bears, spotted deer, wild boar and a variety of birds are amongst the wildlife commonly spotted in this region of Yala.
The location in Sri Lanka's southern coast dry zone means that a stay at Chaaya Wild can easily be combined with a tour of Sri Lanka or a stay in one of Sri Lanka's great southern boutique beach resorts to make a fantastic wildlife and beach combination.
Leopard safaris, nature treks, bird-watching and village excursions are popular activities on offer at Chaaya Wild.
The 68 chalets at Chaaya Wild offer rustic luxury and a safari camp feel.
Sri Lanka's cultural triangle covers the region north of Kandy, and includes the historic capitals of Anuradhapura and Polonaruwa, the amazing rock citadel of Sigiriya, the cave temples of Dambulla and the Mineriya-Giritale National Parks.
This is one of Sri Lanka's most fascinating regions and is a great place to spend a few days exploring some superb ancient ruins, reclining buddhas, magnificent frescoes and some of Sri Lanka's best scenery and wildlife.
Stay at Wild Grass Nature Resort
Tucked away in 30 acres of unfenced land, deep within the forests of Sigirya, Wild Grass Nature Resort is a tranquil haven, amongst the whisper of trees and birdsong.
A base for exploring the nearby cultural attractions, a stay at Wild Grass is also all about enjoying nature and the solitude of the location.
The location means that Sigiriya Rock Fortress and Dambulla are only 15 minutes drive away.
Day trips to Anuradhapura and Polonnaruwa or even Kandy are also very feasible.
Wild Grass has just 5 exclusive villas, spaced throughout the ground to offer a very high degree of privacy.
What's so Special?
Wild Grass is a fantastic retreat from which to enjoy Sri Lanka's spectacular nature and wildlife.
The resort is regularly visited by elephants, wild boar, deer, wild rabbits, peacocks and more than 40 varieties of birds.
The most captivating feature of Wild Grass is its absolute stillness and the sheer luxury of privacy within the retreat, enveloped by the forest.
Wild Grass has made as much use as possible of local and sustainable resources in the building of the resort. Solar power is also in use.
Kandy
About 3 hours drive from the coast, Kandy is a great base for exploring many of the surrounding attractions such as Buddhist temples, the botanic gardens and the Pinnawela elephant orphanage.
The sacred Temple of the Tooth and the famous Kandyan dancers are two things not to be missed within Kandy.
Kandy is the cultural capital of Sri Lanka, at least for the Sinhalese population and is home to the famous and very colourful Esala Perahera Festival in August, a great time to visit Kandy.
There are a handful of great boutique hotels in Kandy and we highly recommend Kandy House and Villa Rosa.
Stay at Kandy House
Kandy House is a unique ancestral manor house providing seclusion and serenity in a lush tropical setting near kandy.
For a honeymoon in Sri Lanka or to enjoy nearby heritage, culture, golf or adventure, this luxury boutique hotel in Kandy is a great option.
Kandy House manages to retain the charisma of this captivating house and the resulting restoration sensitively blends modernised bathrooms with elegant antique furniture, whilst fresh touches of colour set off the traditional architecture.
With only 9 bedrooms, Kandy House offers an experience more akin to staying in a private house than a conventional hotel.
In the gardens, a stunning infinity pool has been landscaped into the hillside overlooking the rice paddy fields.
What's so Special?
Kandy House is ideal for those looking for a bit of seclusion and serenity in a lush tropical setting.
Kandy House has its own masseur, and yoga can be arranged.
In 1804, the last Chief Minister of the Kandyan Kingdom, Ratwatte Adigar, committed an act of "defiant decadence" - he dared to build himself a palatial villa using roof tiles which at that time were decreed only for royal residences.
200 years later, Tim and Sarah Jacobson dared to start the process to turn it into a designer boutique hotel, in partnership with Channa Daswatte.
Bear in mind
The house can also be booked as a whole for important celebrations with friends, or just for the peace of mind of a group having total privacy away from the public eye.
Standard Hotel Suggestions Cultural Triangle:
Jim's Farm Villas (Dambulla)
The Mud House (Anuradhapura)
Standard Hotel Suggestions Kandy:
Clove Villa
Serendib Stone Bungalow
Standard Hotel Suggestions Hill Country:
Cocoon Hills (Nuwara Eliya)
Standard Hotel Suggestions Galle:
12 night Classic Sri Lanka - Standard:
This is a guide price only, based on travel in low season.
Prices will vary according to choice of hotel and seasonal airfare and hotel surcharges. Please ask us for any current special offers.
Contact Us:
All of our Classic Sri Lanka Tours are completely tailor made and we can put together any kind of Sri Lanka tour itinerary to suit your interests and budget.
Call us now to speak to a Sri Lanka holiday expert about your Sri Lanka holiday or honeymoon to Sri Lanka.
Call us now on 0333 7000 747
We're open from 9 until 9 daily and our 0333 number is a local rate number included in most call packages.
Beach Add On
Beach Extension
Browse our choice of boutique hotels in Sri Lanka.
Extend your Sri Lanka tour with a boutique hotel stay in Sri Lanka.
Add 4 nts from £195 pp
View
Add the Maldives
Maldives Combination
A tour of Sri Lanka goes perfectly with the Maldives.
Extend your Sri Lanka tour with a boutique hotel stay in Sri Lanka.
12 nts from £2,595 pp
View
Beach Hideaway
Boutique Escape
Enjoy a tranquil Beach Hideaway after your tour.
Extend your Sri Lanka tour with a stay at Number ONE Mirissa.
Add 4 nts from £255 pp
View