Call us now:
0333 7000 747
Open 9 until 9 daily
Start your perfect holiday
contact us today!
14 Nights - £2,795pp
Flight Inclusive Price from UK
International flights from UK
Domestic flights
13 nights accommodation
Breakfast
Private car, driver & guide
Entrance fees
Based on 2019 - 20 prices
View Map
Bali & Indonesia Destinations
Holiday Confusion?
You need a Specialist
Solve my Problem
Ask us about Java and Bali
Speak to an Indonesia expert today!
Classic Java & Bali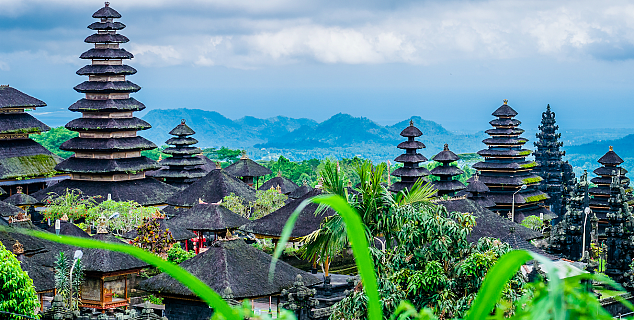 Eastern Bali
Ijen Crater
Tanah Lot Temple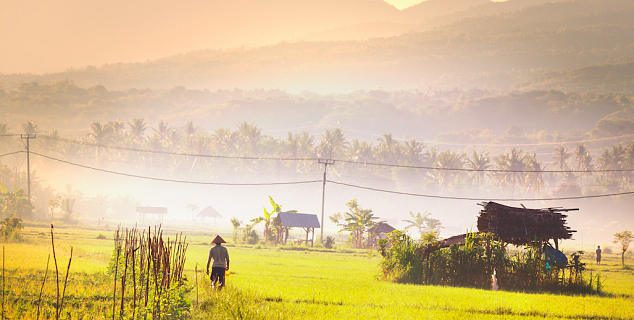 Rice Fields, Java
Besakih Temple, East Bali
Classic Java and Bali
Journey overland through Central and Eastern Java to Bali in a trip which combines a mix of culture, spectacular scenery and some time for relaxation at the end.
Fly to Yogyakarta, the cultural capital of Indonesia and spend 3 nights.
Drive across Central Java's spectacular volcanic Dieng Plateau and spend 2 nights in the cultural centre of Yogyakarta with visits to the world hertage sights of Borobudur and Prambanan plus excursions to some lesser known temples.
From Yogyakarta continue eastwards to visit spectacular Mount Bromo for sunrise, an unforgettable experience in some of the world's most impressive volcanic landscapes.
From Bromo continue on to the Hindu island of Bali.
Spend 2 nights on the north coast where you can go dolphin watching.
From here head inland to Ubud for 2 nights, with a visit to Kintamani and time to see the best of Ubud.
Finish with one night in the south of Bali, ideally at somewhere memorable to round off a Classic Java and Bali journey.
As with all our holidays, this Indonesia holiday can be tailored to suit your interests and budget.
Inclusions
International flights from the UK
Accommodation
Breakfast & some other meals
All airport transfers by private car
Private car, driver and guide
Entrance Fees
Accommodation
4 nights Yogyakarta
1 night Malang
1 night Mount Bromo
2 nights Ijen
5 nights Bali
Excursions
Dieng Plateau
Borobudur & Prambanan
Mount Bromo for sunrise
Javan countryside
Ijen Crater
Northern Bali
Mount Batur
Ubud
Day 1: Fly UK to Yogyakarta
Overnight flight to Yogyakarta
Day 2: Yogyakarta
On arrival you will be met and transferred to your chosen hotel with the rest of the day at leisure.
Overnight Yogyakarta. Breakfast included.
Day 3: Yogyakarta - Borobudur
After breakfast visit the Sultan's Palace and Taman Sari (the ruins of the Water Palace built by the first Sultan).
Afterwards visit Borobudur, one of the greatest sights in the whole of South East Asia.
This majestic Buddhist shrine was constructed in the 8th Century and is a listed World Heritage site.
After Borobudur, visit nearby Mendut Temple with its 3 meter tall Buddha Sakyamuni Statue.
Overnight Yogyakarta. Breakfast included.
Day 4: Yogyakarta – Prambanan
The morning is spent discovering the elegant Hindu Temple of Prambanan, constructed in the 9th Century and dedicated to the Hindu Trinity (Brahma-Vishnu-Shiva).
The tour also covers other temples such as Kalasan and Plaosan Temples.
Driving back to Yogyakarta, if time allows, stroll along Malioboro-Street before returning to the hotel.
Overnight Yogyakarta. Breakfast included.
Day 5: Yogyakarta
Spend the day exploring the Dieng Plateau to discover a stark volcanic landscape one of the most striking in Indonesia.
Overnight Yogyakarta. Breakfast included.
Day 6: Yogyakarta - Malang
Wake up early in the morning today. After getting ready, take a breakfast box provided by the hotel and at 6 a.m transfer to Yogyakarta Railway Station for a scenic train ride to Jombang, in East Java.
The guide will come along on this journey. You should arrive around 10:30.
Your bags will have been transferred during the night with the driver and vehicle, so you will be just travelling with a day pack today.
We recommend taking a top with you for the train journey as the air-con on the train can often be cold.
Travelling by train in Java is a wonderful opportunity to meet local people and is also the best way to enjoy the volcanic landscapes of Central and East Java.
On arrival at Jombang Railway station you will be met by your driver.
Drive to Trowulan, the site of the former capital of the Majapahit Kingdom which ruled the island of Java for centuries.
Visit the archaeological museum and the temples of Candi Bajang Ratu and Candi Tikus.
After the visit, continue the drive to Malang and check in at the hotel late in the afternoon.
Overnight Malang. Breakfast included.
Day 7: Malang - Mount Bromo
You will be collected by the guide and driver after breakfast for the start of the day's program.
Take an orientation tour of Malang by becak, a local cyclo. The streets of Malang are filled with grand colonial-era buildings.
Cruise past historic sites, bird and flower markets and the Chinese temple Eng An Kiong before finishing at the city Cathedral.
Return to your hotel to freshen up and check out. Later on continue the drive in the direction of Mt Bromo.
On the way, stop for a visit of the charming Singosari Hindu Temple dating back from the 13th century.
Following this visit, continue through the very scenic road up to the Bromo-Tengger National Park.
On arrival at a hotel near the park, check-in and rest up for an early excursion tomorrow.
Overnight Tosari or Ngadisari. Breakfast included.
Day 8: Mount Bromo - Ijen
Awake early this morning well before dawn for a sunrise tour of Mt Bromo.
Travel by 4WD jeep to a viewing spot with stunning views of the Bromo volcano and surroundings. Watch the sun rise up from behind the volcano in Penanjakan.
Continue by jeep down to the volcano caldera, often still covered by mist in the early morning.
The mist, combined with the grey ashen-covered ground form to create an unusual atmosphere, often compared to the surface of the moon.
A 20-minute ride on horseback leads to a set of stairs which lead to the rim of the still-active Bromo crater.
You'll need warm clothes this morning. If you're here on a weekend there's a small surcharge to pay locally as well.
Return by jeep to the hotel for breakfast and take some time to refresh before checking out
Afterwards set off on a long drive along the northern coast of Java towards its eastern end with a late a late lunch being served in a local restaurant en route.
On arrival in the late afternoon or early evening, check in at your chosen hotel in Ketapang or Licin village near Ijen Volcano.
Dinner is at leisure.
Overnight Ketapang or Ijen. Breakfast & lunch included.
Day 9: Mount Ijen
Awake early again this morning for an excursion to Mount Ijen. Breakfast is served at the hotel before setting off by 4WD jeep.
Reach Paltuding, the base camp of Kawah Ijen (1,850m).
The trek to the top is 3 km and follows a wide, packed-dirt pathway. Depending on your level of fitness, it typically takes about an hour and a half to reach the top.
At the top of Mount Ijen is a large crater lake surrounded by sulphur mines.
During the walk, there will probably be men carrying loads of up to 70 kg, often barefooted, down the mountainside.
On reaching the top (2,385m) there is time to enjoy the views of the crater lake which is 200 meters deep and contains about 36 million cubic metres of steaming, acidic water.
Witness the agility and strength of the miners as they collect and carry the sulphur blocks up to the crater rim.
The trek requires a reasonable level of fitness as well as good walking shoes and some warm clothing because of the low morning temperatures.
Mount Ijen is an active volcano therefore access is subject to volcanic activity at the time of visit: an alternative program to Kaliklatak coffee and rubber plantation will be provided if the volcano is closed during your stay.
Return to the hotel late in the morning, with lunch and the remainder of the day at leisure.
Overnight Ketapang or Licin Village. Breakfast, lunch & dinner included.
Day 10: Mount Ijen - Northern Bali
Today after breakfast, meet with your tour guide and driver and head for a visit to Kaliklatak Plantation.
This old (once Dutch colonial) plantation is set on a hill with beautiful vistas.
Learn all there is to know about coffee - its planting, cultivation and harvesting and, of course, taste the final product.
Lunch will be served at the plantation restaurant.
Return via the same route to Ketapang Ferry Terminal near Banyuwangi.
Check in before crossing the Bali Strait to the island of Bali by local ferry (45 minutes travel and please note that Bali is +1 hour ahead of Java).
On arrival in Gilimanuk Harbour on Bali's Northwestern shores, continue by road to either Pemuteran or Lovina Beach in the Northern Coast of Bali.
Drop off at your chosen hotel in Pemuteran or Lovina Beach.
Overnight Bali. Breakfast included.
Day 11: Northern Bali
Enjoy the day at leisure to relax. If you wish you can add on a dolphin watching excursion.
Overnight Bali. Breakfast included.
Day 12: Northern Bali - Ubud
After breakfast, you will be collected from your hotel for a day of touring on the way to Ubud.
Drive to Kintamani, a volcanic region with breathtaking views of Mt Batur.
Adjacent to the volcano is the large crescent-shaped Batur Lake. The entire area is surrounded by the high walls of the crater rim.
Stop for a buffet lunch at a local restaurant here, with all-encompassing views over Lake Batur.
Continue to the nearby village of Tampaksiring to explore Tirta Empul, a temple famous for its sacred spring water.
All Balinese bathe here at least once a year for a ritual cleaning in these holy waters dedicated to Vishnu.
In the afternoon, drive back to Ubud via the area of Bangli.
Along the way, stop at Penglipuran, a traditional countryside village known for its unique building style and architecture and Kehen Temple, often called 'Mini Besakih'.
The first stop is a visit to the unique temple of Gunung Kawi.
Set amidst lush rice terraces, these 11th century temples feature 10 rock-cut candi (shrines) carved into the cliff face.
They stand seven metres tall and combine ancient Hindu and Buddhist temple attributes.
There are numerous stairs leading down to the temple, so good walking shoes are recommended.
Drive along small, scenic roads offering beautiful views of the rice fields and the daily life of the Balinese farmers.
Overnight Ubud, Bali. Breakfast included.
Day 13: Ubud
Today, after breakfast, start with a visit to the royal Taman Ayun Temple in Mengwi for a look at its beautiful ponds, multi-tiered roof structures and traditional Balinese architecture.
Next drive north to Lake Bratan for a visit to Ulun Danu Temple.
The temple is set in the lake's calm waters on several small islands giving the impression that it is 'floating'.
It's widely considered to be one of the most photogenic temples in Bali.
Afterwards, have a look at the local market which is famous for its extensive collection of exotic tropical fruits, vegetables and species.
Lunch is served in a local restaurant.
Continue with a visit to Bali's UNESCO-listed Jatiluwih for panoramic views of its iconic rice terraces.
Located on a slope near the holy mountain of Batukaru, this area is known as the 'Rice Granary of Bali', and is one of the best examples of subak-style rice farming.
Here, enjoy a one-hour leisurely walk through the rice fields for an up-close look at the verdant scenery.
Late in the afternoon, arrive at the incredible sea temple of Tanah Lot, one of Bali's most famous temples.
Set dramatically on a small island just off from the beach, watch as the sun sets behind the horizon in one of Bali's most iconic places to watch sunset.
Return to Ubud with dinner at leisure.
Overnight Ubud, Bali. Breakfast included.
Day 14: Ubud - South Bali
After breakfast and check out, head out for an excursion in east Bali.
The first stop in Klungkung to visit Kertagosa. This ancient justice court retains the most detailed ceiling paintings in Bali depicting punishments that were given to criminals in the old days.
Continue with a visit to Besakih, known as the 'Mother Temple' of Bali.
Located on the western slopes of Mt Agung, Bali's highest volcano (2,567m), Besakih is the largest and most religiously important temple on the island.
Lunch is served in Mahagiri Restaurant overlooking rice fields as far the eye can see.
Late in the afternoon, transfer to your chosen hotel in the south of Bali.
Overnight Bali. Breakfast included.
Day 15: Bali – UK
Today you will be transferred to the airport for your flight back to the UK.
Day 16: Arrive UK
Arrive back in the UK.
Yogyakarta Superior Hotel Suggestions:
Dusun Jogja Village Inn
Plataran Borobudur
Malang Superior Hotel Suggestions:
Tugu Malang
North Bali Superior Hotel Suggestions:
Matahari Beach Resort
Spa Village Tembok
13 nights Classic Java & Bali - Superior:
This is a guide price only, based on travel in low season.
Prices will vary according to choice of hotel and seasonal airfare and hotel surcharges. Please ask us for any current special offers.
Contact Us:
All of our Indonesia Holidays are completely tailor made and we can put together any kind of itinerary to suit your interests and budget.
Call us now to speak to a Indonesia holiday expert about your Indonesia holiday or honeymoon to Indonesia.
Call us now on 0333 7000 747
We're open from 9 until 9 daily and our 0333 number is a local rate number included in most call packages.