Call us now:
0333 7000 747
Open 9 until 9 daily
Start your perfect holiday
contact us today!
8 Nights - £1,568pp
Flight Inclusive Price from UK
14 Nights - £1,750pp
Stunning ocean view pool villas at the Santhiya Koh Yao Yai.
Perfect for couples looking for seclusion & luxury in a superb iconic island location.
Holiday Confusion?
You need a Specialist
Solve my Problem
Confused about Santhiya?
Speak to a Thailand expert
Santhiya Resort Koh Yao Yai
View
Supreme Deluxe Room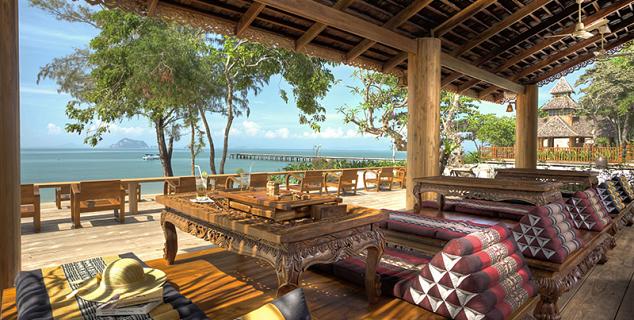 View
Main Pool
Ocean View Exterior
Beachfront
Santhiya Koh Yao Yai Resort
Santhiya Koh Yao Yai Resort is a luxury resort on Koh Yao Yai, a little visited island just a few minutes by speedboat from Phuket.
Santhiya Koh Yao Yai consists of spacious 60 Thai style rooms and 29 private villas set in an elevated location overlooking picturesque Phang Nga Bay.
Supreme Deluxe Rooms are located on both floors of two-storey buildings with garden or sea views and are ideal for families.
Spacious private villas offer either sea views from a hilltop location or enjoy a water's edge setting. All villas offer a private pool.
Santhiya Koh Yao Yai is the sister hotel to the Santhiya Koh Phangan and follows the same Thai style, with ample use of wood and Thai decoration.
What's so Special?
Santhiya Koh Yao Yai offers a stunning island hideaway with rooms and villas to suit differing budgets.
Bear in Mind
There are no local restaurants nearby and Santhiya Yao Yai will suit those looking for a Thai style island hideaway.
Supreme Deluxe Rooms
9 Supreme Deluxe Garden View Rooms (60 sq. m.) are set in the resort's two-story low-rise buildings.
These rooms are perfect for a couple or small families. All room provide garden views, with large balconies.
On the Upper Storeys, 43 Supreme Deluxe Sea View Rooms (60 sq. m.) offer panoramic ocean views and private balconies.
Grand Deluxe Ocean View Rooms
Situated on the upper level of the resort's two-story low-rise buildings, these 42 rooms (72 sq. m.) are more spacious than the Supreme Deluxe Rooms (60 sq. m).
Perfect for a couple or small families, all room provide panoramic sea views with one Double bed plus two daybeds.
Large balconies have dining tables offering the perfect vantage point to watch the sunsets.
Features:
Air Con & Ceiling Fan
Free Wi-Fi
LCD TV with satellite channels and DVD/CD player
Private Swimming pool
Jacuzzi
Dressing room
Day bed
Sun beds
Complimentary welcome fruit basket
Complimentary 8 bottles of water daily
Chantara Restaurant
A signature fine dining offers varieties of Thai and international cuisine. Enjoy spectacular view of Andaman sea while you are dining with us.
By the Sea Restaurant & Bar
Beachfront bar that let the nature takes center stage. Sit back and relax with our signature drinks and enjoy a beautiful Sunset.
Facilities:
Spa
Gigantic Free Form Outdoor Swimming Pool
Fitness Center
Wooden car service
Bicycle, Motorbike and Car Rental
View Itinerary in Detail
To view a sample holiday, click on one of the links below. This will open the itinerary up in a new window.
All of our Thailand Holidays are completely tailor made and we can put together any kind of itinerary to suit your interests and budget.
We have many other options so if you have a particular hotel in mind just let us know and we'll put together a price and itinerary for you.
Contact Us:
Call us now to speak to a Thailand holiday expert about your Thailand holiday or honeymoon to Thailand.
Call us now on 0333 7000 747
Open 09:00 - 17:30 Mon - Fri. 09:00 - 12:00 Sat.
Koh Yao Yai
Free Nights Included
8 nights at Santhiya Koh Yao Yai - Supreme Deluxe including Breakfast.
Includes all Flights, Transfers, Breakfast.
8 nights from £1,565 pp
View