Call us now:
0333 7000 747
Open 9 until 9 daily
Start your perfect holiday
contact us today!
8 Nights - £1,175pp
Flight Inclusive Price from UK
10 Nights - £1,295pp
Stay in a luxury private pool villa for romance & privacy.
Sala Phuket is a charming Phuket boutique resort in a peaceful beachfront setting.
Holiday Confusion?
You need a Specialist
Solve my Problem
Confused about Sala Phuket?
Speak to someone who's stayed
Sala Phuket
Sala Pool Villa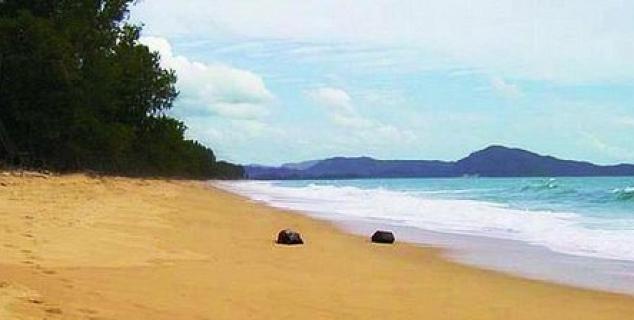 Mai Khao Beach
Main Swimming Pool
Restaurant
Deluxe Balcony Room
Sala Phuket Resort & Spa
Sala Phuket Resort and Spa is a luxury boutique resort on Phuket's peaceful Mai Khao Beach, just 15-minute drive from the airport in Phuket.
Sala Phuket combines Thai style with contemporary design with private swimming pools in 63 out of its 79 rooms, villas, and suites.
Most popular at Sala Phuket are the Pool Villas, which features swimming pools in completely private gardens – ideal for couples or honeymooners looking for a luxury private pool villa in Thailand.
Sala Pool Villas are very special with 20 metre long pools and fabulous outdoor terrazzo bathtubs for two, overhung by romantic chandeliers.
Sala Phuket has a great al-fresco restaurant by the infinity pool.
Mai Khao beach at Sala Phuket is really great, one of the best beaches in Phuket - a long peaceful stretch of sand lined with casuarina trees.
What's so Special?
Sala Phuket is the sister hotel to the very popular Sala Samui in Koh Samui. The villas at Sala Phuket are totally private and highly recommended - designed for romance. Being able to step right out of the room and straight into the pool is wonderful.
Bear in Mind
Mai Khao beach is a quiet area of Phuket with not very much going on outside the resorts. There are a handful of beach hut restaurants and beach massages.
Deluxe Balcony Room
Located on the second floor, very spacious Deluxe Balcony Rooms (73 sq. m.) have stylish air-conditioned bedrooms, which open onto a large balcony with a full-sized outdoor daybed.
The open-air bathroom is accessible from both the bedroom and balcony and features a separate bathtub and shower.
Bedrooms have King-size beds and living area have sofas.
Features:
Air con & ceiling fan
Free Wi-Fi
32-inch LCD TV with Satellite channels
DVD player & home entertainment system
Coffee machine
Tea & coffee making facilities
Minibar
Writing desk
Safe
Hairdryer
Umbrella
Outdoor day bed
Sala Phuket Restaurant
Located on the beachfront, adjacent to the swimming pools, the Sala Phuket Restaurant serves daily fresh seafood, exceptional international cuisine and traditional Thai favourites.
Sala Phuket Beach Bar
Located on the beachfront next to the restaurant, the Beach Bar serves a variety of delicious cocktails, cold beer, wines and refreshing soft drinks.
In Villa Dining
In Villa dining is available on request.
Facilities
Sala Phuket has a very nice beachside swimming pool and offers spa treatments including a sauna and steam room.
Facilities:
2 beachfront swimming pools
Kid's Pool
Spa
Sauna & steam room
Gym
Library
Business Centre
Free Wi-Fi
Gift Shop
Diving & snorkelling available
View Itinerary in Detail
To view a sample holiday, click on one of the links below. This will open the itinerary up in a new window.
All of our Thailand Holidays are completely tailor made and we can put together any kind of itinerary to suit your interests and budget.
We have many other options so if you have a particular hotel in mind just let us know and we'll put together a price and itinerary for you.
Contact Us:
Call us now to speak to a Thailand holiday expert about your Thailand holiday or honeymoon to Thailand.
Call us now on 0333 7000 747
Open 09:00 - 17:30 Mon - Fri. 09:00 - 12:00 Sat.
8 night Holiday
Sala Phuket
Take advantage of our excellent Early Booking Offers.
Includes flights from UK, Accommodation, Breakfast, Taxes, Private Transfers
8 nights from £1,175 pp
View
Bangkok & Phuket
Sala Phuket
3 nights in Bangkok, 8 nights at Sala Phuket.
Includes flights from UK, Accommodation, Breakfast, Taxes, Tours, Transfers
nights from £1,495 pp
View
Chiang Mai & Bangkok
Sala Phuket
3 nights Chiang Mai, 3 nights Bangkok, 8 nights Sala Phuket.
Includes flights from UK, Accommodation, Breakfast, Taxes, Tours, Transfers
14 nights from £1,760 pp
View