Call us now:
0333 7000 747
Open 9 until 9 daily
Start your perfect holiday
contact us today!
7 Nights - £1,989pp
Flight Inclusive Price from UK
Bali & Indonesia Destinations
Holiday Confusion?
You need a Specialist
Solve my Problem
Not sure about Kura Kura Resort
Speak to an Indonesia expert
Kura Kura Resort
Kura Kura
Pool Villa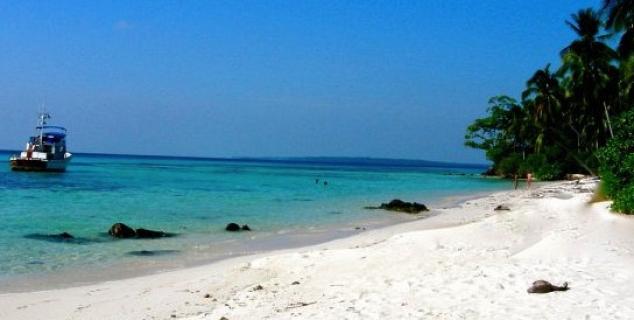 Beach
Great Diving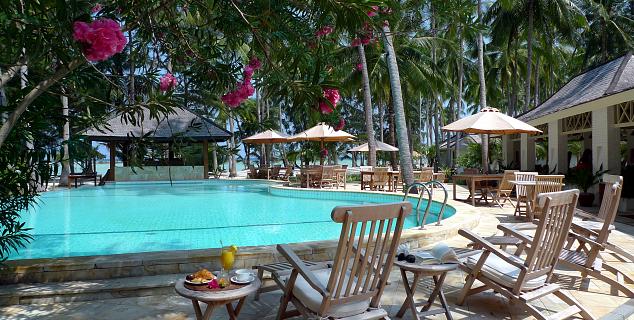 Pool
Kura Kura Resort is an exclusive hideaway in the remote Karimunjawa archipelago off the northern coast of Java, a National Marine Park of 27 islands.
Menjawakan Island is a green, private tropical island of extraordinary beauty; just 22 hectares in size it is exclusively occupied by Kura Kura Resort.
The exceptional location of Kura Kura Island offers the chance to visit and enjoy the rare beauty of the surrounding islands with their pristine white, unspoiled beaches fringed with palm trees, and the amazing colours of the sea.
Kura Kura Resort has just 23 cottages and pool villas, which combine elegance and a style that fits the island location. The feel is authentic, with great attention to detail.
What's so Special?
The island location is quite stunning and will really suit romantics looking for something beyond the run of the mill destinations.
This area is a mecca for divers with several excellent dive sites within easy reach of Kura Kura. In fact Kura Kura is an excellent choice to suit divers and beach lovers.
The resort will drop you off to enjoy an island to yourself for the day, all alone with coconut trees and white sandy beaches (and lunch, cold drinks and snorkelling gear).
Bear in mind
Of course, it takes a little longer to get there than Bali, but then that's the point.
Sea View Cottages
The 15 Deluxe Sea View Cottages (35 sq. m.) all face west; only 15 metres from the beach, offering an unobstructed view over the crystal clear water lagoon.
There are 2 Superior Sea View Cottages (33 sq. m.).
Features:
Air Con & Ceiling Fan
Colonial Mosquito Net
Minibar
Hairdryer
Safe
Restaurant
Kura Kura's Restaurant specializes in local seafood - freshly caught lobster, prawns and fish bought directly from the fishing boats each morning.
The chefs are open to requests from guests for meal choices.
Kura Kura's menu offers a wide variety of dishes, ranging from Mediterranean style fine cuisine to Indonesian dishes.
Guests can chose to dine inside the intimacy of the Restaurant, the open-air Restaurant patio, or in the romantic setting of the tables surrounding the pool.
Facilities
Kura Kura is great for divers and watersports enthusiasts.
Snorkellers will find plenty of great snorkelling.
Facilities:
Dive Centre
Snorkelling
Speedboat excursions
Island Cruises
Sunset Cruises
Sea kayaks
Paddleboats
Snorkelling equipment
Kura Kura has been arranging dive excursions in Karimunjawa since 1999.
The diving is very varied, including fringing reefs, atolls and many wrecks. The area sports a wide variety of species, including some rare species such as the Crocodile fish and Leafy Scorpion fish. Visibility is usually extremely good and of course the tropical waters are warm.
Taka Menyawakan
An exciting dive site, with spectacular coral cover, which exceeds more than 250 different species, plentiful Batfish and the wrecks of two ships! One of the wrecks is a Pelni ferry, which sunk in the 1950's.
You will also see schooling Barracudas, Skipjack Tuna, Hawksbill turtles, Lobsters and Giant clams. Usually a strong current sweeps this reef, giving you an exciting ride all the way around it.
Gosong Cemara
Just a short boat ride away is one of the best reefs in the area, the shallower parts on this dive have a great variety of soft and hard coral, deeper parts presents huge colourful sea-fans.
The Wreck of Biblis
One of the few wrecks in the world, which still has it huge bronze propeller intact. This wreck has been on the ocean floor for many years, so the coral life is amazing. Several big groupers are nearly always spotted on this wreck. Possibility to penetrate for trained wreck divers.
Pioneer Reef
The house reef located just steps from the dive-shop offers a great variety of fish such as barracudas, lionfish, crocodile fish, groupers, bambu sharks, cuttle fish, lobsters and much much more. This is also a perfect spot for night dives.
Ezdir Reef
This dive site is named after one of Kura Kura's frequent diver guests. It was discovered in the mid 2000's. The quality and variety of corals are extremely good, so good that one group of divers did three dives on this site in one day, and it was the first site they wanted to visit when they returned to the resort again.
Hawksbill Point
Conveniently located on Menyawakan, this spot gives you the opportunity to come face to face with Hawksbill turtles and quite often Octopus too. Usually Crocodile fish and Scorpion fish are seen on your smooth drift back to the Resorts jetty.
The Wreck of Indonur
This Dutch steam ship went down in 1963. A huge warehouse was on fire on the beach and it was mistaken for the lights of Semarang. The captain went full speed up on the reef.
Come and see 6 cm thick steel plates, torn apart like paper, large riveted steam boilers and great fish and coral life on the wreck, growing bigger and bigger each year. Excellent night dives on this wreck offer a chance to see Arrow crabs, Soft coral crabs and numerous other macro critters.
Torpedo Reef
This is one of the most remote dive sites, but well worth the boat trip since it is one of the highlights of the archipelago. The exceptionally healthy Torpedo Reef has remnants of torpedoes and grenades scattered across the ocean floor.
Beside the torpedoes and the grenades, the reef has a good variety of pelagics and the blooming soft corals are fantastic!
Day 1: Fly UK to Yogyakarta
Overnight flight to Yogyakarta
Day 2: Yogyakarta
Transfer to your hotel with the rest of the day at leisure.
Overnight Yogyakarta.
Day 3: Yogyakarta - Borobudur
After breakfast visit the Sultan's Palace and Taman Sari (the ruins of the Water Palace built by the first Sultan). Afterwards visit Borobudur, one of the greatest sights in the whole of South East Asia.
This majestic Buddhist shrine was constructed in the 8th Century and is a listed World Heritage site.
After Borobudur, visit nearby Mendut Temple with its 3 meter tall Buddha Sakyamuni Statue.
Overnight Yogyakarta. Breakfast included.
Day 4: Yogyakarta – Prambanan
The morning is spent discovering the elegant Hindu Temple of Prambanan, constructed in the 9th Century and dedicated to the Hindu Trinity (Brahma-Vishnu-Shiva).
The tour also covers other temples such as Kalasan and Plaosan Temples. Driving back to Yogyakarta, if time allows, stroll along Malioboro-Street before returning to the hotel.
Overnight Yogyakarta. Breakfast included.
Day 5: Yogyakarta
Enjoy the day at leisure in Yogyakarta to enjoy the hotel or take another excursion, perhaps to the Dieng Plateau to discover the stark volcanic landscape.
Overnight Yogyakarta. Breakfast included.
Day 6: Karimunjawa Islands
Transfer to Semarang for the short flight to the Karimunjawa Islands. On arrival transfer to Kura Kura Resort for check in.
Overnight Kura Kura Resort. Full Board.
Day 7 – 12: Karimunjawa Islands
Stay 7 nights at Kura Kura Resort.
Overnight Kura Kura Resort. Full Board.
Day 13: Karimunjawa Islands – UK
Fly to Semarang for a connecting overnight flight back to the UK.
Day 14: Arrive UK
Arrive back in the UK.
2019 - 20 Price Guide:
Includes:
International Flights from the UK
All taxes
7 nights accommodation with Full Board
Private car airport transfers
This is a guide price only, based on travel in low season.
Prices will vary according to availability of airfares on the dates of travel and seasonal hotel and airfare surcharges.
Please ask us for any current special offers.
Jasmine Bonus:
Contact Us:
All of our Indonesia Holidays are completely tailor made and we can put together any kind of itinerary to suit your interests and budget.
Call us to speak to an Indonesia expert about your Indonesia holiday or honeymoon to Indonesia.
Call us now on 0333 7000 747
We're open from 9 until 9 daily and our 0333 number is a local rate number included in most call packages.