Call us now:
0333 7000 747
Open 9 until 9 daily
Start your perfect holiday
contact us today!
2 Nights - £195pp
Package from Bangkok
Holiday Confusion?
You need a Specialist
Solve my Problem
Ask us about Hintok River Camp
Request a Holiday Quote Today
Hintok River Camp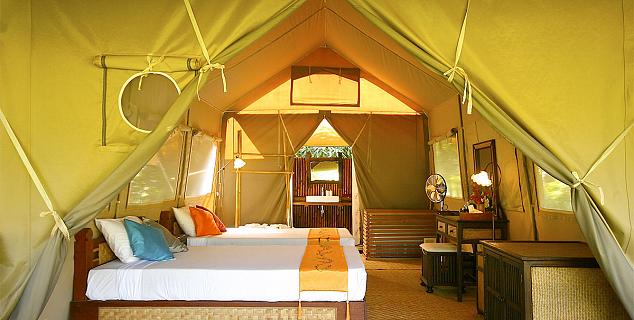 Hintok River Camp is a luxury tented camp along the lines of African tented safari camps and offers a great way to discover this charming part of rural Thailand in comfort.
The camp is located on a great spot overlooking the historic River Kwai. The name Hintok means "falling rock", a reference to the idyllic location overlooking the river.
The spot has historic associations, being located right on the site of the Japanese WW2 camp.
Accommodation consists of just twenty-two spaciously deluxe canvas tents, featuring private bathrooms and outdoor showers with hot water, air-conditioning, private veranda and luxury furniture. Each tent is 26 sq. m. and is fully air-conditioned and includes an electric fan and fridge.
Staying in tented accommodation really gets you closer to the natural environment.
Natural light radiates through the walls, and the soothing sounds of birds and other wildlife become in-room entertainment! All the tents face the river to make the most of the excellent outlook.
The light from the camps Kerosene lamps creates a really relaxing atmosphere at night.
What's so Special?
Located in Hellfire Pass, surrounded by a small village, Hintok River Camp is not only rich in history but also offers a stunning natural setting.
There is a local temple just across the river over a suspension bridge, which is a great destination for a cycling excursion. There is also a great historic walking trail from the camp to the "Hellfire Pass" Museum.
The natural spring water pool close by is a great spot to enjoy a magnificent sunset view.
Deluxe Canvas Tents
Hintok River Camp @ Hellfire Pass offers a new style of experience in the spacious deluxe canvas tents consisting of ten-suite luxury tents with bamboo wall showers and private verandahs.
Rooms feature rustic wooden furniture and range from 29 to 32 sq. m settled on a wooden base.
2019 -20 Price Guide:
Includes:
2 nights accommodation with breakfast
Return transfers from Bangkok
This is a guide price only, based on travel in low season.
Prices will vary according to availability of airfares on the dates of travel and seasonal hotel and airfare surcharges.
Please ask us for any current special offers.
Jasmine Bonus:
Contact Us:
All of our Thailand Holidays are completely tailor made and we can put together any kind of itinerary to suit your interests and budget.
Call us now to speak to a Thailand holiday expert about your Thailand holiday or honeymoon to Thailand.
Call us now on 0333 7000 747
We're open from 9 until 9 daily and our 0333 number is a local rate number included in most call packages.