Call us now:
0333 7000 747
Open 9 until 9 daily
Start your perfect holiday
contact us today!
3 Nights - £995pp
Wellness Packages
Bali & Indonesia Destinations
Holiday Confusion?
You need a Specialist
Solve my Problem
Need help with Como Shambhala?
Speak to someone who's been
Como Shambhala Estate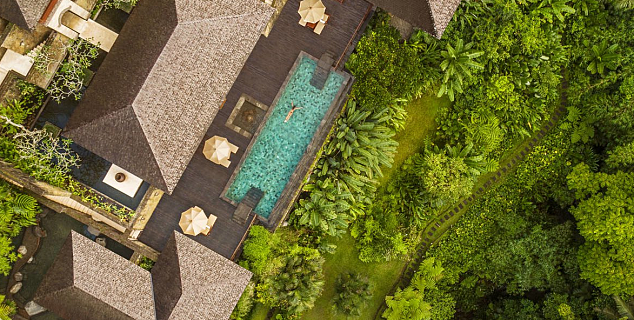 Aerial View
Como Suite Bedroom
Wellness
Healthy Cuisine
Morning Walk
COMO Shambhala is the premier Health & Wellness Resort in Bali, a boutique Spa Resort near Ubud offering a tranquil Balinese escape and a variety of programs designed for healthy living.
Opened in 2005, COMO Shambhala follows a healthy living philosophy that takes its inspiration from ancient roots: in ancient Buddhist texts, 'Shambhala' refers to a sacred place of bliss.
COMO Shamhala has a holistic, 360-degree approach to Health & Wellness, offering comprehensive wellness programs, signature massage therapies and tailored programs designed to suit individual requirements.
COMO Shambhala Estate has resident experts year-round, including a yoga teacher, Ayurvedic doctor and nutritionist and specialises in hands-on healing combining traditional Eastern techniques with the latest scientific advances.
The approach to designing a program for guests is consultative, empathetic, compassionate and proactive, making you feel nurtured and supported every step of the way.
Accommodation at COMO Shambhala consists of luxurious rooms and suites located throughout the spacious estate.
A state-of-the-art gym and outdoor activities such as hiking and climbing make the most of the Estate's unique location.
What's so Special?
Unique among Bali spa resorts, COMO Shambhala Estate feels very residential, like a home away from home and so suits not just those looking for a Health & Wellness Retreat or Spa Resort in Bali, but also couples, independent travellers, groups and families seeking a peaceful holiday in Bali.
COMO Hotels and Resorts' owner Christina Ong, designed COMO Shambhala Ubud out of her personal pursuit of a meaningful spa experience. The owner's passion remains key to COMO's development today, with the company now owning and operating seven sanctuaries worldwide.
COMO Shambhala is the sister hotel to COMO Shambhala Retreat at Parrot Cay in the Turks and Caicos which opened in 2002.
COMO Shambhala products are produced using only high-grade pure essential oils, free of Sodium Laurel Sulphate, parabens, silicones and synthetic substances including artificial colour and fragrance.
Enjoy additional service of a personal assistant, exclusively for guest staying in a COMO Shambhala Suite, COMO Suite, Retreat Villas or a Residence.
All of the rooms and suites at COMO Shambhala are located within one of the freestanding, individually designed Residences. Every room is different, but has access to its Residence's pools, lounge areas and shaded pavilions.
Each suite has one bedroom, except the COMO Suite at Umabona, which features two.
Garden Rooms
Occupying one of COMO Shambhala's four and five-suite Residences, Garden Rooms are the most intimate in the resort, featuring King-size beds and access to the Residence's shared pool, lounge and dining areas.
Terrace Suites
Terrace Suites are located in the four and five-suite Residences and affords access to the Residence's shared pool, lounge and dining areas.
The Terrace Suites also have their own private outdoor area, either a terrace or garden.
COMO Shambala Suites
The very spacious COMO Shambhala Suites constitute the principal Master Suite in each of the Residences, each Suite coming with its own clutch of Indonesian antiques and a private Jacuzzi.
Shambhala Suites also offer access to the Residence's shared pool, lounge and dining areas and include the service of a personal assistant throughout the stay.
COMO Suite at Umabona
The COMO Suite comprises the master suite at Umabona, the Residence whose name means 'House of the Earth Son.'
The suite is decorated in grand style by interior designer Koichiro Ikebuchi.
Details consist of two king-sized master suites, a Jacuzzi and the suite's own private infinity pool as well as small indoor plunge pool.
Its living room provides ample space for casual entertaining, while the dining room makes the perfect place for romantic dinners for two or intimate family meals.
Features:
Air Con
Free Wi-Fi
TV with Satellite channels
IDD Phone
DVD
CD
Private bar
Tea & coffee-making facilities
Hairdryer
Safe
COMO serves meat, fish and vegetables with flavours ranging from Indonesian to Italian to Indian, combining indigenous food traditions and local produce with COMO Shambhala's basic principles.
For those fasting, traditional items include juices, broths, elixirs, vitamin boosts and organic teas.
COMO Shambhala Cuisine was developed over a ten-year period by Amanda Gale and focuses on a perfectly calibrated mix of raw and cooked ingredients with very specific nutritional purposes, the resulting dishes helping to boost concentration and energy, and balance blood-sugar levels.
Living enzymes are retained in the preparation technique, all in order to help cleanse the body from the outside in.
A proper healthy diet requires enjoyable food, intelligent portions, variety and balance—not calorie counting. COMO Shambhala provides the healthy food facts without the hype.
Making lifestyle changes and adopting healthy eating principles is much easier in a controlled environment. On arrival at COMO Shambhala, guests receive a one-on-one health consultation with the in-house dietician, who will assist in devising a personalised eating plan.
COMO Shambhala Cuisine advocates local, organically sourced ingredients wherever possible. Menus feature little salt and avoid processed sugar. Instead, natural sweeteners like stevia are used, which doesn't alter the body's blood-sugar levels.
Traditional fasting items include juices, broths, elixirs, vitamin boosts and organic teas. We also make wheatgrass shots readily available.
Just because a meal is healthy doesn't mean to say it won't be important, substantial and above all, memorable.
Dining venues are flexible and can be a romantic dinner for two on the terrace, a family meal in-residence or a meal in one of COMO's two estate restaurants.
Glow Restaurant
Glow Restaurant is the buzzing heart of COMO Shambhala Estate.
A contemporary-styled, open-sided, all-day-dining venue, Glow features easy dishes utilising nutritious and delicious COMO Shambhala Cuisine—including salads, energising juices and blends, rich in living enzymes, vitamins and minerals.
Glow has an open kitchen, where you can watch your fresh food being prepared and Sunday brunch is very popular.
Kudus House
Kudus House offers a truly gourmet Ubud experience, showcasing the diverse influences, flavours and spices of Indonesia's regions,
The intimate restaurant occupies a picturesque 150-year-old former Javanese residence, from which it serves both breakfast and dinner.
When it comes to Bali private dining, COMO's expert culinary staff can orchestrate intimate gourmet meals in a host of romantic, exotic or adventurous locales, from your private Residence to the unique Tea House, which can accommodate two to 20 guests.
Wellness
COMO Shambhala Estate provides a completely immersive, 360-degree wellbeing experience.
Guests can participate in targeted Wellness Programmes — Ayurvedic, Cleanse, Be Active and Bespoke — with private consultations, Asian therapies and healthful cuisine.
These programmes have been designed to ensure maximum results and long-lasting change.
In addition to these comprehensive treatments, activities and healthful COMO Shambhala Cuisine, COMO also believe that adventure and cultural discovery should be part of the holistic approach.
You will therefore find many activities in the daily schedule of activities that work in tandem with the comprehensive plan devised for your own personal goals.
Wellness Programs
COMO's wellness programmes help guests improve specific areas of their wellbeing through targeted therapies, healthy eating options and expert consultations.
Programmes can be booked with any stay of three days or longer.
Priority reservations for the Schedule of Activities and COMO Shambhala treatments are given to guests on Wellness Programmes.
Ask us to help co-ordinate your tailored programme for your stay at COMO.
2019 - 20 Price Guide:
Includes:
3 nights accommodation with breakfast
All taxes
Return private car airport or beach resort transfers
This is a guide price only, based on travel in low season.
Prices will vary according to availability of airfares on the dates of travel and seasonal hotel and airfare surcharges.
Please ask us for any current special offers.
Jasmine Bonus:
Includes Daily American Breakfast
Ask us about the latest wellness packages at COMO Shambhala.
Contact Us:
All of our Bali Holidays are completely tailor made and we can put together any kind of itinerary to suit your interests and budget.
Call us to speak to a Bali expert about your Bali holiday or honeymoon to Bali.
Call us now on 0333 7000 747
We're open from 9 until 9 daily and our 0333 number is a local rate number included in most call packages.