Call us now:
0333 7000 747
Open 9 until 9 daily
Start your perfect holiday
contact us today!
9 Nights - £4,395pp
Flight Inclusive Price from UK
7 nights Galapagos Cruise
2 nights Quito
International Flights from the UK
Galapagos Roundtrip Flight
Shore excursions
All meals included
View Map
Ecuador & Galapagos Destinations
Holiday Confusion?
You need a Specialist
Solve my Problem
Confused about Galapagos?
Contact an Expert Here!
Galapagos Cruise - Mary Anne
SS Mary Anne
Fully rigged
Sails down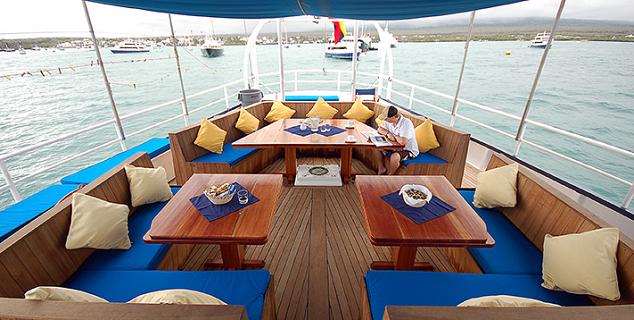 The beautiful sailing ship Mary Anne cruises the eastern islands of the Galapagos archipelago under full sail.
This is an exciting 8-day cruise ideal for adventure and nature lovers and a romantic way to cruise the Galapagos.
Discover the best of wildlife in the Galapagos, snorkel, kayak and hike and sail between islands in style.
Guests are comfortably accommodated in twelve double cabins each with air-conditioning and private bathroom.
At a glance:
International Flights from the UK
Return flights Ecuador - Galapagos
7 nights Galapagos SS/Mary Anne Cruise
2 nights Quito
Santa Cruz Island
Genovesa Island
Santiago Island
Bartolomé Island
Rábida Island
South Plaza Island
Santa Fe Island
Española Island
Shore excursions
Full board on the cruise
Transfer to and from Galapagos Airport
Day 1: Fly UK to Quito
Fly from the UK to Quito.
On arrival at Quito Airport you will be met and transferred to your chosen hotel.
Overnight Quito. Breakfast included.
Please note that if on an overnight flight you will arrive the following morning into Quito.
Day 2: Quito
Enjoy the morning at leisure to acclimatize, with lunch on your own.
In the afternoon your guide will meet you at your hotel for a tour of Colonial Quito, concentrating on the charming old town.
Visit Independence square, flanked by the Cathedral, the Presidential Palace, the Municipal Building and the Archbishop's Palace and continue on foot to La Compania de Jesus and the church and square of San Francisco, one the of great religious buildings of the New World.
Dinner is served at Casa Gangotena Hotel, situated in a newly restored historic mansion overlooking Plaza San Francisco.
Overnight Quito. Breakfast and Dinner included.
Day 3: Galapagos
Transfer to the airport for your morning flight to Santa Cruz in the Galapagos Islands.
On arrival you will be met at the airport and transferred to the S/S Mary Anne for lunch.
After lunch, navigate a short distance to Black Turtle Cove, a large mangrove lagoon on the north coast of Santa Cruz Island.
Pelicans and herons roost on the branches, while marine dwellers such as Green Sea Turtle or Golden Ray may cruise right next to the panga (small outboard boat) as it makes its way through the mangroves.
Overnight on board. Breakfast, Lunch & Dinner included.
Day 4: Galapagos Sailing Cruise
Sail the Galapagos to Genovesa Island and reach Darwin Bay (where there is a wet landing).
This is a unique site lined with red mangrove and soft-haired prickly pear cacti where Red-footed Boobies and Great Frigatebirds perch tamely.
At Prince Philip Steps (a dry landing), climb the edge of a cliff where Frigatebirds, Nazca Boobies, and Red-footed Boobies nest.
A highlight may be sighting the impressive Red-billed Tropicbird amidst Galapagos Storm Petrels.
Overnight on board. Breakfast, Lunch & Dinner included.
Day 5: Galapagos Sailing Cruise
This morning is a dry landing at Bartholomew and a climb up the wooden steps to reach the summit of this spatter-cone for a breathtaking panorama of the islands' well photographed Pinnacle Rock, views of neighbouring Santiago and many other central islands in the distance.
After lunch head across to Sullivan Bay (a dry landing) in Santiago to walk over a recent lava flow, including very fresh pahoehoe lava formations, lava bubbles containing crystallized minerals, and pioneer plants.
Along the shoreline, Galapagos penguins and herons going after small fish may be sighted.
Overnight on board. Breakfast, Lunch & Dinner included.
Day 6: Galapagos Sailing Cruise
This morning it's a wet landing onto Rábida's deep-red beaches to explore the red island's fascinating interior and saltwater lagoon.
Darwin's finches, Galapagos mockingbirds, and yellow warblers feed off the vegetation and given the right time of the year, brown pelicans may be seen nesting on salt bushes that fringe the beach.
In the afternoon head across to Cerro Dragón on Santa Cruz's north-west shore (with a dry landing).
Visit a saltwater lagoon, home to Greater Flamingos, Black-necked Stilts, and White-cheeked Pintails.
Further inland is a fantastic Land Iguana nesting site.
Overnight on board. Breakfast, Lunch & Dinner included.
Day 7: Galapagos Sailing Cruise
Today is spent visiting Santa Cruz Island's most famous highlights. Begin at Puerto Ayora (dry landing) and drive to the Islands lush and humid forested highlands, quite a contrast to the coastal area.
Visit one of the area's ranches, where it ́s possible to see giant tortoises in their natural habitat.
As these animals migrate from the coastal area to the highlands and back, the chosen ranch will depend on the presence of the tortoises, as they roam free and change locations.
This is also a good place to see the Galapagos hawk and barn owl and the surrounding forests are filled with birds such as the vermilion flycatcher and yellow warbler.
Enjoy lunch at the ranch and head back to Puerto Ayora and visit the Charles Darwin Research Station and the Fausto Llerena Breeding Center.
See tortoises here from various of the Galapagos Islands, which are protected in large semi-natural pens.
Afterwards explore the town of Puerto Ayora with its many souvenir shops.
Overnight on board. Breakfast, Lunch & Dinner included.
Day 8: Galapagos Sailing Cruise
This morning set foot on one of the oldest docks of the Archipelago, colourful Plaza Sur, home to vibrant green prickly pears, deep red Sesuvium and coppery-orange land iguanas.
Impressive seaward cliffs are home to an impressive array of coastal birds. This is also a great place to observe the adult and pup sea lions swimming along the shores.
In the afternoon, after a wet landing onto a white beach where sea lions are usually resting, explore Santa Fe, in search of endemic species of land iguana, larger and yellower here than on other islands.
The largest prickly pear cacti in the Galapagos are also found here.
Overnight on board. Breakfast, Lunch & Dinner included.
Day 9: Galapagos Sailing Cruise
On Punta Suárez (dry landing) enjoy a spectacular walk to discover nesting sites of Blue-footed and Nazca Boobies, and perhaps to observe the fascinating breeding rituals (April to December) of Waved Albatross.
Lined with neon-coloured marine iguanas (January), and lazy Galapagos sea lions, a path leads up to an amazing viewpoint of the famous blowhole.
Spend the afternoon in fantastic Española, starting with Gardner Bay (wet landing), an outstanding beach with sea lions, marine iguanas, and the intrepid Española Mockingbird.
Overnight on board. Breakfast, Lunch & Dinner included.
Day 10: Galapagos Sailing Cruise
This is the last day cruising the Galapagos. After breakfast disembark in Puerto Ayora and transfer to Baltra Airport, with a short stop to visit the Lava tunnels found in the
These intriguing tunnels were formed by a lava flow that hardened on the outside whilst still maintaining its fluid scolding state on the inside, leaving hollow tunnels where it passed.
Walk inside one of the tunnels (which are artificially illuminated) to have a close look at the formations and learn more about the origin of the very volcanic Galapagos archipelago.
Transfer to the airport for the flight back to the mainland and connection back to the UK.
Day 11: Arrive back in the UK
Arrive back in the UK.
Launched in 1997, this elegant 66-metre Barquentine offers a superb and luxurious way of cruising the Galapagos Islands.
A large and truly romantic sailing ship, the S/S Mary Anne cruises the Galapagos majestically under full sail.
With spacious decks, experienced crew and passionate owners, she accommodates up to 16 guests, and was specially designed with sound, environmentally-friendly cruising in mind.
Cabins are located on a single deck feature private bathrooms with hot water. All cabins are port-hole lit and come in a variety of configurations.
The spacious main and sun decks are comfortable places to have a drink in the lounge, read a book in the library or simply relax in a sunchair while enjoying the views. Both decks are also ideal for wildlife observation.
With a nine-member crew, plus a Galapagos Naturalist Guide on board, this Galapagos Cruise offers a luxurious and educational Galapagos cruise experience with many interesting wildlife encounters guaranteed.
Due to its steel hull, tall masts and deep draft, the 3-masted Barquentine Mary Anne is one of the most stable vessels in the Galapagos and the only vessel of its kind cruising the Galapagos.
The owners are Galapagos Cruise pioneers, cruising the Galapagos for over 30 years.
Navigating with full sails, means cruising without the sound of engines. Dolphins and whales are far more likely to swim alongside the ship.
Whether travelling alone or in a group, the Mary Anne can accommodate everyone, with 8 single cabins and no single supplements!
2016 Price Guide:
Includes:
International Flights from the UK
Domestic flights to the Galapagos
Accommodation with all meals
All taxes
Return transfers
Programmed visits to the islands with a Certified Naturalist Guide
Use of snorkeling gear (mask, snorkel and flippers)
Use of kayaks
Not Included:
Entrance Fee ($100 per person)
Transit Control Card ($20 per person)
Wet suit
Alcoholic and bottled beverages
This is a guide price only, based on travel in low season.
Prices will vary according to availability of airfares on the dates of travel and seasonal hotel and airfare surcharges.
Please ask us for any current special offers.
Jasmine Bonus:
Ask us about Special Offers
Contact Us:
All of our Galapagos & Ecuador Holidays are completely tailor made and we can put together any kind of itinerary to suit your interests and budget.
Call us now to speak to a Galapagos & Ecuador holiday expert about your Galapagos & Ecuador holiday or honeymoon to Galapagos & Ecuador.
Call us now on 0333 7000 747
We're open from 9 until 9 daily and our 0333 number is a local rate number included in most call packages.