Call us now:
0333 7000 747
Open 9 until 9 daily
Start your perfect holiday
contact us today!
3 Nights - £682pp
Package from Quito
Ecuador & Galapagos Destinations
Holiday Confusion?
You need a Specialist
Solve my Problem
Napo Wildlife Centre
Contact us and request a quote Now!
Napo Wildlife Centre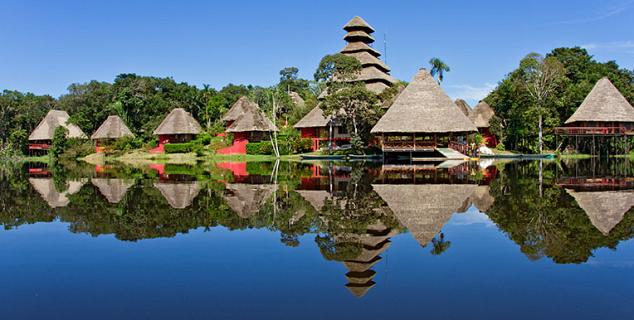 View from the Lake
Bedroom
River excursion
River life
Waterfront dining
Accommodation
Napo Wildlife Center is a luxury eco-lodge in Ecuador's Amazon region, set in the pristine Yasuni National Park, a UNESCO Biosphere Reserve.
Set on the banks of Anangucocha Lake, within the unique, ancestral territory of the Kitchwa Anangu people, Napo Wildlife Center is right in the heart of the Yasuni National Park.
Access to the lodge is via a 2‐hour motorboat ride from Coca down the Napo River followed by a 1 to 2-hour paddle‐canoe journey along black-water streams through an Amazonian landscape teeming with wildlife.
The lodge itself consists of a central structure housing a restaurant, library and bar as well as a 20-foot high observation platform with 360-degree views of the Amazon.
Accommodation consists of 16 spacious, clean and comfortable cabanas with private bathrooms and terraces.
The Lodge has an Interpretative Centre where guests are introduced to the community's culture, traditions and ancient practices such as hunting and the use of medicinal plants.
The region is a birder's paradise and two clay licks (one on the Napo River and one in the forest) offer true spectacles of colour, sound and beauty.
What's so Special?
In the early 1990's members of the Kitchwa Anangu community envisioned building an eco-lodge to attract visitors, create jobs and protect the land and its wildlife.
From four modest cabins and a large main house for the dining room and kitchen the lodge has developed into one of the finest luxury lodges in the Amazon, protecting 82 square miles of land and fulfilling the goals of the local community.
Bear in Mind
The Napo Wildlife Center has a two-way radio that connects the Lodge to offices in Quito and Coca. Mobile service sometimes reach the lodge and Internet access is available at the main hall for a fee.
2018 - 19 Price Guide:
Includes:
3 nights accommodation
Daily breakfast
All taxes
Return transfers from Quito
This is a guide price only, based on travel in low season.
Prices will vary according to availability of airfares on the dates of travel and seasonal hotel and airfare surcharges.
Please ask us for any current special offers.
Jasmine Bonus:
Contact Us:
All of our Galapagos & Ecuador Holidays are completely tailor made and we can put together any kind of itinerary to suit your interests and budget.
Call us now to speak to a Galapagos & Ecuador holiday expert about your Galapagos & Ecuador holiday or honeymoon to Galapagos & Ecuador.
Call us now on 0333 7000 747
We're open from 9 until 9 daily and our 0333 number is a local rate number included in most call packages.