Call us now:
0333 7000 747
Open 9 until 9 daily
Start your perfect holiday
contact us today!
13 Nights - £2,475pp
Fred. Olsen Cruise
14 day Cruise
Full Board
On Board Lectures
Travel Trust Protection
Based on 2021 - 22 Prices
British Isles Destinations
Holiday Confusion?
You need a Specialist
Solve my Problem
Cruise the UK with Fred. Olsen
Call us for the Best Offers
Scenic British Isles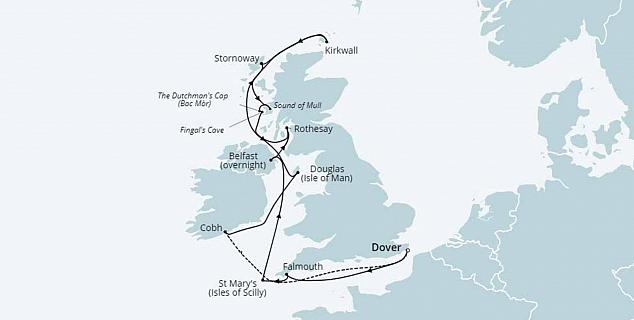 Scenic Islands of the British Isles
Cruise from Dover to Scotland and back on this fascinating no-fly British Isles cruise.
With Bolette as your guide, you can discover and explore some of the British Isles most beautiful and remote islands.
You'll get to wonder at the best of British nature in all its guises; experience scenic cruising by the picturesque Sound of Mull and the intriguing rock formations of Dutchman's Cap and Fingal's Cave, and explore miles of beautifully unspolit island landscapes and coastline.
When you get to step ashore, there are plenty of historic highlights and memorable experiences to discover too.
In Scotland, you can take in the Orkney's UNESCO-listed Neolithic treasures on tour from Kirkwall, and the unique ruins of Rothesay on the Isle of Bute, including Rothesay Castle, while Stornoway is the gateway to Lews Castle on the Isle of Lewis.
You'll head to the 'Emerald Isle' to visit Belfast, Northern Ireland's attraction packed capital, and the pretty Isle of Man too, visit Falmouth for Cornish scenery, historic sites and delicious pasties, and be charmed by the scenic beauty of the Isles of Scilly.
Inclusions
13 night Bolette Cruise
All Meals
Evening Entertainment
On Board Activities & Lectures
Unlimited tea & coffee. Afternoon Tea.
Travel Trust Protection
Bonus
FREE Drinks Package or On Board Credit
2021 Departure Dates:
Day 1: Liverpool
This expedition cruise begins from Liverpool.
Today you will board your Borealis Cruise and depart for Scotland.
Day 2: Falmouth, England
Blessed with stunning sandy beaches that stretch for miles along the gorgeous Cornish coastline, Falmouth – located at the southern end of the Fal Estuary, has arguably the UK's most picturesque network of creeks & rivers.
It is a fine example of just how beautiful Britain really is and is the perfect place to lay back and soak up the summer sunshine, enjoy a relaxing stroll or try your hand at scuba diving and snorkelling.
There's also an abundance of sights and attractions to discover and explore during a stay in this fabulous seaside town, including St Michael's Mount – one of Britain's most famous historic sites – the Lizard Peninsula and the world-famous Eden Project, which is just a short distance away.
Day 3: St. Mary's, Isles of Scilly, England
Located just 28 miles off the shores of Cornwall, the Isles of Scilly may be close to the mainland, but they feel a million miles away thanks to their gorgeous beaches, lush nature reserves and stunning surf.
St. Mary's, Scilly's main and largest island, is smothered with treasures that await your discovery, including ancient monuments, the Carreg Dhu Community Garden, a small museum in Hugh Town and an interesting heritage centre in the middle of the island.
There are also multiple opportunities to walk along miles of scenic beaches or nature trails.
Day 4: Belfast, Northern Ireland
From beautiful coastlines to a fascinating industrial heritage, Belfast is a modern, vibrant and stylish city.
Famous for being the birthplace of the RMS Titanic, Northern Ireland's capital offers visitors the chance to visit the Harland and Wolff shipyard and the fascinating Titanic Experience.
Only in Belfast can the Titanic story be traced to its source, and the excitement of an era when the city was at the height of its powers relived.
Close to Queen's University lie the fascinating Botanical Gardens, established for over 180 years. The unique Palm House was one of the world's first cast-iron glass-houses and displays a wide range of tropical plants, ranging from bananas to rubber.
Alongside, the Renaissance-styled Ulster Museum tells Ireland's 9,000-year history through art, ceramics, costume, and prehistoric archaeology.
To the city's northern edge is the impressive Belfast Castle, offering wonderful views of the city as it stands 120m above the Irish Sea. Show less
Belfast is also perfectly placed to discover the stunning Giant's Causeway, Northern Ireland's only UNESCO-listed World Heritage Site and an incredible natural wonder steeped in myths and legends.
Day 5: Belfast, Northern Ireland

Spend the day in Belfast with the chance to explore the city or the surroundings.
Day 6: Rothesay, Isle of Bute

Situated at the centre of the Isle of Bute's eastern coast in Northern Scotland, Rothesay is home to magnificent natural scenery and a wealth of fascinating history.
The charming Rothesay Bay is enclosed by pretty esplanade gardens and makes an ideal location for boat rides and visiting the surrounding heritage attractions.
The traditional Victorian town is home to castles, historic monuments, and the interesting Isle of Bute Discovery Centre, a 1920's structure offering a cinema, theatre and intriguing displays.
The nearby beach at Ettrick Bay provides a postcard-perfect spot for swimming, picnicking and leisurely afternoons.
A ferry links Rothesay to Wemyss Bay, and the popular trip, which takes under an hour, can be extended by taking the train onwards to Glasgow.
Day 7: At Sea

Enjoy the day at sea.
Day 8: Kirkwall, Orkney Islands, Scotland
Kirkwall, the capital of the Orkney Islands, resonates with ancient echoes of Christian, Nordic and Celtic history.
It's a town that feels more Scandinavian than Scottish; in fact, the name Kirkwall comes from the Norse for 'Church Bay', relating to the town's 11th century Church of St Olaf of Norway.
Exploring the town's atmospheric paved streets and twisting lanes, reveals a number of highlights, including the ruins of the Earl and Bishop's Palaces, dating from the mid-12th century and serving as a reminder of the Orkney's turbulent past.
The palaces are considered by many to be the finest Renaissance buildings in Scotland. Also worth visiting is the recently restored St. Magnus Cathedral, founded in memory of Saint Magnus Erlendsson by Norseman Earl Rögnvald Kali.
Don't miss Tankerness House, a beautifully preserved 16th century townhouse, and the Orkney Wireless Museum, with it's fascinating insights into the history of radio, too.
Day 9: Stornoway, Outer Hebrides

Thanks to its sheltered location, Stornoway, on the island of Lewis and Harris, is the largest town of the Outer Hebrides islands of Scotland. The port offers a warm welcome to those visiting Lewis as part of their exploration of one of the UK's remotest locations.
A stroll along the quay reveals local fishermen on traditional fleets landing the catch of the day, before shipping it to one the island's amazing eateries.
There is an unmistakeable odour of peat in the air as the smokehouses turn the seafood into island specialities.
Historic Lews Castle and the adjoining museum are key cultural centre for the islands' heritage.
An Lanntair Art Centre samples local arts and a good programme of art events, while a unique shopping experience awaits at the Harris Tweed Hebrides Outlet and Lewis Loom Centre, where traditional weaving methods can be discovered.
Alternatively, a wander through the surrounding woods and a visit to the Woodland Centre can while away a pleasant hour or two.
Day 10: Cruising Sound of Mull, Dutchman's Cap (Bac Mòr) and Fingal's Cave, Isle of Staffa, Scotland
Flowing between the Isle of Mull and the shores of Scotland, the Sound of Mull is a beautiful stretch of water that forms part of the Atlantic Ocean.
As you sail through the sound on your Fred. Olsen cruise ship you'll see some stunning natural landscapes and will truly appreciate the beauty of the British Isles.
Bac Mòr, affectionately known as 'Dutchman's Cap' due to its unmistakable shape, is one of the most distinctive landmarks discovered amongst the beautiful Scottish Isles, a unique volcanic formation of grass-topped black lava that provides a safe haven for sea birds, and spectacular views for anyone who visits.
While the island doesn't have any suitable landing places, simply sailing by Bac Mòr with Fred. Olsen makes for a memorable experience; you'll get to wonder at its intriguing shape and look out for the native birds from the comfort of your smaller sized ship.
Similar to the famous, UNESCO-listed Giant's Causeway in Northern Ireland, Fingal's Cave is a beautiful basalt sea-cave with distinctive 'columns' and a remarkable symmetry that looks incredible as you cruise past.
Often, the cliffs, ledges and grassy slopes are smothered with native seabirds, including guillemots, razorbills, puffins and more, so it's the perfect place to enjoy a little birdwatching. Just make sure you have your binoculars to hand!
Day 11: Douglas, Isle of Man

Douglas is the picturesque, historic capital of the Isle of Man and gateway to the unique, diverse treasures of the world's first entire island country to have been awarded Biosphere status by UNESCO – a fact the locals a rightly very proud of!
A lively hub of activity, where ferries from England and Ireland land, Douglas is a delight to explore; along the promenade, a relaxing stroll – or ride on the wonderful horse-drawn tram – takes in a mix of architecture, from Victorian and Edwardian to modern, while plenty of attractions await if you dig a little deeper in the heart of the town. Interesting museums, galleries and charming old theatres are just some of the highlights.
Venture even further and historic railway routes – including the 19th century steam railway – can show you the best of the Isle of Man's beautiful coastal and countryside scenes, and there are many centuries-old landmarks, such as Peel Castle, Rushen Abbey and the Great Laxey Wheel, to discover around the island too.
Day 12: Cobh, Ireland

The charming seaside town of Cobh, situated in Cork harbour, has served as a route in and out of Ireland for centuries.
Formerly known as Queenstown before locals reverted back to the old Irish name in 1922, Cobh was the embarkation point for 2.5 million people who emigrated to America from the 'Emerald Isle' between 1848 and 1950, and was famously the Titanic's final port of call on her ill-fated maiden voyage in 1912.
Today, the town sat in world's second largest natural harbour, is known more for its brightly coloured houses and imposing, Gothic revival-style St. Colman's Cathedral, which overlooks the harbour from a dramatically steep hill.
At the centre, a number of attractions point to Cobh's fascinating past. The Cobh Heritage Centre examines the gruelling potato famine period, the town's museum explores Cobh's maritime heritage and the impact of RMS Lusitania's sinking nearby, and the Titanic Experience, where a virtual version of ship's infamous voyage can be experienced.
Day 13: At Sea

Enjoy the day at sea.
Day 14: Dover, England

Arrive back in Dover.
About the Bolette
As the flagship jewel in the Fred Olsen crown, Bolette offers all of the superb facilities and amenities you would expect for a sensational memory-making cruise.
She may be one of the largest in the fleet, but don't let her size fool you; with a capacity of less than 1,400 passengers and spacious, stylish, venues, you can enjoy the company of others without ever feeling crowded.
Depart from Dover or Southampton and choose from a wide variety of exceptional journeys covering Europe and far-flung exotic destinations.
Whether embarking on a scenic tour of Scotland or a month-long trip to the Arctic or the Americas, you can look forward to all of the amenities you need to make your stay as comfortable as possible, along with fantastic entertainment and excellent customer service.
Whichever route you decide on, Bolette cruises provide the chance to create treasured lifelong memories, with a range of enthralling tours and experiences.
From witnessing the beguiling Northern Lights and Arctic Midnight Sun to wildlife watching and exploring ancient ruins, you're sure to end your holiday with a feeling of having tasted true adventure.
2021 Departure Dates:
29 Aug 2021
13 nights Scenic British Isles Cruise:
Contact Us:
Call us now to speak to us about securing your place on this British Isles cruise.
Call us now on 0333 7000 747
Open 09:00 - 17:30 Mon - Fri. 09:00 - 12:00 Sat.