Call us now:
0333 7000 747
Open 9 until 9 daily
Start your perfect holiday
contact us today!
9 Nights - £2,195pp
Flight Inclusive Price from the UK
View Map

Holiday Confusion?
You need a Specialist
Solve my Problem
Ask us about EXCLUSIVE discounts.
Pandaw Club Member Packages
Irrawaddy Cruises - Pandaw
Dusk on the Irrawaddy
Discover Bagan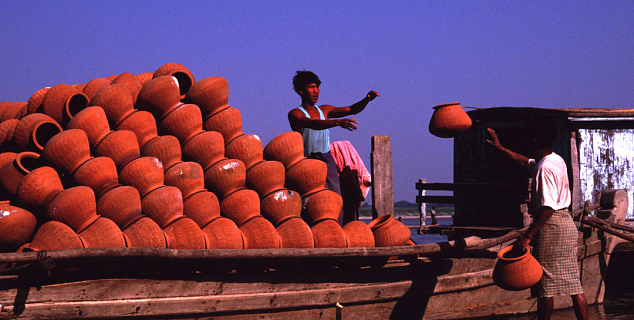 Life on the River
RV Katha
On Board
Map
RV Kindat
Dining set up
Classic Irrawaddy Cruise
Enjoy a luxury river cruise on the Irrawaddy through Myanmar aboard one of Pandaw Cruises boutique river vessels.
Cruising Burma's Irrawaddy River with Pandaw Cruises is one of the most relaxing ways to experience a cruise holiday in Myanmar.
The Irrawaddy is a languid river and the pace of life on board is relaxed and informal whilst being full of cultural interest, with shore excursions all included in the cost.
Choose from a range of Burma River Cruise Holidays, from shorter 7-day Pandaw cruises between Bagan and Mandalay, up to 21 day Burma River Cruises which are more 'expeditionary' in nature.
All of our Myanmar River Cruise holidays are totally tailor made around the cruise itinerary and can be tailored to your interests, with pre and post cruise accommodation, touring or beach extensions added to your requirements.
Inclusions
International flights from the UK
All domestic flights & taxes
Accommodation with breakfast
7 night Pandaw Irrawaddy Cruise with all meals
All shore excursions
All airport transfers
Accommodation
2 nights Yangon
7 nights Pandaw Irrawaddy Cruise
Excursions
Full day tour Yangon
All shore excursions from cruise
Day 1: Depart the UK
Fly from UK to Yangon.
Day 2: Yangon
Arrive Yangon and transfer to hotel. The rest of the day is at leisure.
Overnight Yangon. Breakfast included.
Day 3: Yangon
Full day private tour of Yangon including Shwedagon Pagoda, Sule Pagoda, National Museum, Scott's Market, Botataung Pagoda and Chaukhtatgyi Pagoda.
Overnight Yangon. Breakfast included.
Day 4: Yangon - Bagan
Fly to Bagan and transfer from airport to the ship for lunch followed by an exploration of a selection of the 3000 plus Pagan monuments by bicycle or coach.
Overnight on board. Breakfast, Lunch & Dinner included.
Day 5: Bagan
Enjoy further exploration of Bagan and visits to a lacquer workshop.
Overnight on board. Breakfast, Lunch & Dinner included.
Day 6: Salay
Early morning sail to Salay. Once a bustling trading port, now a sleepy village filled with colonial architectural treasures and timeless teak monasteries and home to the best-known teak carved monastery in Burma.
Visit Pakhannge, a Pagan dynasty city with several period temples and wood carved monasteries.
Continue sailing to arrive mid-afternoon at the foot of the Tan-Chi-Taung mountains. Ascend in a 4x4 vehicle and enjoy a tour of a selection of the 3,000 monuments at Bagan.
Overnight on board. Breakfast, Lunch & Dinner included.
Day 7: Pakokku
Visit the local market and town center by Tuk Tuk.
Overnight on board. Breakfast, Lunch & Dinner included.
Day 8: Yandabo
Enjoy a morning walk through Yandabo villiage, famous for its production of terrocotta pottery from the river bank clay.
In the afternoon continue cruising up river towards Mandalay.
Overnight on board. Breakfast, Lunch & Dinner included.
Day 9: Sagaing - Amarapura
Sail to Sagaing with its 1000 hermitages and sanctuaries, rich in woodcarving and religious art.
In the afternoon, drive to Amarapura, the former capital of Myanmar and enjoy a boat trip on Taungthaman lake and admire the sunset behind the world's longest teak bridge - U Bein Bridge.
Overnight on board. Breakfast, Lunch & Dinner included.
Day 10: Mingun - Mandalay
Visit Mingun, the unfinished pagoda with the largest working bell in the world.
Spend the afternoon exploring central Mandalay, with visits to the palace and surrounding hills, craft workshops and shopping.
Overnight on board. Breakfast, Lunch & Dinner included.
Day 11: Mandalay - UK
After breakfast on board, depart for the airport for your return flight back to the UK or your next destination.
Breakfast included.
Day 12: Arrive UK
Arrive back in the UK.
Life on Board Pandaw
Life on board a river cruise is quite different from ocean cruising. Things are very much more informal, with no 'Captain's Table' or dressing up for dinner.
Unlike ocean cruising, all excursions and most other things are included in the price, such as drinks and tips for the crew.
With one member of crew per two passengers, the service on board a Pandaw Cruise is incredibly high and very personal.
Things are very relaxed on board a Pandaw River Cruise. There are no unnecessary and wearisome PA announcements and no disturbing TV's from neighbouring cabins.
Cabins all open onto a social promenade deck, creating a very relaxed and social atmosphere on board.
One of the best things about a Pandaw River Cruise is the amount of space on board, which is said to be the highest per passenger of any ocean or river cruise vessel in the world.
Cabins don't have minibars – instead there is a bar service on the sundeck from dawn until dusk.
All excursions are included, but there is no compulsion to join in.
A daily briefing updates guests on the cultural activities of the day ahead.
Yangon
Formerly known as Rangoon, Yangon is the largest city in Myanmar and home to one of the finest temples in the Far East, the totally beguiling Shwedagon Pagoda.
Yangon is located at the confluence of the Yangon and Bago Rivers and is one of Asia's least developed major cities.
There are some great old colonial buildings in Yangon and the Strand Hotel is one of the Far East's great heritage hotels.
Most people touring Myanmar spend at least a night in Yangon as it's the main international gateway.
Pakokku
A fairly quiet Irrawaddy backwater, Pakokku is a small town well-known locally for its tobacco and thanakha production.
A visit to Pakokku is a chance to experience real-life in a Burmese riverside town. A visit to town is usually conducted by tuk-tuk.
Yandabo
Pandaw Cruises stop at Yandabo to visit the Pandaw School built with donations from past Pandaw passengers and to see local potteries, the main industry in Yandobo.
Ava
Ava was the intermittent capital of Burma between 1300 and the final move to Amarapura in 1837.

Situated on the confluence of the Irrawaddy and Myitnge rivers the place was easily defended and today makes a pleasant excursion.
Ava follows the classic Burmese city plan: fortified with zig zag walls and surrounded by artificial moats linked to the two rivers.
Of the original palace, state offices and regimental quarters little survives, as they were made of wood and relocated to Amarapura in 1837. The area is now under farmland and a horse & cart ride through the paddy fields from monument to monument gives a pleasant glimpse of life in rural Burma.

A visit is made to Bagaya Kyaung, a 200 year old royal monastery made of teak with elaborate wood carvings.
Mingun
At Mingun, the highlights are the largest working bell in the world and the unfinished pagoda that is the largest single mass of brick building in the world - a truly spectacular sight.

A visit is also made to the Mingun Old People's Home originally established with the assistance of the Irrawaddy Flotilla Company in the 1930's.
Bagan
Bagan is a Unesco World Heritage Site and one of the most compelling archaeological sights in Asia.
Over 3,000 stupas and pagodas dot the plain of Bagan creating one of the most incredible locations in the Far East, especially during a misty morning or at sunset.
Bagan was the former capital of the Burmese Empire and a major religious centre, before being sacked by an invading Thai army in the 13th century.
Mandalay
Former capital of Burma, Mandalay is a must on any tour of Burma.
There are plenty of fascinating sights around Mandalay including the impressive rock carved pagoda at Mingun, picturesque Sagaing monasteries and the former Royal cities of Ava and Amarapura.
Mandalay itself is Burma's second largest city, the cultural centre of the country and has some impressive sights of its own, including Mandalay Hill and the Shwenandaw Pagoda.
Mandalay is also the best place in Myanmar to do some handicraft shopping.
Pandaw Club Members
Cruised with Pandaw before?
Then make sure you sign up as a Pandaw Club Member with us to receive further discounts and benefits on your next Pandaw Cruise holiday with Jasmine Holidays.
Benefits include:
Exclusive Members Club Cruise Discount
Unlimited in-house wine package worth up to $220
Free Laundry Service worth $50
Pre-post Expedition Discount
Remember that we guarantee a better price than booking direct and your holiday can be completely tailor made and will always be ATOL Protected if your holiday is flight inclusive.
Exclusive Expeditions for Pandaw Club Members
Pandaw have recently introduced special departures exclusive for Pandaw Club Members.
These offer the opportunity to bring like minded people together and for old ship mates to travel together again.
Members only Expeditions are a great chance to relive old experiences and encounter new ones in a more exclusive atmosphere.
A handful of selected departures are available and offer a considerable discount on standard departures as well.
Ask us for details of upcoming departures.
Is this a Private Tour or a Group Tour?
All of our tours are private tailor made itineraries, customised for you - we can amend things to entirely suit you around the cruise itinerary.
You will have your own private car, driver and guide on any additional excursions you choose to do before or after the cruise.
All shore excursions are done on a group basis with other cruise passengers.
What are the departure dates?
Let us know your preferred dates of travel and we will find the best and most suitable flights to fit your itinerary.
We will organise dates around departure dates with Pandaw Cruises.
Which Airlines do you use?
We work with all the major airlines flying to this part of the world.
Typically for Burma, Thai Airways, Singapore Airlines and Emirates would be airlines we would often use.
However, just let us know your preferred airline if you have one. We can organise flights from any regional destination in the UK.
There are no direct flights from the UK to Myanmar currently.
Which Hotels do you use?
We're careful with our choice of hotels, but we're guided by our customers also. If you have some preferred hotels, just let us know.
We specialise in boutique hotels and so we will often suggest some of our favourite smaller hotels where we think these will be suitable.
We keep on top of hotel developments in Burma from our office in South East Asia and regularly inspect the hotels we use.
Do you cater for Solo Travellers?
Yes, we have many solo travellers and Burma is a very safe, friendly and welcoming destination for those travelling alone.
River cruises in Burma are a popular option for solo travellers, especially with Pandaw Cruises who offer no Single Supplements on many departures.
Why should we book with you and not directly?
Because we are one of Pandaw Cruises top supporters, we have the very best rates to pass on to you, which should make it cheaper than booking directly.
Pandaw Club Members still get all the benefits, plus you have the security of having all of your flights and pre and post cruise accommodation and transportation taken care of.
All of our holidays are priced in Pound Sterling which means you are not exposed to currency fluctuations and poor exchange rates if you are paying for your cruise in US Dollars.
Your holiday also enjoys full financial protection through ATOL and the Travel Trust Association by booking with us.
How long have you been organising holidays to Burma?
We've been organising tailor made holidays to Burma for over 10 years.
Our team has a wealth of combined experience in the industry and our Director has been involved in organising holidays to Burma since the early 1990's.
Our partners on the ground in Burma have over 20 years experience in operating there.
They understand the country extremely well and have a strong infrastructure of staff, guides and vehicles within Burma. We've had the same partnership for over 10 years.
Is it ethical to travel to Burma?
We've faced this question since we started our business and it's been a debated topic for decades.
In our opinion, boycotting Burma only harms local people, disrupts livelihoods and does nothing to dissuade the government to act in one way or another.
The tourism business is vital for local guides and their families and this is who we help support when we send our customers to Burma.
Superior Hotel Suggestions Yangon:
Kandawgyi Palace
The Savoy
Sule Shangri-la
9 night Classic Irrawaddy River Cruise - Superior:
This is a guide price only, based on travel in low season.
Prices will vary according to choice of hotel and seasonal airfare and hotel surcharges. Please ask us for any current special offers.
Contact Us:
All of our Burma River Cruise Holidays are completely tailor made and we can put together any kind of Burma River Cruise itinerary to suit your interests and budget.
Call us now to speak to a Burma expert about your tailor made Burma River Cruise holiday.
Call us now on 0333 7000 747
We're open from 9 until 9 daily and our 0333 number is a local rate number included in most call packages.
City Stopovers
Depending on the international flights booked, it is possible to stopover in Bangkok, Singapore, Kuala Lumpur or Hong Kong and so add a short city stay to the holiday.
City stopovers in Dubai, Abu Dhabi or even Doha are also an option.
Beach extension
Many people choose to extend the trip with a beach extension in Burma at Ngapali Beach, an understated beach resort area just a short flight from Yangon.
A beach extension in neighbouring Thailand is also a popular option.
Bangkok Stopover
Stay at Ariyasom Villa
Stopover in Bangkok and discover one of Asia's most exciting and vibrant cities.
A stay at Ariyasom Villa makes a perfect combination with a Pandaw Cruise.
View
Beach Extension
Add on Ngapali Beach
Why not extend your river cruise holiday at a beach resort in Burma?
Choose from one of our recommended boutique hotels in Ngapali Beach.
View
Inle Lake extension
Beautiful Inle Lake
Inle lake is one of the most scenic and cultural destinations in Myanamar.
Extend your Pandaw Irrawaddy Cruise with 3 or 4 nights by Inle Lake.
View