Call us now:
0333 7000 747
Open 9 until 9 daily
Start your perfect holiday
contact us today!
10 Nights - £2,595pp
Flight Inclusive Price from UK
International Flights from UK
10 nights Accommodation
Meals as specified
All Transfers throughout
Game drives in the Masai Mara
Park fees
ATOL Protection
Travel Trust Protection
Based on 2021 - 22 prices
View Map
The Seychelles Destinations
Holiday Confusion?
You need a Specialist
Solve my Problem
Ask us about Kenya & Seychelles
Speak to a Safari & Beach Expert
Kenya Safari & Seychelles
Mahe, The Seychelles
The Migration, Masai Mara
Acacia Tree, Masai Mara
The Masai Mara Reserve
Tropical Seychelles
Kenya Safari & Seychelles
This is the perfect itinerary for those looking to combine an iconic East African safari with superb Indian Ocean beaches.
Enjoy 3 nights in the world famous Masai Mara Reserve in Kenya with daily game drives included.
The Masai Mara is one of the world's very best game viewing areas, especially during the great wildebeest migration.
From the Masai Mara head to the Seychelles for a week to enjoy some of the best beaches in the Indian Ocean.
This safari and beach holiday makes an ideal honeymoon option and is perfect for those looking to combine an active and a relaxing trip.
As with all of our safari and beach holidays this one can be tailored to suit your interests and budget so just let us know your preferences.
Inclusions
International flights from the UK
Domestic flights in Kenya
All taxes
All airport transfers by private car
Accommodation
3 nights Masai Mara
7 nights Seychelles
Excursions
Game viewing activities in Masai Mara
Which Airlines do you use?
We work with all the major airlines flying to the Seychelles.
Typically for the Seychelles we will use British Airways for direct flights.
There are currently twice-weekly flights from Heathrow (Wednesdays and Saturdays) direct to Mahe using the Dreamliner.
The flying time for direct flights is around 10 hours, making the Seychelles a little shorter flying time than going to South East Asia.
We also commonly use Emirates via Dubai, Qatar Airways via Doha and Etihad via Abu Dhabi. These all allow stopover options in the Arabian Gulf to create a multi-centre holiday.
Regional connections from across the UK are available.
Which Hotels do you use?
We're careful with our choice of resorts in the Seychelles, but we're guided by our customers also. If you have some preferred hotels, just let us know.
We specialise in boutique hotels and so we will often suggest some of our favourite smaller hotels where we think these will be suitable.
This particular Seychelles three-centre holiday is based on a stay in boutique hotels on three different islands.
Do I need a visa for the Seychelles?
If you're travelling on British Passports, no visa is required for stays of up to a month.
Please double check before travel however as visa requirements are subject to change at any time.
How long have you been organising holidays to the Seychelles?
We've been organising tailor made holidays to the Seychelles since 2009.
We use a very reliable local partner in the Seychelles for our tours and transfers and to assist our clients in the Seychelles. They are a family owned company who are one of the most established and respected local travel companies.
We keep up to date with developments in the Seychelles with regular visits and through our local contacts.
When is the best time to visit the Seychelles?
The driest time of year to visit the Seychelles is normally between June and September.
April to May and October to November can be the best value times of year to visit the Seychelles as these are shoulder-season periods.
View Itinerary in Detail
To view a sample holiday, click on one of the links below. This will open the itinerary up in a new window.
All of our Kenya & Seychelles Holidays are completely tailor made and we can combine different hotels and airlines to create your ideal Kenya and Seychelles Safari and Beach Holiday.
We have many other options so if you have a particular hotel in mind just let us know and we'll put together a price and itinerary for you.
Contact Us:
Call us now to speak to a Kenya & Seychelles holiday expert about your Kenya & Seychelles holiday or honeymoon to Kenya and The Seychelles.
Open 09:00 - 17:30 Mon - Fri. 09:00 - 12:00 Sat.
Standard Hotels
Masai Mara & Seychelles
3 nights at Ilkeliani Camp, Kenya 7 nights at Chalets d'Anse Forbans, Mahe, Seychelles.
Includes all Flights, Transfers, Game Drives.
10 nights from £2,595 pp
View
Superior Hotels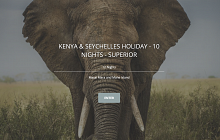 Masai Mara & Seychelles
3 nights at Porini Lion Camp, Kenya 7 nights at Constance Ephelia, Mahe, Seychelles.
Includes all Flights, Transfers, Game Drives.
10 nights from £2,995 pp
View
Deluxe Hotels
Masai Mara & Seychelles
3 nights at Ol Seki Hemingways Mara Camp, Kenya 7 nights at Banyan Tree, Mahe, Seychelles.
Includes all Flights, Transfers, Game Drives.
10 nights from £3,695 pp
View