Call us now:
0333 7000 747
Open 9 until 9 daily
Start your perfect holiday
contact us today!
7 Nights - £2,450pp
Flight Inclusive Price from UK
International flights from UK
7 nights Rhine River Cruise
All Meals
Shore Excursions
Based on 2021 - 22 prices
ATOL Protection
Travel Trust Protection
Europe - River Cruises Destinations
Holiday Confusion?
You need a Specialist
Solve my Problem
Ask us about the Rhine
Call us Now 0333 7000 747
Captivating Rhine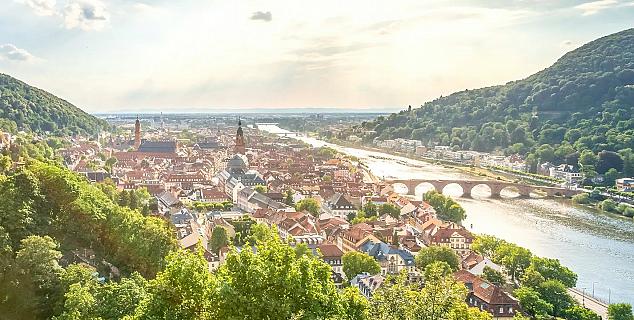 Captivating Rhine - 7 nights
Many thanks for your interest regarding a Rhine River Cruise Holiday with AMA Waterways.
Contoured by vineyard-clad hills and castles from yesteryear, the legendary Rhine captivates. Experience the allure of France's Alsace region in its welcoming capital, Strasbourg, and its priceless gem, Riquewihr.
Discover Breisach, rising above the vineyards of the Rhine, and Freiburg, one of Germany's sunniest cities and gateway to the Black Forest.
Fabled towns lost in time present you with the chance to taste local flavors—Rüdesheimer coffee and Kölsch beer—and to touch history up close with guided hikes and bike rides.
From Amsterdam's colorful canals to the majestic Swiss Alps, journey into the heart of the destinations you visit.
Please bear in mind that all of our European River Cruise holidays are tailor made and can be tailored with pre and post cruise accommodation or touring.
Inclusions
International flights from the UK
7 night Rhine River Cruise
All meals
Return airport transfers
Shore Excursions
ATOL Protection
Travel Trust Protection
Accommodation
7 nights AMA Waterways Cruise, Outside Stateroom
Highlights
Amsterdam
Cologne
Rhine Gorge
Rudesheim
Ludwigshafen
Strasbourg
Breisach
Day 1: Fly UK to Amsterdam
Fly to Amsterdam with British Airways (or with your preferred airline).
On arrival in Amsterdam you will be met and transferred to board your AMA Waterways cruise.
Board your ship for your Captivating Rhine cruise
Day 2: Amsterdam
There are 165 canals in Amsterdam, and you'll get enjoy some of them on your canal cruise. Later in the day, set sail out of Amsterdam.
Day 3: Cologne
Enjoy cruising to Cologne. Join a guided tour through the Old Town and explore the UNESCO-designated Cologne Cathedral, one of Germany's most revered Gothic masterpieces.
Continue to the Cologne Rathaus, Germany's oldest town hall, plus see other local sights. For a different view, visit a local tavern to taste its famous Kölsch beer, only made in Cologne, and reibekuchen mit apfelmus, potato pancakes typically served with applesauce.
Active adventurists will want to join a guided bike ride along the Rhine and through the historic Stadtgarten.
Day 4: Rhine Gorge - Rudesheim
Cruise through the captivating UNESCO-designated Rhine Gorge, the most stunningly beautiful stretch of the river before reaching the winemaking town of Rüdesheim.
Join a wine tasting to discover the flavors of the town's iconic vineyards. Or drink up the stunning views by soaring high above the vineyards with a gondola ride to the Niederwalddenkmal.
For a more active adventure, hike through the town's beautiful vineyards or join a guided bike tour along the scenic Rhine River.
Later in the day, let Siegfried's Mechanical Musical Instrument Museum charm you with its remarkable collection of self-playing musical instruments; or taste one of the town's special delights, Rüdesheimer coffee, ceremoniously made with brandy, coffee and whipped cream.
Day 5: Ludwigshafen
Ludwigshafen is your gateway to a choice of three excursions. Visit Heidelberg, the perfectly preserved medieval city nestled in the Neckar River Valley along Germany's Castle Road.
Discover the iconic red sandstone Heidelberg Castle and Great Vat, an 18th-century, 49,000-gallon wine cask.
For a more active adventure while in Heidelberg, join a guided hike up the Philosopher's Path, aptly named during the Romantic Period, and enjoy panoramic views of the city.
Alternatively, you can visit one of Germany's oldest cities, Speyer, known for the largest Romanesque cathedral in Europe—a UNESCO World Heritage Site—and the medieval Old Gate, Altpörtel.
Or join a guided bike tour along the shores of the river Neckar and enjoy a cycling break to explore the picturesque medieval town of Ladenburg.
Day 6: Strasbourg
Strasbourg offers flavors of both France and Germany because of its borderline location.
Enjoy a panoramic tour past the stunning Parc de l'Orangerie, the European Parliament and the Place de la République before walking through its iconic "La Petite France" district, lifted straight from the pages of a fairytale.
Wander through charming streets past the Cathédrale de Nôtre Dame with its famous astronomical clock.
Alternatively, take a guided bike ride through the city and Parc de l'Orangerie.
Day 7: Breisach
Breisach is your gateway to several different excursions. Step back in time with a visit to the enchanting Alsatian town of Riquewihr, which looks almost the same as it did in the 16th century.
On your walking tour, admire historic architecture and famous sights, such as the Dolder Gate.
Alternatively, head to Freiburg, founded in 1120 and home to the Freiburg's Münster, a Gothic cathedral said to have "the most beautiful spire on earth."
Those wishing a more active excursion can cycle through the countryside, or hike in the Black Forest, a magical land full of cultural traditions.
Please Note: Black Forest Hike is weather dependent and may only operate at certain times of year. Please refer to your final documents for details.
Day 8: Basel – UK
After breakfast, bid farewell to Switzerland and prepare for your return flight home.
Alternatively extend your stay in Switzerland.
Arrive back in the UK.
Ships
Each of AMA Waterways intimate river cruise ships is a floating sanctuary.
Ships sail with a maximum of 156 guests (during Covid restrictions this may be under 100), so that you can enjoy the luxury of personal space in larger staterooms that range from 155-350 sq ft and provide more amenities.
With fewer people on board, the inviting public spaces, including restaurants and lounges, are never crowded.
More Included Excursions

AMA Waterways offers a diverse menu of included shore excursions to accommodate all guests with a personalized experience in every port of call.
In many destinations, you'll be free to choose from one of several tours — all of which are included.
There's always a city tour designed to show you the renowned highlights and landmarks in grand capitals and charming villages alike.
Is it your first time in Vienna, Austria? Opt for an unforgettable exploration of the major sights led by a local, English-speaking guide that is well-versed in history and culture.
Have you already been to Nuremberg, Germany? Instead of taking the city tour, indulge in a bratwurst and beer tasting on one of the immersive culinary-themed Special Interest Tours, which are specially designed to place you in the midst of local life.
There are different activity levels for gentle, regular and active walkers, as well as guided hiking and biking tours. The choice is yours.
Service
The genuinely warm and welcoming crew go above and beyond to ensure your journey is as memorable as possible, and you can rest assured you will be well taken care of throughout your journey by AMA's professionally trained, all English-speaking staff.
AMA hire the very best team of professionals in the industry and continuously train them to ensure they always exceed expectations.
This means getting to know you so they can anticipate your individual preferences and offer you those extra special touches to make you feel at home.
From the Cruise Manager who drove a beloved teddy bear to the airport to meet his grateful young owner to the Hotel Receptionist who biked into town to retrieve a cherished purchase left behind, AMA's crew is more than just highly trained – they "sparkle."
Active
Explore Europe's amazing sights like the locals do. AMA was the first river cruise line to carry an entire fleet of complimentary bicycles on board, so you can experience biking alongside enchanting riverside pathways and in city centres.
Whether you feel like joining one of the exclusive guided bike tours, or want to go discover on your own, there are many ways for you to explore on two wheels during your cruise.
The beauty of Europe doesn't just lie in its architecture and landmarks – there are also breathtaking sights to be seen when you venture out into nature.
That's why AMA designed special guided hikes that will take you a bit off the beaten path, offering a unique perspective in beautiful destinations such as Austria's UNESCO-designated Wachau Valley.
All of AMA's guided hikes and bike tours are included in the cruise fare so you have more choices when it comes to how you prefer to explore.
Dining
AMA's ships in Europe are members of La Chaîne des Rôtisseurs – a prestigious international culinary society – and with good reason.
AMA's expert chefs craft menus that feature exquisite, locally-sourced cuisine as well as traditional Western offerings.
AMA is the only river cruise line that has The Chef's Table, an intimate specialty restaurant included in the price of the cruise where you can watch the chef prepare a lavish multi-course menu right in front of you.
Each dinner at The Chef's Table is served with complimentary hand-selected local reds and whites from Europe's renowned wine regions.
There's also sparkling wine and fresh juice with breakfast, menu service during lunch, as well as delicious tapas and snacks in the Main Lounge between meals.
All onboard dining, as well as unlimited wine and beer with lunch and dinner, is included so you can indulge whenever and however you'd like.
Relaxation
With fewer guests on board, there is space for luxurious amenities. Relax with a soothing massage after a day of exploring, stay in shape with a small group wellness activity led by a professionally trained Wellness Host, work out in the fitness room or watch breathtaking castles glide by while enjoying a cocktail up on the Sun Deck.
You can also take a dip in the sun-deck pool with a swim-up bar.
On any of AMA's ships, you can also recharge from the comfort of your stateroom by watching a Hollywood blockbuster or a variety of other English-language programming on your personal Entertainment-On-Demand system.
View Holidays in Detail
To view a sample holiday, click on one of the links below. This will open the itinerary up in a new window.
All of our Rhine River Cruise Holidays are completely tailor made and we can put together any kind of itinerary to suit your interests and budget.
We have many other options so if you have a particular hotel in mind just let us know and we'll put together a price and itinerary for you.
Contact Us:
Call us now to speak to a River Cruise holiday expert about your Rhine River Cruise holiday.
Call us now on 0333 7000 747
Open 09:00 - 17:30 Mon - Fri. 09:00 - 12:00 Sat.
Rhine River Cruise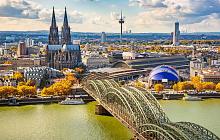 AMA Waterways Cruise
Classic Rhine River Cruise through Holland & Germany to Basel in Switzerland.
All flights, Meals, Shore Excursion included.
7 nights from £2,450 pp
View