Call us now:
0333 7000 747
Open 9 until 9 daily
Start your perfect holiday
contact us today!
10 Nights - £4,480pp
Flight Inclusive Price from UK
Ecuador & Galapagos Destinations
Holiday Confusion?
You need a Specialist
Solve my Problem
Ask us about Seaman Journey Cruises
Speak to a Galapagos Expert Today.
Seaman Journey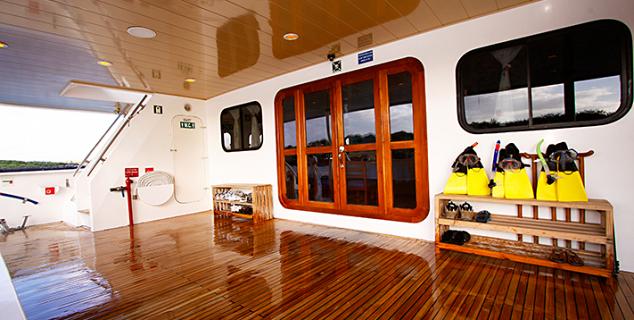 The Seaman Journey is an expeditionary first class catamaran that began sailing the Galapagos Islands in January 2008.
This expeditionary catamaran offers superior comfort, size, style, and stability.
This vessel, with a maximum capacity of 16 passengers, provides in each of its corners, areas for rest and recreation.
The Seaman Journey features 6 comfortable standard ocean view cabins and 2 stylish upper deck suites.
There is also a sun deck and a dining area. Guests can relax while having a drink at the bar or socialise at the communal lounge area.
Galapagos Seaman Journey complies with local and international safety regulations, and sustainable practices to protect the fragility of the Archipelago.
Day 1: Fly UK to Quito
Fly from the UK to Quito.
On arrival at Quito Airport you will be met and transferred to your chosen hotel.
Overnight Quito. Breakfast included.
Please note that if on an overnight flight you will arrive the following morning into Quito.
Day 2: Quito
Enjoy the morning at leisure to acclimatize with lunch on your own.
In the afternoon your guide will meet you at your hotel for a tour of Colonial Quito, concentrating on the charming old town.
Visit Independence square, flanked by the Cathedral, the Presidential Palace, the Municipal Building and the Archbishop's Palace.
Continue on foot to La Compania de Jesus and the church and square of San Francisco, one the of great religious buildings of the New World.
Dinner is served at Casa Gangotena Hotel, situated in a newly restored historic mansion overlooking Plaza San Francisco.
Overnight Quito. Breakfast and Dinner included.
Day 3: Mainland – Galapagos Santa Cruz Island
Fly from Quito or Guayaquil to the Galapagos Islands.
Upon arrival at Baltra Airport, travellers will pass through an airport inspection point to insure that no foreign plants or animals are introduced to the islands.
A guide will pick you up and will carry your luggage.
Visit to Ranch Mazanillo and picnic lunch. Then a short walk before going on board the Motor Catamaran.
In the afternoon, visit the Santa Cruz highlands and discover the island's variety of life and geology.
Santa Cruz offers excellent opportunities for viewing wild Galapagos Tortoises.
There are also plenty of lava tubes, sinkholes and craters to explore.
Overnight Seaman Journey. Picnic lunch and dinner included.
Day 4: Isabela Island
Morning visit to "Tintoreras", a group of small islands in front of Puerto Villamil coast.
There is Heron lava on the lookout on mangrove branch. Galapagos penguins and sea lions often pop out on shore.
White-tipped reef sharks are also fairly common in the archipelago.
In the afternoon visit the Wall of Tears, a historic site in Isabela.
The wall was built by prisoners between 1946 and 1959 using huge blocks of lava as punishment.
Overnight Seaman Journey. All meals and activities included.
Day 5: Isabela Island
Morning visit to Punta Moreno, located on the north coast of Isabela Island between the volcano Sierra Negra and Cerro Azul volcano.
Several species of birds can be found around this lakes and mangroves.
In the afternoon visit the Urbina Bay, located at the base of Alcedo Volcano on the west coast. This area is a great place for snorkelling.
In Bahia Urbina you can see a lot of Darwin's finches.
Its main attraction are the land iguanas and the Galapagos tortoises.
Overnight Seaman Journey. All meals and activities included.
Day 6: Fernandina and Isabela Islands
Visit the Espinoza Point, a place famous for its large colonies of marine iguanas.
The Espinoza Point is also home to unique species like the flightless cormorant, Galapagos hawk and Galapagos snake.
In the afternoon visit the Vicente Roca Point, located on the north-western coast of the island; comprising of two distinct inlets. This large bay has spectacular marine life.
Here you can find seahorses, sea turtles and the strange yet fascinating Mola-mola or sunfish.
This bay is a great place to enjoy some snorkelling and you will also find penguins, blue-footed boobies, terns, blue-footed boobies and sea lions here.
You can also snorkel and look out for sea turtles, stingrays and puffer fish.
Overnight Seaman Journey. All meals and activities included.
Day 7: Santiago Island
In the morning visit Espumilla beach, located on the northern coast of Santiago Island.
The main attractions are the palosanto forest and the beach, an important site for nesting marine turtles.
In the afternoon visit Puerto Egas, where a black sand beach is found on the west side of the island, formed from volcanic tuff deposits.
Overnight Seaman Journey. All meals and activities included.
Day 8: Rábida and Chinese Hat Islands
Morning visit to Rábida Island. This island is unique because of the red colour of the rocks and the sand.
A short walk along a trail leads to a coastal lagoon where there is a colony of flamingos.
In the afternoon visit Chinese Hat Island, a small islet (1 sq. km) located just off the south-eastern tip of Santiago Island.
This is an excellent visit for interpretation of geological features such as lava tubes and lava flows.
The landscape is home to sea lion colonies, marine iguanas, and Galapagos penguins.
Overnight Seaman Journey. All meals and activities included.
Day 9: Santiago and Bartolomé Islands
Enjoy a morning visit to Santiago Island, the fourth largest island in the archipelago.
The island is volcanically active, with many young flows and cones to be seen.
In the afternoon, visit Bartolome Island, situated across Sullivan Bay.
It has a high point of 114 meters and offers one of the most beautiful viewpoints in the Galapagos.
It has two beautiful beaches home to marine turtles and a very small colony of Galapagos penguins.
Overnight Seaman Journey. All meals and activities included.
Day 10: Seymour and Santa Cruz Islands
Enjoy a morning visit to Bachas beach, where two small beaches are found to the West of Turtle Cove.
The white soft sand here is made of decomposed coral, making it a favorite nesting site for sea turtles.
Behind one of the beaches there is a small brackish water lagoon, where occasionally it's possible to see flamingos and other coastal birds, such as black-necked stilts and whimbrels.
The other beach is longer and has two old barges that were abandoned during the Second World War.
After the morning excursion you will be transferred to Baltra airport for your return flight back to the mainland.
Upon arrival in Quito, transfer to your hotel.
Overnight Quito. Breakfast included.
Day 11: Quito - UK
Morning or afternoon at leisure. Private transfer to Quito International Airport for your overnight flight back to the UK.
Day 12: Arrive UK
Arrive back in the UK.
2018 - 19 Price Guide:
Includes:
International Flights from the UK
Domestic flights to the Galapagos
Airport transfers
3 nights Quito
Accommodation with all meals (on cruise)
All taxes
Return transfers
Programmed visits to the islands with a Certified Naturalist Guide
Use of snorkeling gear (mask, snorkel and flippers)
Use of kayaks
Not Included:
Entrance Fee ($100 per person)
Transit Control Card ($20 per person)
Wet suit
Alcoholic and bottled beverages
This is a guide price only, based on travel in low season.
Prices will vary according to availability of airfares on the dates of travel and seasonal hotel and airfare surcharges.
Please ask us for any current special offers.
Jasmine Bonus:
Ask us about Special Offers
Contact Us:
All of our Galapagos & Ecuador Holidays are completely tailor made and we can put together any kind of itinerary to suit your interests and budget.
Call us now to speak to a Galapagos & Ecuador holiday expert about your Galapagos & Ecuador holiday or honeymoon to Galapagos & Ecuador.
Call us now on 0333 7000 747
We're open from 9 until 9 daily and our 0333 number is a local rate number included in most call packages.