Call us now:
0333 7000 747
Open 9 until 9 daily
Start your perfect holiday
contact us today!
3 Nights - £375pp
Transfers and Breakfast Included
Holiday Confusion?
You need a Specialist
Solve my Problem
Not sure about Knai Bangg Chat?
Speak to someone who's stayed
Knai Bang Chatt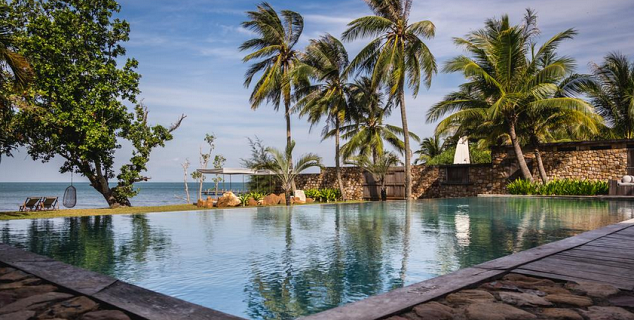 Pool
View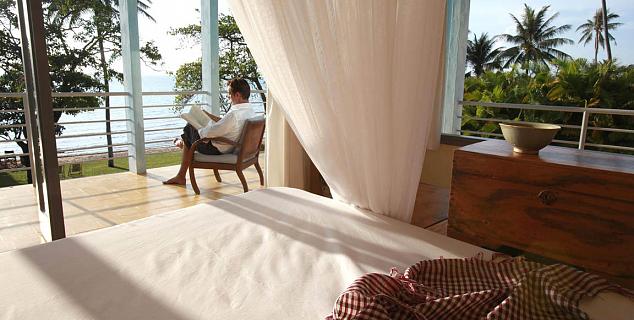 Room 6
Strand Restaurant
View
Understated luxury
Knai Bang Chatt (meaning the halo around the Buddha's head) is the only 'luxury' hotel in Kep and offers the chance to enjoy a relaxing seaside holiday in Cambodia after a tailor made tour of Cambodia.
Knai Bang Chatt offers understated luxury in a fabulous setting. Rooms are spacious but minimalist, decorated in earthy tones and accented with Khmer art and artefacts. The seafront setting is idyllic, with lawns surrounding a swimming pool and over-looked by two magnificent trees.
Just 18 uniquely designed rooms are set in three renovated villas, designed with large terraces open to views of the lawns, sea and islands.
In the 1950's Kep was something of a glamorous seaside destination for the Cambodian elite who built large villas by the sea. During the Khmer Rouge era, these villas fell into a state of disrepair. Such was the fate of the 3 villas at Knai Bang Chatt.
The iconic Blue Villa once belonged to the Governor of Kep, the Grey Villa was owned by a relative of the King, the Red Villa owned by the Head of Customs. In 2006 the villas were bought by a Belgian couple and restored to their original grandeur, with a new villa building added and a charming boutique hotel was brought to life.
Throughout Knai Bang Chatt, trees, pebbled pathways, and natural bamboo screens define the open space and time-weathered wood is transformed into seating and dining areas that blend seamlessly into the relaxed and beautiful surroundings.
7 new rooms were added in a fifth villa at the end of 2012 and existing rooms were upgraded and enhanced with the addition of Khmer artefacts and artworks.
Knai Bang Chatt is also a great location for enjoying some activities such as a Cambodian Cooking Class, yoga, or visits to riverside Kampot or some of the nearby islands.
What's so Special?
It's the setting of Knai Bang Chatt on a very tranquil stretch of Cambodian coastline, which is the real highlight of this boutique hotel. The luxury is in the peaceful setting, the hammocks strung between the trees, the sunsets and the sense of tranquillity.
The sunsets are simply spectacular and the Sailing Club restaurant is the ideal spot from which to admire the views.
The original 3 villas date back to the 1970's and were designed by protégés of Vann Molyvann, himself a pupil of world-renowned architect Le Corbusier.
The owners of Knai Bang Chatt support the local community through a charity 'Hand in Hand', which supports initiatives including training staff into the hospitality industry.
Bear in mind
Don't expect a glorious beach. In fact there's hardly really a beach at all, the sea laps up against the sea wall.
The beauty of Knai Bang Chatt is the lovely seaside setting, so don't book a stay at Knai Bang Chatt expecting everything to be seamless and 'luxury' in the '5 star' sense. The philosophy is more simplicity and the Japanese concept of 'beauty in imperfection'. Rooms don't feature TV's.
This is Cambodia, and service standards may not always reach the standards of neighbouring countries, so bear this in mind.
Our experience has been that the staff are overwhelmingly friendly and charming at Knai Bang Chatt and indeed the hotel helps in training local young people into the service industry.
Rooms at Knai Bang Chatt are spacious with views over the carefully tended gardens or the sea. Minimally furnished, each room has a large bathroom and plenty of space, creating a light and airy feel.
All rooms are just a few steps away from the pool and the water. Rooms don't feature TV's. Rooms have a focus on earthy tones and natural materials such as wooden beds.
Single Room
Knai Bang Chatt has one single room, Room 5 (21 sq. m.) located on the first floor of the iconic Blue Villa.
This room has a twin bed, a large beautifully tiled bathroom and its own private balcony with shared use of a large terrace offering beautiful views overlooking the gardens and Gulf of Siam.
Twin Rooms
There are three twin rooms at Knai Bang Chatt.
Room 1 (26 sq. m.) is on the first floor of the Grey Villa with two double beds, a comfortable sofa, and shared use of a large outdoor terrace with scenic views out to the sea. (This room combines well with Room 2 for larger parties or families).
Room 10 (20 sq. m.) is located on the first floor of the Brown Villa and features two twin poster beds and a writing desk overlooking the tranquil gardens. (This room combines well with Room 9 for larger parties or families).
Room 14 is much larger (38 sq. m.) on the ground floor of the New Villa with an outdoor terrace and a partial sea view and can be configured as a twin or double room.
Garden Double Rooms
Room 3 (25 sq. m.) on the ground floor of the Blue Villa has a 4-poster bed and a garden view.
Room 8 (31 sq. m.) on the ground floor and Room 11 (31 sq. m.) on the first floor of the Brown Villa each have partial garden and sea views and contain a double bed, writing desk, and spacious bathroom.
Room 12 (35 sq. m.) on the ground floor of the Red Villa features natural stone walls, a sitting alcove, large bathroom, and a view overlooking the pool.
Room 15 (45 sq. m.) on the ground floor of the New Villa is unique with its own private garden and an in-room bathtub.
Room 16 (35 sq. m.) and Room 17 (39 sq. m.), two of the largest double rooms, are located on the first floor of the New Villa and feature writing desks, outdoor seating and partial sea views.
Sea View Double Rooms
Room 2 (38 sq. m.) on the first floor of the Grey Villa has an excellent sea view, separate lounge area with comfortable seating and a TV, and shared use of a private terrace with outdoor seating. (Room 2 combines well with Room 1 for larger parties or families).
Room 4 (25 sq. m.) on the ground floor and Room 6 (27 sq. m.) on the first floor of the Blue Villa, both have beautiful views of the sea and a private terrace.
Room 7 (38 sq. m.) on the ground floor and Room 9 (38 sq. m.) on the first floor of the Brown Villa feature uninterrupted sea views, seating areas, and large bathrooms.
Room 13 (37 sq. m.) on the first floor of the Red Villa has a stunning pool and sea view, sitting alcove, and special access to the outdoor sitting lounge above the Library.
Suite
The unique open plan suite, Room 18 (80 sq. m.), encompasses the entire second floor of the New Villa.
Entered through its own private staircase, the suite contains a large sleeping area, separate lounge area with comfortable seating and a flat screen TV, large double-sized bathtub, and a private terrace with spectacular views of the sea.
Features in all rooms:
Air Con
Free Wi-Fi
Mini-fridge
Safe
Bottled water
Mosquito Nets
The Strand
As one of Kep's only high-end restaurants, The Strand concept is to provide healthy and delicious cuisine from fresh and local products, including the abundant fish, crab, and seafood that is collected daily from the surrounding sea.
Also on offer are imported steaks, tasty lamb chops, succulent chicken, and a variety of fresh and local vegetables.
The Strand offers two options for fine dining – relax and enjoy the sea breeze in the open-air pavilion or stay cool in the new air-conditioned fine-dining restaurant.
Sailing Club
Sailing club is the ideal sunset bar and restaurant on Kep's coastline.
The restaurant and bar is a former fishermen's cottage built with a pier and a dock where you can swim and sunbathe or simply sit to watch the sunset and fishing boats returning home with their catches.
Facilities
Knai Bang Chatt is a small hotel but offers a watersports centre and spa.
Free bicycle use is great for exploring the quiet roads of Kep.
Facilities & activities:
Spa
Massage by qualified Shiatsu therapists
Saltwater Infinity Swimming Pool
Yoga & Meditation
Sailing Club – Hobie-cats, kayaks, speedboat
Cooking Classes
Babysitting
Table Tennis
Volleyball
Cycle hire
Coffee shop
Billiards
Table Tennis
Free bicycle use
Shared computer & Internet access in library
2019 - 20 Price Guide:
Includes:
3 nights accommodation with breakfast
Return private car transfers from Phnom Penh
This is a guide price only, based on travel in low season.
Prices will vary according to availability of airfares on the dates of travel and seasonal hotel and airfare surcharges.
Please ask us for any current special offers.
Jasmine Bonus:
Contact Us:
All of our Cambodia Holidays are completely tailor made and we can put together any kind of itinerary to suit your interests and budget.
Call us now to speak to a Cambodia holiday expert about your Cambodia holiday or honeymoon to Cambodia.
Call us now on 0333 7000 747
We're open from 9 until 9 daily and our 0333 number is a local rate number included in most call packages.
Add Phnom Penh
View
Add Siem Reap
Ultimate Luxury
View