Call us now:
0333 7000 747
Open 9 until 9 daily
Start your perfect holiday
contact us today!
12 Nights - £1,995pp
Flight Inclusive Price from UK
International flights from UK
12 nights Accommodation
Meals as specified
All transfers throughout
ATOL Protection
Travel Trust Protection
Based on 2021 - 22 prices
View Map
Holiday Confusion?
You need a Specialist
Solve my Problem
Combine Oman & Zanzibar
Call us Now 0333 7000 747
Oman & Zanzibar
Zanzibar
Fortress, Oman
Zanzibar
Oman mosque
Zanzibar Beach
Oman
Oman & Zanzibar
This simple two-centre holiday offers a great diverse and relaxing two-week holiday, combining two exotic and fascinating destinations.
You'll begin with a few days in Oman at a relaxing resort, with two full day tours of Muscat & Nizwa included which will give you a great taste of Oman.
Oman is a great destination for touring around and if you prefer to see more of the country just let us know and we'll put together an itinerary for you to discover more of Oman.
It's a great destination for a self-drive and you can easily head up into the Hajar Mountains, spend a night in a desert camp, see baby turtles hatching and drive the beautifully empty coastline.
Zanzibar was once part of the Omani empire, hence the cultural links between the two destinations.
From Muscat you'll fly to Zanzibar for a week in a boutique beach resort and enjoy a tour of exotic Stone Town.
Our Oman & Zanzibar holidays are all completely tailor made and can be adjusted to suit your exact interests and budget. Just let us know the kind of trip you would like.
For an even more exciting trip you could even add on a few days of safari in Tanzania.
Inclusions
International flights from the UK
All internal flights
12 nights Accommodation
Airport Transfers by Private Car
Meals as specified
ATOL Protection
Travel Trust Protection
Accommodation
5 nights Oman
7 nights Zanzibar
Excursions
Muscat Excursion - Full Day
Oman Forts Excursion - Full Day
Stone Town Excursion - Half Day
Driving in Oman
If you want to turn this holiday into a touring holiday in Oman, self-drive is a great way to go.
A Self Drive Holiday in Oman is a popular option for several reasons.
Roads are generally excellent throughout Oman and Self Drive holiday-makers normally don't require a 4 by 4. Most attractions in Oman are accessible with a normal saloon car.
A popular route for a Self Drive holiday in Oman is from Muscat along the scenic Route 15 West into the Hajar Mountains through the Sumail Gap.
This two-lane highway is the main route through the mountains from the coast into the interior of Oman and is normally very quiet. The drive from Muscat to Nizwa is around 1.5 hours.
This makes it possible to easily make a day trip to Nizwa from Muscat and see some of the attractions en-route, although a one or two night stay is much more preferable to really experience the region properly.
To get off into the Jebels (mountains) either side of the highway is a different matter as most require a 4 x 4. Signposting is excellent for all the major sights along the route.
One option for those looking to explore the mountains by car is to rent a normal car for the journey to and from Nizwa but switch to a 4 x 4 for one day from Nizwa in order to explore the mountains.
Alternatively many of our clients choose to take an organized excursion into the mountains or the Wahiba Sands, in a 4 x 4 accompanied by a driver guide. This ensures seeing the best of these areas and is recommended especially for those with no 4 x 4 driving experience.
Driving in Oman is on the right hand side of the road, in left-hand drive vehicles, and once out of Muscat, highways are usually very quiet.
Signs are always in English in addition to Arabic. Petrol is cheap in comparison to the UK and petrol stations are plentiful, often open 24-hours and always with an attendant to fill up your car.
It is possible to drive between Oman and the UAE but vehicles cannot be collected in one country and dropped off in the other. For those going cross-country, pre-authorization is required to cross the border, as insurance needs to be valid for both countries.
South from Muscat to Sur a relatively new highway makes travel between the two destinations a breeze and one of the most scenic drives in Oman is the coastal route between Sur and Muscat.
Driving within Muscat can be very confusing due to a complex highway and roundabout system.
Hazards of driving in Oman include goats and camels crossing the road and bear in mind that it is an offense to be in charge of an unclean car whilst driving in Oman!
View Itinerary in Detail
To view a sample holiday, click on one of the links below. This will open the itinerary up in a new window.
All of our Oman & Zanzibar Holidays are completely tailor made and we can combine different hotels, destinations and airlines to create your ideal Oman & Zanzibar holiday.
We can offer any number of hotel options in Zanzibar, so just let us know if you have a preferred hotel for your beach stay.
Contact Us:
Call us now to speak to an Oman & Zanzibar holiday expert about your Oman & Zanzibar Holiday.
Call us now on 0333 7000 747
Open 09:00 - 17:30 Mon - Fri. 09:00 - 12:00 Sat.
Standard Hotels
Oman & Zanzibar
5 nights Sifawy Boutique Hotel, Oman, 7 nights Sunshine Hotel, Zanzibar.
Includes all Flights, Airport Transfers, Breakfast.
12 nights from £1,895 pp
View
Superior Hotels
Oman & Zanzibar
5 nights Shangri La Al Jissah, Oman, 7 nights Sunshine Marine Lodge, Zanzibar.
Includes all Flights, Airport Transfers, Breakfast.
12 nights from £2,295 pp
View
Deluxe Hotels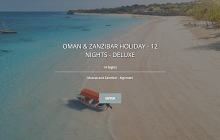 Oman & Zanzibar
5 nights The Chedi Muscat, Oman, 7 nights Baraza Resort & Spa, Zanzibar.
Includes all Flights, Airport Transfers, Breakfast.
12 nights from £2,995 pp
View