Call us now:
0333 7000 747
Open 9 until 9 daily
Start your perfect holiday
contact us today!
14 Nights - £5,550pp
Flight Inclusive Price from UK
International flights from UK
All Airline Taxes
14 nights Accommodation
Breakfast & Some Other Meals
Return Airport Transfers
ATOL Protection
Travel Trust Protection
Based on 2023 - 24 prices
View Map

Holiday Confusion?
You need a Specialist
Solve my Problem
Unforgettable Peru & Bolivia
Contact us and request a quote Now!
Peru & Bolivia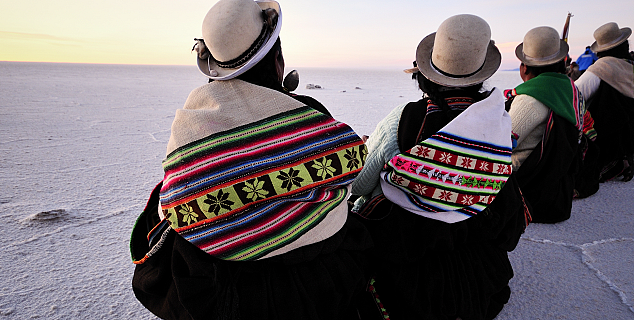 Uyuni Salt Flats
Machu Picchu
Lake Titicaca
Rail across the Andes
La Paz
Uyuni Salt Flats
Uyuni Salt Lake
Cusco
Peru & Bolivia
An unforgettable journey through Peru and Bolivia.
Begin in Lima and experience the city's mouth-watering cevicherias (ceviche restaurants). Enjoy pisco sour (Peru's national cocktail) and visit the historic town and Lima's most interesting neighbourhoods.
Fly to Cusco, the heart of the Inca Empire and explore this colonial city with its colourful markets.
Continue to the Sacred Valley and discover Pisac and Ollantaytambo.
Take the train to Machu Picchu Town, the base from which to explore Machu Picchu.
Return to Cusco and get ready to discover the world's highest navigable lake, Titicaca.
Road transfer to Copacabana in Bolivia to explore the Bolivian side of Lake Titicaca.
Next up, visit Bolivia's capital, La Paz and fly to Uyuni Salt Flats, the biggest salt flat in the world, a spectacular climax to this South American journey.
As with all of our Peru & Bolivia Holidays, this one can be tailored to your interests, timescale and budget.
Inclusions
International flights from the UK
All Airline Taxes
Check in Baggage
8 nights Accommodation
Return Airport Transfers
Guided Excursions
V.I.P. Bus from Cusco to Puno
ATOL Protection
Travel Trust Protection
Accommodation
2 nights Lima
2 nights Cusco
2 night Sacred Valley
1 night Machu Picchu
1 night Puno
2 nights Isla del Sol, Bolivia
2 nights Colchani, Bolivia
2 nights La Paz, Bolivia
Excursions
Guided Tour Lima
Guided Tour Cusco
Guided Tour Sacred Valley
Guided Tour Machu Picchu
Guided Tour Lake Titicaca
Guided Tour Isla del Sol
Guided Tour La Paz
Guided Tour Uyuni Salt Flats
View Itinerary in Detail
To view a sample holiday, click on one of the links below. This will open the itinerary up in a new window.
All of our Peru Holidays are completely tailor made and we can put together any kind of itinerary to suit your interests and budget.
We have many other options so if you have a particular hotel in mind just let us know and we'll put together a price and itinerary for you.
Contact Us:
Call us now to speak to a Peru holiday expert about your Peru holiday or honeymoon to Peru.
Call us now on 0333 7000 747
Open 09:00 - 17:30 Mon - Fri. 09:00 - 12:00 Sat.
Superior Hotels
Peru & Bolivia
See the Best of Peru & Bolivia in 2 weeks on this superb journey across the high Andes.
Lima, Sacred Valley, Machu Picchu, Cusco, Lake Titicaca, La Paz, Uyuni Salt Flats.
12 nights from £4,550 pp
View