Call us now:
0333 7000 747
Open 9 until 9 daily
Start your perfect holiday
contact us today!
8 Nights - £5,495pp
Flight Inclusive Price from UK
International Flights from UK
Domestic Flights in Zambia
8 nights Accommodation
Full Board
Game Viewing Activities
Park fees
ATOL Protection
Travel Trust Protection
Based on 2021 - 22 Prices
View Map
Holiday Confusion?
You need a Specialist
Solve my Problem
Ask us about Zambia Safaris
Call us Now 0333 7000 747
Luxury Walking Safari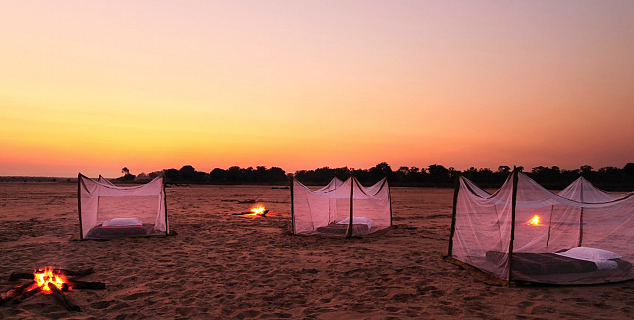 Norman Carr Walking Safari
This is a unique opportunity to spend 9 days on safari in Zambia's premier safari park, the South Luangwa National Park with time spent exploring the park and tracking big game, mostly on foot.
This itinerary is ideal for the adventurous walking safari enthusiast as this is as close to the real African wilderness as one can get, on one of the very best walking safaris in Africa.
You can look forward to staying in some of the best safari camps in Zambia and being guided by some of the very best walking safari guides in Zambia.
This is remote Africa at its best, with stunning locations where you are unlikely to see any other vehicles or people in the wildest and remotest parts of the bush.
The accommodation is luxurious throughout - you'll be staying at 4 different Norman Carr Safari Camps in Zambia. Norman Carr pioneered Safari Tourism in the South Luangwa and is considered a founding figure of the Zambian Safari industry.
Zambia offers what many old Africa hands consider the most authentic safari destination and this is the perfect way to experience the Zambian wilderness.
As with all of our African Safari holidays, this one can be tailor made to suit your requirements.
Inclusions
International flights from the UK
Domestic flights in Zambia
Accommodation as specified
Full Board
National Park & Conservancy Fees
ATOL Protection
Travel Trust Protection
Accommodation
Activities
Game Activities on Safari
Day 1: Fly UK to Mfuwe
Fly from Heathrow to Lusaka via Dubai with Emirates (or with your preferred airline).
Day 2: South Luangwa National Park
Connect with your flight from Dubai to Lusaka.
On arrival at Lusaka International Airport you will be met by our representative and assisted with immigration and customs procedures and assisted with your check-in for your flight to Mfuwe.
Fly to Mfuwe with Proflight Zambia.
On arrival you will be met and transferred to your safari lodge in the South Luangwa National Park.
Upon arrival in camp, take it easy and relax after your long trip, a sundowner in camp is a great start to your 5 nights bush experience.
Day 3: South Luangwa National Park
Time + Tide Luwi is a remote and what we would term 'traditional' bush-camp with only 4 rooms, each made of reed and thatch.
Remoteness is the order of the day at this camp as no other tourists will be encountered in this area of the Park. Luwi is predominantly a walking camp with short night drives complimenting morning and afternoon walks.
Day 4: South Luangwa National Park
Transfers from Luwi to Nsolo are usually done on foot as a morning walking safaris.
The 4 rooms at Nsolo are very spacious, set on raised wooden decks with grass walls and thatch roofs. Each room is designed differently and has its own veranda and private views across the Luwi sand river bed.
Day 5: South Luangwa National Park
This solar-powered camp is frequented by trumpeting elephants, and the river lures hungry crocodiles and honking hippos who are sure to give you a show.
The surrounding area boasts the elusive wild dogs of Africa, who frequently den nearby, and is also a favorite spot for honey badgers, two animals you should have on your safari bucket list.
Nsolo is run by an excellent team, and has a reputation for its incredible guides and incomparable walking safaris, as well as attentive staff and mouth-watering food. You'll find this unique location has everything you want in a bush camp, and more.
Day 6: South Luangwa National Park
You will have a choice this morning as to whether you walk or drive to Kakuli but it is quite common to do a bit of both, driving out of camp after dawn to a spot further down the Luwi River from where you start your walk, your bags are driven to Kakuli and will be awaiting your arrival as will a cool drink and a hearty brunch.
This beautiful camp has 5 traditional walk-in safari tents each with en-suite bathrooms made with natural materials.
The bar and dining chitenje (lounge) is constructed of reed and thatch forming the centre point of camp.
Day 7: South Luangwa National Park
Time and Tide Kakuli is set on the confluence of the Luwi and Luangwa Rivers commanding an impressive view up a stretch of the Luangwa River that is home to several hundred hippo.
Activities at this camp are a mixture of walking and driving and the area immeditaely surrounding camp is one of the most game-rich in all of the Luangwa eco-system.
Day 8: South Luangwa National Park
This morning you will transfer to Tima + Tide Mchenja.
It's most common to walk from Kakuli to Mchenja as it is an easy, beautiful and usually pretty productive stroll.
Mchenja is one of the Luangwa's best appointed camps and will be your home for the next two nights.
The camp is shaded by a grove of ebony tress (Mchenja is the local name for these trees), the rooms have canvas walls and thatch roofs and there is a small pool to one end of the camp.
The tents are custom designed, each has a roll top bath and stunning views of the river, there is also a small plunge pool in the main Chitenge which is excellent for some relief in the warmer months.
You will have ample opportunity to explore the area both on foot and in open 4x4 vehicles with a guide.
Day 9: South Luangwa National Park
Walking safaris are one of the main activities in this pristine place, a chance to explore the bush on a different level.
As has been the norm for the past week you will be given the choice as to whether you walk or drive however, and most people enjoy a mixture of both.
Under the guidance of the camps professional guides and escorted by an armed park scout, you'll embark on a slow-paced wander looking for different wildlife species and taking the time to hear about nature's wonders too often overlooked on game drives.
Exploring the bush on foot, being on the ground in the vicinity of wild animals is exhilarating and a highlight of most people's Zambian safari.
Walking safaris often begin and end at the camp.
Of course if you don't wish to go on a walking safari, you don't have to - the Game Drives are excellent.
Day 10: Fly back to the UK
You will be collected from your lodge and transferred to Mfuwe Airport for your onward flight.
Fly to Lusaka to connect with your international flight.
Fly to Dubai with Emirates to connect with your flight back to the UK.
Day 11: Arrive UK
Fly from Dubai to Heathrow with Emirates.
Arrive back in the UK.
View Itinerary in Detail
To view a sample holiday, click on one of the links below. This will open the itinerary up in a new window.
All of our Zambia Walking Safari Holidays are completely tailor made and we can combine different hotels and airlines to create your ideal Zambia Safari.
We have many other options so if you have a particular hotel in mind just let us know and we'll put together a price and itinerary for you.
Contact Us:
Call us now to speak to a Zambia Holiday expert about your Zambia Walking Safari Holiday or honeymoon to Zambia.
Open 09:00 - 17:30 Mon - Fri. 09:00 - 12:00 Sat.
Deluxe Camps
Zambia Walking Safari
Enjoy an iconic Zambia Walking Safari holiday, staying at 4 Norman Carr Safari Camps in the South Luangwa.
Includes all Flights, Transfers, Game Activities, Full Board.
8 nights from £5,595 pp
View