Call us now:
0333 7000 747
Open 9 until 9 daily
Start your perfect holiday
contact us today!
7 Nights - £2,950pp
Flight Inclusive Price from UK
The Maldives Destinations
Holiday Confusion?
You need a Specialist
Solve my Problem
Ask us about Mirihi Island
Request a Quote Now!
Mirihi Island Resort
Beach
Aerial View
Beach Villa
Muraka Restaurant
Snorkelling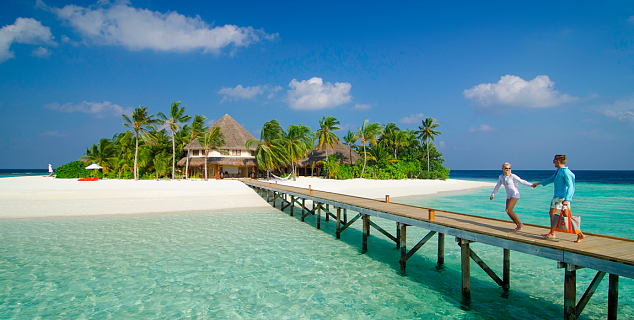 Water Villas
Mirihi Island Resort
Mirihi Island Resort is set on a secluded Maldives island in the South Ari Atoll, a picturesque 30-minute seaplane ride from Male.
This tiny emerald gem of an island is just 350 meters long and 50 meters wide with a sparkling palm-fringed beach of fine white sand.
Mirihi Island Resort offers barefoot chic and the perfect destination for a luxury honeymoon to the Maldives.
Mirihi has all the elements – white talcum powder soft beaches, a turquoise lagoon, palm trees and a stunning house reef.
There are plenty of activities on offer at Mirihi Island, from water sports, to diving and spa treatments.
The dining gets very good feedback and the buffet menu at Dhonveli restaurant varies nightly.
What's so Special?
The house reef is fantastic, so snorkellers will have a great time at Mirihi Island.
Turtles are common and manta rays can be seen in season. Divers have a choice of 40 dive sites and a good chance of seeing magnificent whale sharks.
One night a week enjoy the free cava and cocktails evening. We can't guarantee this fine institution will continue but enjoy it whilst it does.
'Mirihi' refers to the small exquisite yellow flowers found all around the island.
Bear in mind
The hammocks are very inviting – try not to spend all day in one of the hammocks.
Sorry – no jet skis, no screaming kids, no nightclub. Kick off your shoes. Relax. Your shoes will be escorted to your room with your luggage.
Mirihi was totally refurbished in 2014.
Beach Villas
There are just 6 tastefully appointed Beach Villas (53 sq. m.) spread over the island.
All Villas feature designer furnishing, polished wooden floors, King-size or twin beds and separate sitting areas.
Beach Villas have an oversized open-air bathroom with a luxurious fresh water shower as well as direct access to the beach.
Features:
Air con & ceiling fan
Free Wi-Fi
iPod dock
CD
Minibar
Tea and coffee making facilities
Nespresso machine
IDD phone
Safe
From buffets and world-class a la carte restaurant to intimate private dining anywhere on the island, Mirihi offers a wide variety of superb cuisine to satisfy every appetite and occasion.
Dhonveli
Dhonveli has a traditional sand floor and offers daily buffets and is open for breakfast, lunch and dinner.
Muraka
Enjoy a Cocktail while watching the dazzling Sunset from the deck and stay for a romantic dinner at Muraka, which serves a-la-carte meals.
Anba Bar
Anba is the perfect spot for cocktails, relaxing and socialising, open from morning until late, with occasional live music and other special events.
Ocean Pro Diving
Mirihi offers some excellent diving and Ocean Pro Diving caters for all levels, from beginners who want to just give diving a try to experienced divers.
There are over 40 great dive sites nearby. Whale sharks are active the year round which is a unique aspect for Mirihi.
Snorkelling
Mirihi has one of the best house reefs in the Maldives and consequently is one of the best snorkelling destinations in the Maldives.
Snorkelling the house reef at night and snorkelling with Whale Sharks and Manta Rays are possibilities with a stay at Mirihi.
Duniye Spa
A range of therapies and spa treatments is available at Duniye Spa.
Facilities:
Swimming Pool
Spa
Diving
Kayaks
Wind surfers
Fishing
Snorkelling safaris
Island hopping
Gym
Which Airlines do you use?
We work with all the major airlines flying to the Maldives.
Typically for the Maldives we will use British Airways for direct flights to the Maldives between November and March.
Sri Lankan Airlines is also a great option for flights to the Maldives, especially of course if combining the Maldives with a Sri Lanka tour.
The flying time for direct flights is around 10 hours, making the Maldives a little shorter flying time than going to South East Asia.
We also commonly use Emirates via Dubai, Qatar Airways via Doha and Etihad via Abu Dhabi. These all allow stopover options in the Arabian Gulf to create a multi-centre holiday.
Regional connections from across the UK are available.
Which Hotels do you use?
We're careful with our choice of resorts in the Maldives, but we're guided by our customers also. If you have some preferred hotels, just let us know.
We specialise in boutique & luxury hotels and so we will often suggest some of our favourite smaller luxury hotels where we think these will be suitable.
We understand that choosing a resort in the Maldives can be a bit bewildering, especially as they all look so similar!
That's where our expertise can help - it's always useful to speak to someone who's been to lots of different islands in the Maldives.
Do I need a visa for the Maldives?
If you're travelling on British Passports, no visa is required for stays of up to a month.
Please double check before travel however as visa requirements are subject to change at any time.
How long have you been organising holidays to the Maldives?
We've been organising tailor made holidays to the Maldives since 2009.
We use a very reliable local partner in the Maldives for transfers and to assist our clients in the Maldives. They are a family owned company who are one of the most established and respected local travel companies.
We keep up to date with developments in the Maldives with regular visits and through our local contacts.
When is the best time to visit the Maldives?
The driest time of year to visit the Maldives is normally between November and March. This is high season in the Maldives and you can expect dry and settled conditions most of the time.
What board basis should I choose in the Maldives?
You'll find there is a wide range of options in the Maldives, from b&b, Half and Full Board, All Inclusive and variations on All Inclusive options.
Because of the isolated location, dining in the Maldives is expensive by almost any standard. Bear this in mind when comparing meal options.
How do I get to my resort in the Maldives?
Some resorts in the Maldives can be reached by speedboat from Male. This makes for a convenient and easy transfer. You'll be met at the airport on arrival and taken on foot the short distance to your boat transfer.
Seaplane transfers in the Maldives are used for islands further afield. These are usually in 18-seater De Havilland Twin Otters which fly in daylight hours only, departing from the seaplane port next to the International Airport.
2019 - 20 Price Guide:
7 nights from £2,950 pp (Room & breakfast)
7 nights from £2,950 pp (Half board)
7 nights from £3,695 pp (Full board)
Includes:
International flights from the UK
7 nights accommodation with breakfast
Sea Plane Transfers Included
All taxes
This is a guide price only, based on travel in low season.
Prices will vary according to availability of airfares on the dates of travel and seasonal hotel and airfare surcharges. Prices can increase by as much as 50% for travel in high seasons.
Please ask us for any current special offers.
Jasmine Bonus:
Free daily breakfast
Ask us about FREE upgrade to Half Board Offers
Jasmine Early Bird Bonus:
20% Early Booking Discount Applies.
Contact Us:
All of our Maldives Holidays are completely tailor made and we can put together any kind of Maldives holiday to suit your interests and budget.
Call us now to speak to a Maldives holiday expert about your Maldives holiday or honeymoon to the Maldives.
Call us now on 0333 7000 747
We're open from 9 until 9 daily and our 0333 number is a local rate number included in most call packages.
Sri Lanka & Maldives
Add Sri Lanka
See the best of Sri Lanka on a private tour.
Combine Sri Lanka with a luxury boutique beach resort in the Maldives.
12 Nights from £2,895 pp
View
Add Dubai & Malaysia
City, Culture, Beach
Make the most of your trip with a 3 centre holiday.
Combine the Maldives with Dubai & Kuala Lumpur for a varied holiday or honeymoon.
13 Nights from £2,495 pp
View
Singapore & Maldives
Classic City & Beach
Combine 3 nights in Singapore with a week in the Maldives.
Ask us about other options in Asia to tailor make your perfect Asia & Maldives holiday.
10 Nights from £2,295 pp
View