Call us now:
0333 7000 747
Open 9 until 9 daily
Start your perfect holiday
contact us today!
7 Nights - £2,475pp
Flight Inclusive Price from UK
The Maldives Destinations
Holiday Confusion?
You need a Specialist
Solve my Problem
Ask us about Hideaway Beach Resort
Request a Quote Now!
Hideaway Beach Resort & Spa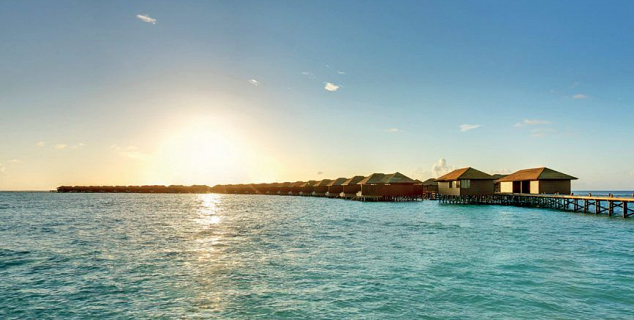 Water Villas
Aerial View
Sunset Dining
Water Suite
Restaurant
Hideaway Beach Resort & Spa
Hideaway Beach Resort & Spa at Dhonakulhi Maldives is a luxury boutique resort situated on the privately owned island of Dhonakulhi, in the north of The Maldives.
Hideaway Beach Resort & Spa offers just 48 villas, in 8 types including luxurious over water suites and huge beachfront residences.
Hideaway Beach Resort Maldives is one of the very few resorts in the Haa Alifu Atoll – a 45-minute flight and 20-minute speedboat hop from Male, capital of the Maldives.
Dhonakulhi Island is a very small, crescent shaped island - a haven of peace, tranquillity and serenity with a 1.5 km length of beach on either side. The waist-deep turquoise water surrounding the island stretches to the horizon.
Dhonakulhi Island is unique in that its reef system has a natural channel splitting it into two distinct parts, forming a natural harbour for the marina.
In addition to coconut trees, banana trees and rubber-tree-like vegetation, Dhonakulhi Island is covered by uniquely rich tropical vegetation.
What's so Special?
This is the Maldives at its most sublime – an isolated island with a perfect turquoise lagoon.
Dhonakulhi has a house reef close to the beach and there is no other commercial diving activity in Haa Alifu.
There are over 20 fabulous untouched dive sites within a 5 to 60 minute radius of Dhonakulhi Island, making this a great location for a diving and beach holiday in the Maldives.
Bear in Mind
The location means that there is a 45-minute flight to get to Hideaway Beach Resort, followed by a 20-minute boat journey.
It's worth it and the scenic flight transfer is a highlight for many as well.
Sunset Beach Villa
The rustic yet elegant Sunset Beach Villas (130 sq. m) offer the idyllic setting for a serene retreat.
Scattered across the coastline, the villas are built around an open floor-level outdoor terrace and surrounded by magnificent gardens.
The lounge and the bedroom are luxuriously furnished and supplemented by a separate dressing area, an indoor/outdoor bathroom with a Jacuzzi bathtub.
The teak flooring, wooden patio and chalk-white walls contribute to the rustic feeling and the architecture is inspired by Maldivian nature, enhanced by earthy shades of brown, beige and green.
Features:
Air Con & ceiling fan
Flat-screen TV with Satellite channels
Private bar
IDD phone
Safe
Matheefaru Restaurant
The cool coral sandy-floored Matheefaru Restaurant offers international and Maldivian cuisine. The Chefs can suggest a tailor-made menu using the freshest of fresh ingredients.
Gaafushi Restaurant
This over-water Restaurant offers fine dining and authentic Asian cuisine and seafood.
Meeru Bar
Those wanting to while away the evening to exotic drinks and snacks will find the beachfront Meeru Bar the perfect place. Meeru Bar is very popular at sunset.
Spa
Designed with care and capitalizing on the dramatic Indian Ocean location, the Hideaway Spa is an invitation to experience total wellbeing.
The sun, sand and sea motif lingers throughout the Hideaway Spa with internal waterways and water walls, open areas and sandy floors.
The delicate combination of coconut and teak timber furnishing, sukabumi stone, java rosso tumble stone, sandstone, pink slate, onyx and silk fabrics offer a journey for the senses.
Both intimate and comfortable, the 12 private treatment rooms, steam room, manicure/pedicure station, waiting and retail area welcomes you to the sound of the waves.
Facilities:
Tennis
Fitness Suite
Beach Volleyball
Bicycles
Water skiing
Parasailing
Jet skiing
Surfboard bikes
Banana boat rides
Fishing
Excursions
The Hideaway Bazaar
Desert Island Excursions
Aerial Photo Flights
Library
Which Airlines do you use?
We work with all the major airlines flying to the Maldives.
Typically for the Maldives we will use British Airways for direct flights to the Maldives between November and March.
Sri Lankan Airlines is also a great option for flights to the Maldives, especially of course if combining the Maldives with a Sri Lanka tour.
The flying time for direct flights is around 10 hours, making the Maldives a little shorter flying time than going to South East Asia.
We also commonly use Emirates via Dubai, Qatar Airways via Doha and Etihad via Abu Dhabi. These all allow stopover options in the Arabian Gulf to create a multi-centre holiday.
Regional connections from across the UK are available.
Which Hotels do you use?
We're careful with our choice of resorts in the Maldives, but we're guided by our customers also. If you have some preferred hotels, just let us know.
We specialise in boutique & luxury hotels and so we will often suggest some of our favourite smaller luxury hotels where we think these will be suitable.
We understand that choosing a resort in the Maldives can be a bit bewildering, especially as they all look so similar!
That's where our expertise can help - it's always useful to speak to someone who's been to lots of different islands in the Maldives.
Do I need a visa for the Maldives?
If you're travelling on British Passports, no visa is required for stays of up to a month.
Please double check before travel however as visa requirements are subject to change at any time.
How long have you been organising holidays to the Maldives?
We've been organising tailor made holidays to the Maldives since 2009.
We use a very reliable local partner in the Maldives for transfers and to assist our clients in the Maldives. They are a family owned company who are one of the most established and respected local travel companies.
We keep up to date with developments in the Maldives with regular visits and through our local contacts.
When is the best time to visit the Maldives?
The driest time of year to visit the Maldives is normally between November and March. This is high season in the Maldives and you can expect dry and settled conditions most of the time.
What board basis should I choose in the Maldives?
You'll find there is a wide range of options in the Maldives, from b&b, Half and Full Board, All Inclusive and variations on All Inclusive options.
Because of the isolated location, dining in the Maldives is expensive by almost any standard. Bear this in mind when comparing meal options.
How do I get to my resort in the Maldives?
Some resorts in the Maldives can be reached by speedboat from Male. This makes for a convenient and easy transfer. You'll be met at the airport on arrival and taken on foot the short distance to your boat transfer.
Seaplane transfers in the Maldives are used for islands further afield. These are usually in 18-seater De Havilland Twin Otters which fly in daylight hours only, departing from the seaplane port next to the International Airport.
View Itinerary in Detail
To view a sample holiday, click on one of the links below. This will open the itinerary up in a new window.
All of our Maldives Holidays are completely tailor made and we can combine different hotels and airlines to create your ideal Maldives escape.
We have many other options so if you have a particular hotel in mind just let us know and we'll put together a price and itinerary for you.
Contact Us:
Call us now to speak to a Maldives holiday expert about your Maldives holiday or honeymoon to the Maldives.
Call our Maldives line now on 01484 432 140
Open 09:00 - 17:30 Mon - Fri. 09:00 - 12:00 Sat.
Sunset Beach Villa
50% Discount
7 nights at Hideaway Beach Resort - Sunset Beach Villa.
Includes all Flights, Transfers, Breakfast.
7 nights from £2,475 pp
View
Deluxe Water Villa
50% Discount
7 nights at Hideaway Beach Resort - Deluxe Water Villa.
Includes all Flights, Transfers, Breakfast.
7 nights from £2,875 pp
View