Call us now:
0333 7000 747
Open 9 until 9 daily
Start your perfect holiday
contact us today!
12 Nights - £3,595pp
Flight Inclusive Price from UK
International Flights from the UK
All taxes
3 nights Havana
9 night Star Flyer
All meals on board
Shore Excursions
Airport transfers
View Map
Holiday Confusion?
You need a Specialist
Solve my Problem
Cuba Cruise with Star Flyer
Speak to an expert Now!
Cuba Cruise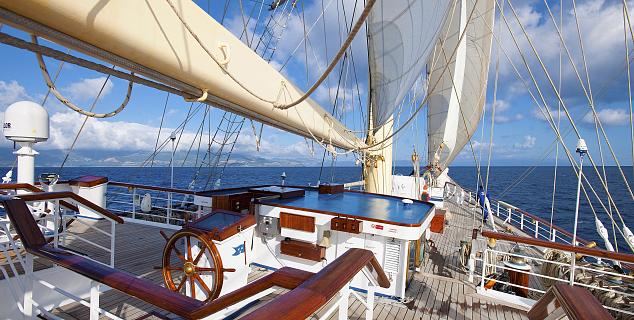 Sail around Cuba on the beautiful tall ship Star Flyer.
Begin with a couple of days to explore Havana with a guided excursion and some time on your own.
From here fly to Cienfuegos to board Star Flyer to begin your Cuba sailing holiday with Star Clipper.
En-route back to Havana, visit Cayo Rico and Cayo Largo in the Canarreos Archipelago, a marine wildlife sanctuary.
Pop in at Grand Cayman in the Cayman Isles and see the real-life inspiration for Robert Louis Stevenson's Treasure Island.
Enjoy the Caribbean before arriving back in Havana for a bit more exploration before flying back in the UK, full of memories of an unforgettable Cuban sailing adventure.
At a Glance
International flights from the UK
All domestic flights
All taxes
3 nights Havana
9 night Star Flyer
Shore excursions
All meals on board
Day 1: Depart the UK
Fly from UK to Havana.
On arrival you will be met and transferred to your hotel for overnight in Havana.
Overnight Havana. Breakfast included.
Day 2: Havana
Enjoy a full day guided excursion of Havana.
Overnight Havana. Breakfast included.
Day 3: Havana
Enjoy a full day at leisure in Havana to explore independently.
Overnight Havana. Breakfast included.
Day 4: Cienfuegos
Transfer to the airport for the short flight to Cienfuegos where you will be met and transferred to board the Star Flyer.
Overnight Star Flyer. All meals included.
Day 5: Cienfuegos
When you gaze at the lovely neo-classical homes and elegant public buildings lining the Prado, Cienfuegos mile-long main boulevard, you can see the Empire origins of this gracious city on the Bahia de Cienfuegos.
Founded in 1819 by French immigrants, Cienfuegos is a World Heritage Site which, because of the relative isolation of Cuba, has escaped the ravages of many modern cities.
Architectural highlights of the city and nearby Punta Gorda include the fanciful Palacio de Valle, the Jagua Fortress, the luxuriant Jardin Botanico, the Cathedral and the Victorian-era yacht club.
The aromas of nutmeg, cinnamon and vanilla baking in the sun - these are the tropical flavours of Grenada.
Overnight Star Flyer. All meals included.
Day 6: At Sea
Today the Star Flyer sets sail around Cuba en-route for Havana.
Overnight Star Flyer. All meals included.
Day 7: Grand Cayman
It's amazing to realize that this once unknown small Caribbean island is now the centre of once of the world's largest banking economies, the home of uncounted billions in offshore assets.
Tax-free, duty-free and largely restriction-free, Grand Cayman is a magnet for money and shopping is a full-time occupation here.
But there is another side to Grand Cayman, where endless beaches, quiet lagoons and laid-back beach bars beckon.
Grand Cayman was the first island to offer close encounters with tame sting-rays, and it is also the home of the famous Atlantis submarine tour.
Overnight Star Flyer. All meals included.
Day 8: Cayo Rico
The tiny islet of Cayo Rico is one of Cuba's hidden gems, with a desert isle feel and populated by hundred of iguanas!
Overnight Star Flyer. All meals included.
Day 9: Cayo Largo
With 28 kilometres of white sand beach, only 3 Kilometres wide and containing just a few small resorts, Cayo Largo recalls the Caribbean that used to be.
The 2nd largest island of the Canarreos Archipelago is a marine wildlife sanctuary for many species.
You'll find turtle kraals where palm-sized hatchlings are raised to adult size and released to the sea, visit an island where iguanas roam freely and then bask in a natural swimming pool of the ocean, surrounded by dunes of flour-fine sand.
Overnight Star Flyer. All meals included.
Day 10: Isla de la Juventud
Oddly enough, there are both black sand and white sand beaches on Isla de la Juventud (once named Isle of Pines, because of the lumber that is harvested here).
Punta Francis' beach is the most famous, especially for diving and snorkelling.
Isla de la Juventud was at one time a favorite haven for pirates and adventurers - Francis Drake, John Hawkins and Henry Morgan found refuge on these shores - prompting Robert Louis Stevenson to base his Treasure Island here.
There are fascinating caves containing over 200 ancient Indian pictographs. You can also visit the skeletal remains of a huge 3-domed, semi-circular prison, now abandoned, where Fidel Castro was held before the revolution.
Overnight Star Flyer. All meals included.
Day 11: Isla de la Juventud
Spend Christmas Day at sea aboard Star Clipper, sailing around Cuba.
Overnight Star Flyer. All meals included.
Day 12: Havana
Star Flyer arrives into Havana.
Overnight Star Flyer. All meals included.
Day 13: Havana - UK
Disembark Star Flyer and transfer to the airport for your flight back to the UK.
Day 14 : Arrive UK
Arrive back in the UK.
Step aboard this unique vessel and discover a new age of sail, where the traditions of the past are happily married to the comforts and amenities of the present day.
Star Flyer is a modern cruise ship in every way, created for luxury-loving passengers who also love the traditions and romance of the legendary era of sailing ships.
Star Flyer is 360 feet long and carries just 170 guests in pampered comfort.
Life aboard is blissfully relaxed, much like traveling on a private yacht.
Star Flyer offers spacious accommodation and expansive teak decks with ample space and not one, but two swimming pools.
In fact, Star Flyer offers more outdoor space per passenger than most conventional cruise ships.
The décor is reminiscent of the grand age of sail. Antique prints and paintings of famous sailing ships please the eye, while teak and gleaming mahogany rails are richly reminiscent of Star Flyer's proud nautical heritage.
Star Flyer features open-seating dining in an elegantly appointed dining room, an indoor-outdoor Tropical Bar and Piano Bar, and an Edwardian style library.
Please ask us for our early bird special offer.
More departure dates available from December 2017.
Contact Us:
All of our Cuba Holidays are completely tailor made and we can put together any kind of Cuba Cruise Holiday itinerary to suit your interests and budget.
Call us now to speak to a Cuba expert about your tailor made Cuba holiday.
Call us now on 0333 7000 747
We're open from 9 until 9 daily and our 0333 number is a local rate number included in most call packages.
12 night Star Flyer Cuba Sailing Holiday:
This is a guide price only, based on travel in low season.
Prices will vary according to choice of hotel and seasonal airfare and hotel surcharges. Please ask us for any current special offers.