Call us now:
0333 7000 747
Open 9 until 9 daily
Start your perfect holiday
contact us today!
9 Nights - £1,950pp
Flight inclusive price from UK
International Flights
Domestic flights
9 nights accommodation
Breakfast
Tours as detailed
Entrance fees
View Map

Luzon Explorer
Banaue Rice Terraces
Jeepney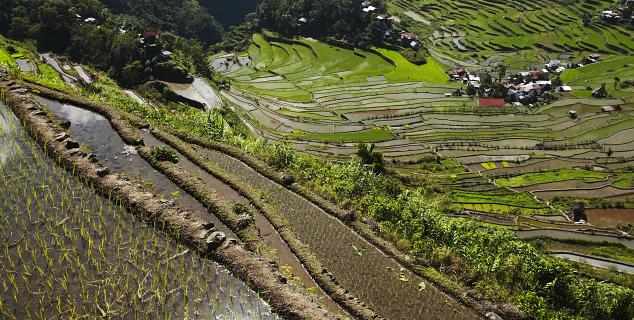 Cordilleras
Volcanic landcape
Banaue
This Classic Philippines Tour covers the best of Luzon, from Manila, northwards past Mount Pinatubo, through the Cordilleras, laid back Sagada and the rice fields of Banaue.
Begin the tour with time to explore Manila, including the historic areas of the city and an insight into the modern metropolis. Included is an excursion out to Laguna Province with a canoe ride and a visit to Pagsanjan Falls.
From Manila, head northwards through Luzon, with a visit to Tarlac and it's beautiful crater lake, a visit to the Mount Pinatubo area and a lunch of local homestyle cuisine at the wonderful Bale Dutung Restaurant.
Drive through the spectacular Cordilleras to Baguio and on to the laid-back mountain town of Sagada, in an area rich in culture and scenery.
Finally reach one of the highlights of Luzon, the spectacular rice terraces of Banaue, before returning to Manila.
At a glance
4 nights Manila
1 night Clark
1 night Baguio
1 night Sagada
2 nights Banaue
Historic Manila
Laguna Province
Mount Pinatubo
Tarlac Crater Lake
Hanging Coffins
Waterfalls
Canoe Ride
Banaue Rice Terraces
Day 1: Fly UK – Manila
Overnight flight from the UK to Manila.
Day 2: Manila
On arrival transfer to hotel with the rest of the day at leisure.
Overnight Manila.
Day 3: Manila
Enjoy a full day tour of Manila, old and new. Drive through the Cultural Centre of the Philippines grounds by Manila Bay with a stop at Rizal Park & Fort Santiago. Visit Manila Cathedral, Casa Manila - a replica of a 17th century house, San Agustin Church and its museum.
Drive through Quiapo, downtown Manila and stop to see the Chinese Cemetery before proceeding to Navotas to see the 'Bat People', who live under the bridges of Navotas.
Afterwards visit Payatas, now called 'Smokey Valley', the biggest garbage dump in the Philippines and one of the three biggest slums in the world. This is an eye-opening insight into the reality of life for many in the developing world.
En-route back to your hotel, pass by Makati City, the business district of Manila, which is a stark contrast to the visit to Smokey Valley. The rest of the day is at leisure.
Overnight Manila. Breakfast included.
Day 4: Manila – Bacolor – Baguio
After breakfast, depart for Laguna Province with a stop in Los Banos to visit the International Rice Institute (IRRI), an independent, non-profit rice research and training organization for an insight into rice growing and it's importance in Filipino life.
From Los Banos, journey further south to the town of Pagsanjan and enjoy a short dugout canoe ride to the famed Pagsanjan Falls. Spend some time at the falls for a swim or a raft ride under the falls.
Return to a resort in Pagsanjan for lunch before returning to Manila. En-route, visit the towns of Liliw, Paete and Pakil to see the local woodworking craft skills.
Overnight Manila. Breakfast & Lunch included.
Day 5: Clark Air Base
Drive to Tarlac by Jeepney across dramatic terrain. From Tarlac, trek for an hour towards the crater-lake, a nice spot for a swim.
Return to the junction for lunch and on to San Fernando, one of hundreds of towns devastated by Mt. Pinatubo's eruption in 1993. Visit the Basilica, now three quarters buried in Lahar (volcanic flow).
Visit 'Bale Dutung' the residence and restaurant of artist & writer Claude Tayag for a home-style Kapampangan cooking lesson and feast.
Mr. and Mrs. Tayag will serve you with authentic Kapampangan dishes and some very entertaining stories about the history of Bale Dutung!
Overnight Clark. Breakfast & Lunch included.
Day 6: 
Baguio
After breakfast drive to San Carlos in Pangasinan, the 'Mango-Bamboo Capital of the Philippines'. A mango expert will guide you through the plantation with opportunities to pick the mangoes and sample the fruit!
Drive north to Baguio, the summer capital of the Philippines and the gateway to the Cordillera at a height of 1500 m.
The drive through the countryside, ascending up through zigzagging roads of Benguet is spectacular.
Enjoy an afternoon tour of Baguio City. Visit Burnham Park, Mines View Park, Camp John Hay, Baguio Cathedral, Tam-Awan Village with its reconstructed Ifugao and Kalinga huts and also a venue for art exhibits and workshops, the Woodcarver's Village and Saint Louis Filigree Shop.
Overnight Baguio. Breakfast & Dinner included.
Day 7: Sagada - Bontoc
After an early breakfast, depart for Sagada. On the road, there are scenic views of the spectacular vegetable terraces, the 'Salad Bowl of the Philippines'.
Visit Bontoc, the mountain province's capital and crossroads. Spend some time in the Bontoc Museum, which was founded by a couple of Belgian sisters.
In Sagada, explore this quaint little town with its towering pines, 400 year-old hanging coffins, caves used as burial grounds by the natives, dramatic limestone cliffs and nearby scenic falls.
Visit nearby Bomod-ok and Bokong Falls, Danom Lake and a weaving shop. Enjoy a short trek along simple trails, to picturesque viewpoints. Dinner is at Masferre Restaurant.
Overnight Sagada. Breakfast & Dinner included.
Day 8:
 Banaue
Proceed to Banaue, with lunch (not included) at a local restaurant en-route.
Arrive in Banaue by late afternoon, where the spectacle is breathtaking - whole chains of mountains terraced from top to bottom for the cultivation of rice, sculpted and curved from the steep mountainside by the Ifugaos with their bare hands and crude stone implements centuries ago.
If time permits, explore the villages around the hotel.
Overnight Banaue. Breakfast & Dinner included.
Day 9: Banaue
Ride a Jeepney with a stop at a Rice Terrace Viewpoint before visiting the village of Banga-An.
Take a 20-minute trek down through the terraces to meet the Ifugao Villagers. There is the opportunity to do the Batad trek from here to Bangaan Village.
Overnight Banaue. Breakfast & Dinner included.
Day 10: Banaue – Manila
Return to Manila with lunch at a local restaurant en-route.
Overnight Manila. Breakfast included.
Day 11:
 Manila – UK
Transfer to the airport for your flight back to the UK
Day 12: Arrive UK
Arrive back in the UK
Baguio
Baguio City is nestled on a high plateau in the cordilleras at an altitude of 1500 metres, surrounded by pine-clad hills. The temperature is refreshingly cooler here and the surrounding hills are great for walking trips.
Bontoc
Bontoc is known for it's vegetable and rice terraces, with walls made of rocks rather than the mud terraces of more well-known Banaue.
Sagada
Sagada is a quaint and charming little town surrounded by towering pines. Highlights include the 400 year-old hanging coffins, caves used as burial grounds by the natives, dramatic limestone cliffs and nearby scenic falls.
Banaue Rice Terraces
The UNESCO World Heritage protected Rice Terraces of Banaue are one of the most amazing sights in South East Asia and definitely the highlight of a visit to the Cordielleras. The Banaue rice terraces have been developed by local farmers for over 2,000 years.
9 nights Luzon Explorer - Standard:
This is a guide price only, based on travel in low season.
Prices will vary according to choice of hotel and seasonal airfare and hotel surcharges. Please ask us for any current special offers.
All of our Classic Philippines Tours are completely tailor-made and can be adjusted to suit your interests or budget.
Standard Hotel Suggestions Manila:
Bayleaf Hotel