Call us now:
0333 7000 747
Open 9 until 9 daily
Start your perfect holiday
contact us today!
7 Nights - £1,695pp
Flight Inclusive Price from UK
The Maldives Destinations
Holiday Confusion?
You need a Specialist
Solve my Problem
Considering Coco Palm Dhuni Kolhu?
Request a Quote Today!
Coco Palm Dhuni Kolhu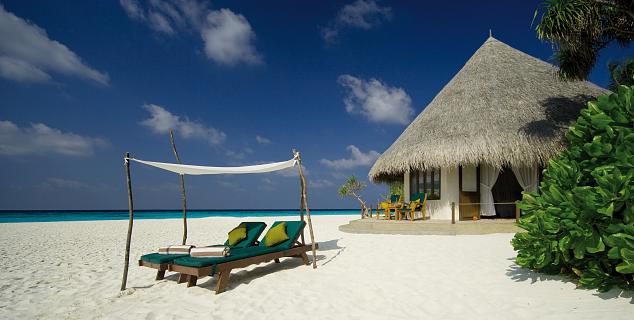 Beach Villa
Beach Villas
Beach Villa
Coco Palm Dhuni Kolhu
Located on the private island of Dhuni Kolhu, in the Baa Atoll, Coco Palm Dhuni Kolhu is the ultimate hideaway in the Maldives.
Coco Palm Dhuni Kolhu is just 124 km or a scenic 30-minute flight by seaplane from the International Airport in the Maldives.
Coco Palm Dhuni Kolhu has 98 delightful thatched villas with 5 different categories, either dotted among palm trees offering peaceful tranquility, or on stilts over the lagoon, with spectacular views of the ocean and nearby desert islands.
Set on this lush and tropical island, the resort is fringed by white sandy beaches surrounded by a crystal clear emerald lagoon.
What's so Special?
The architecturally impressive large tent-like pavilions that house the restaurants and bars in Coco Palm Dhuni Kolhu are a striking highlight.
Snorkellers will be very happy here as the house reef is less than 10 metres from the beach.
Bear in Mind
Wi-Fi is only offered in Lagoon Villas and Sunset Lagoon Villas but is also available at the Conch Bar and Reception.
Deluxe Villas
Nestled amidst the lush vegetation on the Eastern shores of Coco Palm Dhuni Kolhu are 27 Deluxe Villas (87 sq. m.) providing ultimate exclusivity.
Complemented with items reflecting traditional Maldivian touches, these spacious villas enhance the rustic romantic feel of the island with a Four-poster bed, sunken bath in the open-air bathroom and a private fresh-water plunge pool on the outdoor terrace.
Wake up to the gentle sound of the waves brushing against the shore and just a few steps further along your own pathway canopied with lush greenery, awaits the soft white sandy beach lit up with the rays of the rising sun.
Features in all villas:
Air Con
Ceiling fan
Minibar
Safe
Tea & coffee making facilities (Plunge pool, Sunken bath tub – Deluxe Villas only) Audio System (Lagoon Villas and Sunset Lagoon Villas only)
Espresso Machine (Lagoon Villas and Sunset Lagoon Villas only)
Jacuzzi (Lagoon Villas and Sunset Lagoon Villas only)
Plunge pool (Lagoon Villas and Sunset Lagoon Villas only)
Beach Bar
The Beach Bar is located in the middle of the wide Western beach area of the island.
Sit back, relax and dig your toes into the powder-soft white sand while watching a romantic Maldivian sunset.
Conch Bar
The mood is stylish and casual in Conch Bar, located in a traditional Maldivian-style pavilion with sandy floors and offers a selection of snacks and drinks.
Cornus Restaurant
Situated in an idyllic location with views of the ocean yet tucked away in lush vegetation, Cornus Restaurant offers speciality dishes including Maldivian, Thai, Indian and other Asian delicacies.
Cowrie Restaurant
Cowrie Restaurant is a huge atmospheric dining room, with a Maldivian tent-like roof and features live cooking stations.
International cuisine is served buffet style.
Coco Spa
The Coco Spa at Dhuni Kolhu is a tranquil space created to indulge personal desires for beauty, well-being and relaxation.
Discover the benefits of treatments from Indonesia, Thailand and India. A collection of Ayurvedic-inspired products enhances this truly unique spa experience. In-villa spa treatments are available if preferred.
Excursions
Coco Palm Dhuni Kolhu offers a wide range of experiences and excursions that take guests beyond the beaches to experience something of the authentic Maldives.
Be it on the water, a sand bank, or in the comfort of your villa, Uniquely Coco Experiences provide an unforgettable memory of the Maldives. Ask us for details about current excursions offered.
Water Sports
Coco Palm Dhuni Kolhu offers a full range of water sports on, including snorkelling, canoeing, sailing and windsurfing.
Diving
Novice or passionate, the underwater world is at your toe tips at Coco Palm Dhuni Kolhu.
Unique species, mesmerizing colours and absolute silence are the fascinating features of the Maldivian dive sites. Discover the Baa Atoll with Coco Palm Dhuni Kolhu's PADI certified dive school.
Facilities:
Water Sports
Fitness Centre
Yoga
Tennis
Volleyball
Beach Soccer
Badminton
Table Tennis
Board Games
Billiards/Snooker
TV corner at Conch Bar
Library
Catamaran
Water Skiing
Windsurfing
Wake Boarding
Canoe
Fun Tube
Diving
Sunrise Breakfast on the Beach
For early risers enjoy a luxurious breakfast on a white sandy beach with a glass of sparkling wine, coffee or tea, and a selection of baked items and fresh fruits are included.
Morning Fishing
This is a Maldivian style fishing trip by Dhoni, trawling the waters of the Baa Atoll.
Light breakfast, tea / coffee as well as fishing gear are included.
Private Picnic on a Desert Island
Choose from three delicious picnic hampers as the two of you escape for a full day trip to a desert island.
Island Afternoons
Enjoy an Afternoon Tea in a Maldivian Home. Get to know the Maldivian way of life by joining a family for homemade tea and snacks.
Become part of the family as they go for their evening walk. You can spend time sightseeing, shopping and various daily activities.
Romantic Evenings
Enjoy dinner under the Pergola or under the Stars. Enjoy the romance of a five course dining experience for two under the pergola on the tip of the island or under the stars in the centre of the island.
Special Barbecue Dinner on a Private Island
Prepared exclusively for you, this delicious dinner including a bottle of white wine is set on the white sandy beach of a crystal clear lagoon.
Private Sunset Cruise
Take a breath-taking cruise around the islands of the Baa Atoll. Your own traditional Dhoni leaves at 6 pm for a scenic cruise around the neighbouring islands.
Watch the beautiful sunset whilst enjoying canapés and a bottle of house sparkling wine.
Coco Cinema – Movie under the Maldivian Sky
After dinner stroll barefoot along the beach to a private cinema where you may choose a film to watch outdoors as you sip sparkling wine.
Overnight on a Desert Island
Enjoy a once in a lifetime experience and spend a night together on a deserted Maldivian island, Robinson Crusoe style.
Your experience begins with an exquisite beach barbeque under the stars as the moonlight over reflects from the silver sea.
After dinner stroll around the beach to your rustic beach hut which has been carefully prepared for you.
This accommodation follows a traditional beach hut style yet still provides some of the comforts of home.
In the morning our staff will deliver your breakfast to enjoy on the beach of your island before returning to Coco Palm Dhuni Kolhu.
Morning Dolphin Watching
See dolphins play and swim in the Indian Ocean under the morning sun.
Local Village
Explore a traditional island in the Maldives. Travel to a local village by dhoni and experience the flavours and colours of Maldivian culture.
Sunset Fishing
Try hand-line fishing by dhoni. Watch and enjoy the sunset whilst fishing the traditional Maldivian way.
Sunset Dolphin Watching
Set off at sunset in search of schools of dolphins playing and basking in the warmth of the early evening sun.
There are hundreds of dolphins swimming off these Maldivian shores and the Baa Atoll is a prime location in which to spot them.
Snorkeling Trips
Enjoy a snorkelling excursion to the best reefs of Baa Atoll, where you can experience the wonders of the underwater world.
The surrounding waters are abundant with the most amazing marine life. You will
be amazed as you swim alongside turtles, manta rays, corals and schools of colourful
tropical fish; a real treat for all admirers of the underwater world.
Which Airlines do you use?
We work with all the major airlines flying to the Maldives.
Typically for the Maldives we will use British Airways for direct flights to the Maldives between November and March.
Sri Lankan Airlines is also a great option for flights to the Maldives, especially of course if combining the Maldives with a Sri Lanka tour.
The flying time for direct flights is around 10 hours, making the Maldives a little shorter flying time than going to South East Asia.
We also commonly use Emirates via Dubai, Qatar Airways via Doha and Etihad via Abu Dhabi. These all allow stopover options in the Arabian Gulf to create a multi-centre holiday.
Regional connections from across the UK are available.
Which Hotels do you use?
We're careful with our choice of resorts in the Maldives, but we're guided by our customers also. If you have some preferred hotels, just let us know.
We specialise in boutique & luxury hotels and so we will often suggest some of our favourite smaller luxury hotels where we think these will be suitable.
We understand that choosing a resort in the Maldives can be a bit bewildering, especially as they all look so similar!
That's where our expertise can help - it's always useful to speak to someone who's been to lots of different islands in the Maldives.
Do I need a visa for the Maldives?
If you're travelling on British Passports, no visa is required for stays of up to a month.
Please double check before travel however as visa requirements are subject to change at any time.
How long have you been organising holidays to the Maldives?
We've been organising tailor made holidays to the Maldives since 2009.
We use a very reliable local partner in the Maldives for transfers and to assist our clients in the Maldives. They are a family owned company who are one of the most established and respected local travel companies.
We keep up to date with developments in the Maldives with regular visits and through our local contacts.
When is the best time to visit the Maldives?
The driest time of year to visit the Maldives is normally between November and March. This is high season in the Maldives and you can expect dry and settled conditions most of the time.
What board basis should I choose in the Maldives?
You'll find there is a wide range of options in the Maldives, from b&b, Half and Full Board, All Inclusive and variations on All Inclusive options.
Because of the isolated location, dining in the Maldives is expensive by almost any standard. Bear this in mind when comparing meal options.
How do I get to my resort in the Maldives?
Some resorts in the Maldives can be reached by speedboat from Male. This makes for a convenient and easy transfer. You'll be met at the airport on arrival and taken on foot the short distance to your boat transfer.
Seaplane transfers in the Maldives are used for islands further afield. These are usually in 18-seater De Havilland Twin Otters which fly in daylight hours only, departing from the seaplane port next to the International Airport.
View Itinerary in Detail
To view a sample holiday, click on one of the links below. This will open the itinerary up in a new window.
All of our Maldives Holidays are completely tailor made and we can combine different hotels and airlines to create your ideal Maldives escape.
We have many other options so if you have a particular hotel in mind just let us know and we'll put together a price and itinerary for you.
Contact Us:
Call us now to speak to a Maldives holiday expert about your Maldives holiday or honeymoon to the Maldives.
Call our Maldives line now on 01484 432 140
Open 09:00 - 17:30 Mon - Fri. 09:00 - 12:00 Sat.
Oceanfront Villa
Half Board Inclusive
7 nights at Coco Palm Dhuni Kolhu.
Includes all Flights, Transfers, Half Board.
7 nights from £1,695 pp
View
Beach Villa
Half Board Inclusive
7 nights at Coco Palm Dhuni Kolhu.
Includes all Flights, Transfers, Half Board.
7 nights from £1,895 pp
View
Sunset Beach Villa
Half Board Inclusive
7 nights at Coco Palm Dhuni Kolhu.
Includes all Flights, Transfers, Half Board.
7 nights from £2,095 pp
View