Call us now:
0333 7000 747
Open 9 until 9 daily
Start your perfect holiday
contact us today!
3 Nights - £1,485pp
Flight Inclusive Price from UK
Holiday Confusion?
You need a Specialist
Solve my Problem
Anavilhanas Jungle Lodge
Contact us and request a quote Now!
Anavilhanas Jungle Lodge
Bungalow
Bungalow
Cottage
Cottage
Outdoor Pool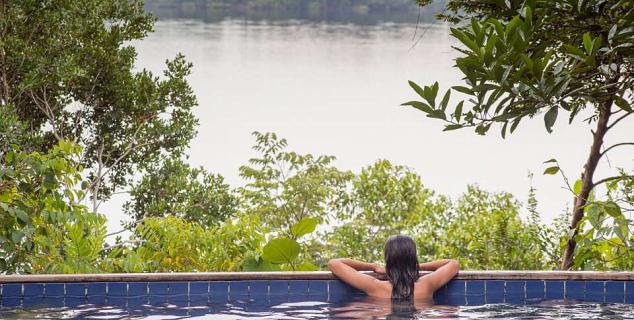 River Views
Relax and Let Yourself Go
Restaurant and Lounge Area
Restaurant
Observation Deck
Sunrise Contemplation
Canoeing
Set in the heart of the Brazilian Amazon, Anavilhanas Jungle Lodge is a cosy and exclusive jungle hotel located in front of Anavilhanas National Park, in the margins of Negro River.
The hotel has 16 Standard Cottages, 4 Superior Bungalows and 2 Panoramic Bungalows with a stunning surrounding view over the forest.
All cottages and bungalows are equipped with air-conditioning, minibar and hot shower. There is also a hammock in the balcony to admire the view.
The restaurant serves local and international cuisine and cakes and fruits are served in the afternoon snack.
The outdoor pool offers stunning river views and there is also a floating deck over Negro River.
Activities within the lodge include sunrise contemplation, canoeing, hiking on dryland forest, recognition tour on the archipelago, nocturnal sightseeing or recreational piranha fishing.
What's so Special?
Location, Location, Location. This place is absolutely amazing!
Its privileged setting, the views over Rio Negro River, the perfectly decorated cottages and bungalows and the thrilling adventures on offer.
This is definitely a must stay place when in the Amazon.
Bear in mind
Anavilhanas Lodge is located 2.30h from Manaus.
The hotel is in front of Anavilhanas Archipelago, a national park with more than 400 pristine islands.
The dark waters of the river, with pH between 4,3 and 5,2, inhibit the proliferation of insects.
Canoeing through the Igapós and Igarapés
Hear the sounds of the forest and explore the rivers. In canoes for up to 2 people, you can watch the scenery changing as you paddle along waters and between trees.
Anavilhanas Archipelago nocturnal sightseeing
Enjoy the unique feeling of the nightlife inside the forest, lightened by the stars, exploring the igapós to spot birds, sloths, snakes and alligators hidden in the sounds of darkness.
Recognititon tour on the Archipelago
Regional ships are used to explore the countless canals, lakes and islands of this beautiful archipelago – one of the largest in the world.
Visit the local community
Canoe trip on Rio Negro and visit to a local caboclo community. Get to know their lifestyle, traditions, agriculture and social organization.
Hiking on dryland forests
Led by experienced local guides, explore areas that are not affected by floods – the firm forests or dryland forests. During the tour, learn about trees, fruits and wild fruits, survival strategies and medicinal herbs.
Visit Pink River Dolphins and the handicraft fair
Visit a floating deck where Pink River Dolphins come close searching for food. Then, meander through the arts and crafts center where artisans make decoration items and toys with wood, straw and seeds.
Recreational piranha fishing
Enjoy the amazing scenery and catch some fish during this fun activity done in wooden canoes along the igarapés.
Sunrise contemplation
Leaving at dawn, the guest will be taken to the islands to watch the birds flying and the beauty of all the colors when the sun rises in the Amazon sky.
2018 - 19 Price Guide
Includes:
International Flights from the UK
Domestic Flights
Airport and road transfers
3 nights accommodation
Full Board
Daily activities in Anavilhanas Lodge
This is a guide price only, based on travel in low season.
Prices will vary according to availability of airfares on the dates of travel and seasonal hotel and airfare surcharges.
Please ask us for any current special offers.
Contact Us:
All of our Brazil Holidays are completely tailor made and we can put together any kind of itinerary to suit your interests and budget.
Call us now to speak to a Brazil holiday expert about your Brazil holiday or honeymoon to Brazil.
Call us now on 0333 7000 747
We're open from 9 until 9 daily and our 0333 number is a local rate number included in most call packages.