Self Catering Seychelles
11th February 2018
Self Catering Holidays to the Seychelles are a very popular way of experiencing the Seychelles islands and some of the most beautiful beaches in the world, without breaking the budget.
Self-Catering Holidays in the Seychelles?

Why would you want to go on holiday and do your own cooking and washing up? It's a fair question – but many people find that they end up eating out all the time on a Self Catering Holidays to the Seychelles anyway.
Eating out is generally inexpensive in the Seychelles (especially in Mahe, less so in Praslin) and if you have transport it's often the preferred option for many.
What about the Lack of Facilities?

Sure, you're not likely to have a pool or a tennis court – but then you will have the Indian Ocean, and most beaches in the Seychelles are ideal for swimming.
Where can I stock up on food?

There are plenty of local stores in the Seychelles where you can buy groceries. A bit of planning ahead helps – stores are very local, don't expect Waitrose – sometimes they can run low on stock as well.

What about transport?

Car rental on Mahe is very good value indeed and if you're going self-catering on Mahe we highly recommend renting a car.

This offers the flexibility of going exploring the island as well as popping down the shops to buy food or going out to eat.

What should I budget?

A typical one-week holiday to the Seychelles in low season staying at Chalet d'Anse Forbans on Mahe is £1,200 - £1,300 per person.
What are the Best Self Catering Hotels in the Seychelles?
There is actually a large selection of Self Catering Hotels in the Seychelles. Most of these are on Mahe and many offer superb value accommodation in the Seychelles.

We review some of the best Seychelles Self Catering Chalets and Hotels.
Chalets d'Anse Forbans
One of our favourite and best value Selft Catering Chalets in the Seychelles is Chalets d'Anse Forbans, family run self-catering chalets right on Anse Forbans Beach in Mahe.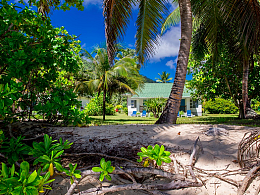 The setting is beautiful and tranquil with chalets just a stone throw from the beach and accommodating up to 4 people. The beach at Anse Forbans is one of the best beaches on Mahe.
Clef Des Isles
Clef Des Isles offers some of the best Family Self Catering in the Seychellles with just 4 spacious 2-bedroom duplexes with modern and beautiful interiors situated on a sandy beach with views of some of the islands of the Seychelles.
The self-catering Clef Des Isles is located on the main Seychelles' Island of Mahe, facing Silhouette and North Island, right on 2km Beauvallon beach, one of the best beaches in the Seychelles.
Clef des Isles' self-catering two-bedroom chalets are ideal for families and several restaurants are within easy walking distance.
The location offers white sandy beaches, turquoise water, spectacular views and unforgettable sunsets.
Villas d'Or

Les Villas D'Or is located on the Praslin's Côte D'Or Beach, with Casino des Iles and the Vallée de Mai on one side and Anse Lazio beach on the other.
Restaurants, shops and other tourist attractions are within walking distance of Villas D'Or making this a good option for those who don't want to be totally isolated but still want a secluded area with a tranquil ambience.
Villas D'Or offers self-catering but can also provide breakfast and dinner on request.
Villas D'Or's villas are very private and blend into the lovely setting of Côte D'Or beach. Les Villas D'Or offers two two-bedroom and eight one-bedroom villas.
Discover some of our most popular Holidays to the Seychelles

or Call Us on 0333 7000 747
and Speak to a Seychelles Expert