Jo'burg to Durban
20th February 2018
We go to South Africa once a year to meet our suppliers and to attend Trade Shows.

This time it was my turn to attend and I decided to add on a self-drive trip through Self-Drive Trip through KwaZulu Natal before the meetings.
I'd never driven in South Africa before, except along the Garden Route and like most people I was a little bit apprehensive about the prospect of driving in South Africa.
I did a quick tour of Johannesburg first. I stayed in Sandton which is a very comfortable suburb with luxury hotels, cafes and restaurants.
I was surprised in contrast by just how run down the centre of Johannesburg was but it was nevertheless great to see.
Visiting Soweto Township was the most pleasant surprise for me and it was fascinating to visit Nelson Mandela's House and see another side of urban South Africa.
From Johannesburg I drove south through the rural landscape towards Clarens, a small mildly bohemian town in the Free State. Driving conditions were great with little traffic and good roads. I covered the distance much more quickly than I expected.
The next day I was in the tiny mountain Kingdom of Lesotho which was about an hour's drive from Clarens.
What a contrast - from the orderliness, wealth and Dutch style buildings of Clarens to the traditional Rondavels and Witch Doctors in Lesotho.
I spent the night at Maliba Lodge, a luxurious lodge in the Ts'ehlanyane National Park and went horse riding through the bush, visited the local Witch Doctor and tasted home brew in a local shabeen.
The drive through this little corner of Lesotho was truly magnificent. Driving across the borders presented no problems although the speed limit is strictly observed.
From Lesotho I made my way through the blissfully quiet Golden Gate Highlands National Park in the northern Drakensburg Mountains.
They sign you in at the park gate for the drive through and I noted the car before me was 20 minutes ahead. It felt like I had this stunning mountain wilderness almost to myself.
The Golden Gate Highlands National Park in South Africa

I spend the next night at Montusi Mountain Lodge in the Drakensburgs. I had meant to go hiking in the Drakensburgs the following day but instead was lulled into pottering around the lodge, admiring the views and just taking in the beautiful setting – what a superb place.
From Montusi it was about 4 hours to get down to Durban. I was disappointed not to have had time to go and visit the Boer War Battlefield sites of KwaZulu Natal because the Battlefield Tours are exceptionally run, by real enthusiasts.
I dropped the car at my hotel in Durban and had a wander down to the beach and dipped my feet in the Indian Ocean. It had only been a short trip from Johannesburg to Durban but it had been a real insight into this fascinating area of Southern Africa.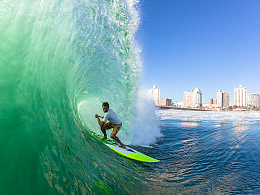 Discover some of our most popular South African Journeys
10 nights KwaZulu Natal Self-Drive
10 nights KwaZulu Natal Safari & Beach
13 nights South Africa & Mozambique
Enquire about a Holiday to South Africa now
or Call Us on 0333 7000 747
and Speak to a South Africa Expert