Call us now:
0333 7000 747
Open 9 until 9 daily
Start your perfect holiday
contact us today!
4 Nights - £2,825pp
Package from Quito
Return flights from Quito or Guayaquil
4 nights Galapagos Cruise
Shore excursions
All meals included
All transfers
View Map
Ecuador & Galapagos Destinations
Holiday Confusion?
You need a Specialist
Solve my Problem
Cruise with Sea Star Journey
Request a Quote Today.
Galapagos Cruise - Sea Star Journey
Amazing Galapagos
Blue Footed Boobies
Galapagos Sea Star Journey
The dinnig area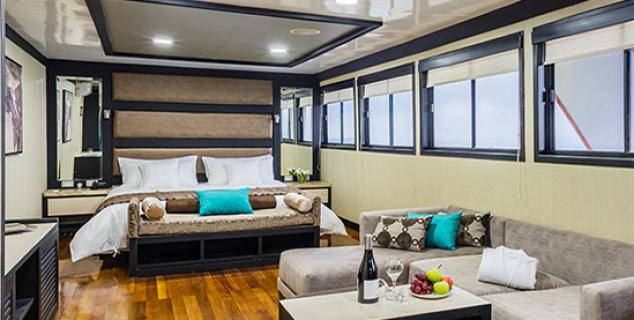 The Galapagos Suite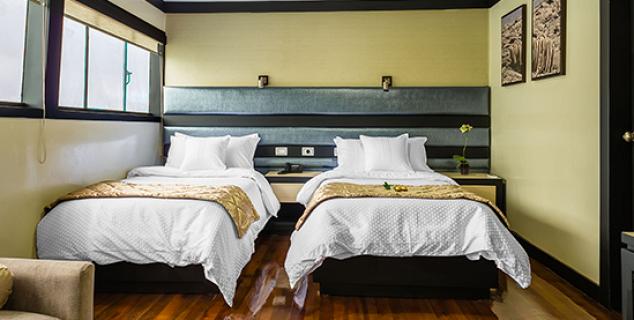 The Sea Star Suite
The Matrimonial Suite
The sun deck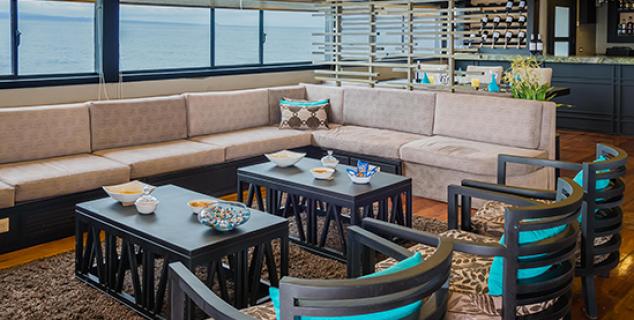 The social area
Cruise the Galapagos on the exlusive Sea Star Journey. This is a unique lifetime experience.
Spend 5 days exploring the archipelago and discover a wide variety of wildlife and birdlife.
The Galapagos Cruise itinerary covers 5 different islands (Baltra, Santa Cruz, Genovesa, Bartolomé and Santiago islands).
The yatch offers privacy and comfort. Each spacious cabin features a panoramic window to enjoy the breath-taking scenary of the Galapagos.
At a glance:
Roundtrip Galapagos flight
4 nights Galapagos Sea Star Journey Cruise
Baltra Island
Santa Cruz Island
Genovesa Island
Bartolomé Island
Santiago Island
Shore excursions
Full board on cruise
Transfer to and from Galapagos Airport
Day 1: Arrival on Baltra Island
On arrival, a guide will meet you, help you collect your luggage, and escort you on a short bus ride to the harbour and then on to board on the Galápagos Sea Star Journey
In the afternoon, visit Dragon Hill in Santa Cruz Island.
This site is located in north-western Santa Cruz Island and consists of a trail that leads to a hyper-saline lagoon behind the beach, frequented by flamingos, pintail ducks and other species of birds.
There is a short walk to the Hill, which offers a beautiful view of the bay.
Overnight on the Sea Star Journey. Lunch and dinner included.
Day 2: Santa Cruz Island
Visit the Black Turtle Cove, a tiny cove is located on the northern side of Santa Cruz Island.
This red mangrove lagoon is very calm and quiet making it an ideal spot as a nursery for dozens of sharks and rays.
There are no landing sites, so the visit is done by panga or kayak. Sea turtles, pelicans and herons are all seen in this area.
In the afternoon visit the Chinese hat, a small islet (1 sq km) located just off the south-eastern tip of Santiago Island.
This is a recent volcanic cone, shaped like a Chinese hat when seen from north side.
This is an excellent visit for learning about geological features such as lava tubes and lava flows.
The landscape here is home to numerous sea-lion colonies, marine iguanas and Galapagos penguins.
Overnight on the Sea Star Journey. All meals included.
Day 3: Darwin Bay, Genovesa Island
This is a favourite island for birdwatchers: red footed-booby, masked boobies, wandering tattlers, lava gulls amongst others make their home here.
A trail leads visitors to the edge of a cliff from where Red-Foots nesting in the Mangrove trees below can be seen.
In the afternoon visit El Barranco, located in the southern part of Darwin Bay.
Overnight on the Sea Star Journey. All meals included.
Day 4: Bartolomé Island & Santiago Island
Bartolomé Island is situated across Sullivan Bay at an altitude of 114 metres.
This is home to some of the most beautiful scenery in the Galapagos, with volcanic cones, lunar-like craters, lava fields, and the famous Toba formed pinnacle eroded by the sea.
Bartolomé Island features two beautiful beaches where marine turtles can be found. There is also a very small colony of Galapagos penguins.
In the afternoon visit Santiago Island located in the west central part of the archipelago.
Santiago is the fourth largest island in the Galapagos and along with some of the large western volcanoes of Isabela and Fernandina, Santiago is also volcanically active.
Overnight on the Sea Star Journey. All meals included.
Day 5: Santa Cruz Island
The trail to the highlands leaves from Bellavista and passes through varying zones of vegetation, with beautiful scenery of rolling hills and extinct volcanic cones covered with grass and lush greenery all year round.
Finally transfer back to Baltra for the flight back to Quito.
Sea Star Journey
This wonderful yacht combines privacy and comfort in the unique setting of the Galapagos Islands.
Galapagos Sea Star Journey has a capacity for just 16 passengers, with 7 spacious cabins (25 sq. m. in average) and 1 Sea Star Suite (35 sq. m.).
Each cabin has panoramic windows to enjoy the marvellous landscapes of the islands.
All cabins feature a private bathroom, hot and cold water, air conditioning and a TV.
Local and international dishes especially designed by the on board chef are served in the cosy dining room.
The yacht offers a large solarium with shaded area, two Jacuzzis (open on request) and comfortable sun loungers.
Social areas include a living Area, a mini library and a video library. Snorkelling equipment and kayaks are also available.
Galapagos Sea Star Journey complies with local and international safety regulations and sustainable practices to protect the fragility of the Archipelago.
Accommodation Sea Star Journey:
Matrimonial/twin Cabin with private facilities.
Please note:
4 nights Galapagos Cruise takes place from Sunday to Monday.
Includes:
Roundtrip flight to Galapagos Islands
Accommodation with all meals
All taxes
Return transfers within the Galapagos
Not Included:
Galapagos National Park entrance fee
Transit Control Card
Soft and alcoholic drinks
Personal expenses
Extras and tips
4 nights Galapagos Cruise - Sea Star Journey:
This is a guide price only, based on travel in low season.
Prices will vary according to choice of hotel and seasonal airfare and hotel surcharges. Please ask us for any current special offers.
Contact Us:
All of our Galápagos Tours are completely tailor made and we can put together any kind of Galapagos itinerary to suit your interests and budget.
Call us now to speak to a Galapagos expert about your tailor made Galapagos holiday.
Call us now on 0333 7000 747
We're open from 9 until 9 daily and our 0333 number is a local rate number included in most call packages.